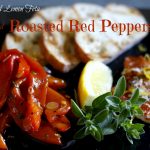 Betcha didn't know you could pan-sear feta halloumi-style! It is fabulous!
3

large red peppers

2

fresh 'green' garlic stalks

white and light green parts, thinly sliced or 2 cloves garlic

1

T

fresh oregano leaves

minced or 1t dried

zest of 1 lemon plus extra wedges for garnish

scant 1/3 cup extra virgin olive oil

salt and pepper to taste

4

oz

+/- block feta cheese, sliced into 1/4" thick slabs

baguette or Italian bread

sliced and toasted or grilled
Roast red peppers over the open flame of a gas stove until charred. Place in a bowl, cover bowl with plastic wrap, and allow to steam until cool enough to handle. While peppers are steaming, prepare marinade: in medium bowl, combine garlic, oregano, lemon zest, olive oil, salt and pepper and set aside.

Peel skin off peppers (basically wipe it with your hand – skin will come off easily) and remove stem and seeds. Slice peppers into 1/2" strips and place in marinade. Toss to coat and set aside to marinate for at least 30 minutes but as long as overnight. You should refrigerate the peppers if storing for longer than an hour, just be sure to bring peppers to room temperature before plating.

To plate: divide peppers equally amongst each of 4 plates and drizzle them with a bit of the marinade. Arrange a few slices of bread and a lemon wedge on each plate. Have these ready while you sear the feta.

Heat a small non-stick skillet over medium heat. Add a tiny bit of oil to just skim-coat the pan then add no more than 4 slices of feta – it cooks quickly. The cheese should sizzle as soon as it hits the pan. Allow it to cook for about 20 – 30 seconds, then carefully flip it over with a small offset spatula and let it barely brown on the other side. Carefully remove from pan and set on prepared plates (again, dividing equally) then continue searing remaining feta slices.

Garnish the cheese with a bit of minced oregano and lemon zest & wedges and serve while it's hot. To eat this plate of simple summer deliciousness, stack the cheese and peppers on a slice of bread, squeeze a bit of lemon over top and dive in!
Betcha didn't know you could pan-sear feta halloumi-style!  It is fabulous!