He was two-timing the tomatoes with <gasp> Roasted Peppers!
Yeah, I know, I KNOW!
Vine-ripened tomatoes, fresh mozzarella and basil compose the quintessential summer salad.  But sometimes a girl gets a little tired of tomatoes.
Lest lightning strike me dead in my roll-y desk chair, I will admit that I LOVE TOMATOES.  I prefer heirlooms, specifically our signature Polish Plum, fresh and still sun-warmed from the field.  I also like a tomato that's been sitting on my counter for a week, even if I have to cut away a third of it because it rotted.  Whatever.  It's August (or September, by the time I get my act together to post this).
One of my market customers told me today that she made a vow to eat enough tomatoes this summer to actually get sick of  them.  Judging by the 5 pounds of heirlooms she bought, the lunch and dinner tomato salads she eats on a daily basis haven't diminished her love of this nightshade.  I say, 'eat 'em until you just can't look at another one'.
I also say that about corn on the cob.  Growing up eating seasonally, you ate what was fresh, and if it wasn't chances are my mother canned or froze the produce she harvested from our garden.  That's just the way it was  in the '70s and, in my middle-aged brain, the way it should be.
Are you still reading?  GOOD!
Thank you 😉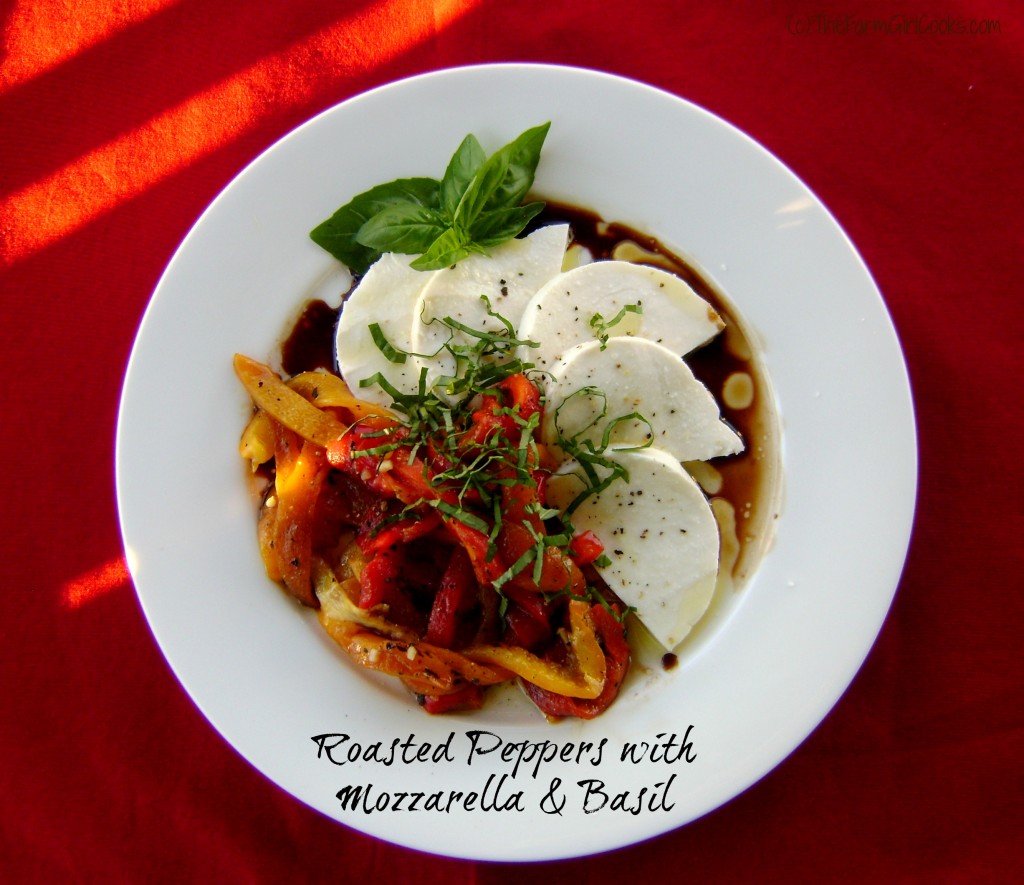 This salad was basically my dinner the other night, roasted peppers with mozzarella and basil.  That's fine… it was damn delicious!  I had some broiled shrimp scampi alongside and it was all I needed on a hot summer's night.
Start this delightful dish by charring a few peppers.   You can chose red and yellow/orange because they are RIPE peppers, as opposed to the unripe green ones, and they are sweeter.  Use your choice of flame: grill, broiler, oven, etc.  I used the burners of my gas stove and did, indeed, set off the smoke alarm.  Let that be a lesson to always turn on the exhaust fan over the stove.
Once the peppers are completely charred, place them all in a bowl covered with plastic wrap or a lidded glass/plastic storage container and set aside for about 15 minutes.  The peppers will steam and continue to cook a bit and the skins will be a easier to get off.
After 15 minutes or so, clean the peppers of their charred skin, stem and seeds.  Use a paper towel to facilitate, and honestly, you could always run them under water ever so briefly, but be aware that water will wash away some flavor along with the skin and seeds.  Small price to pay for getting a speedy dinner on the table in my humble opinion.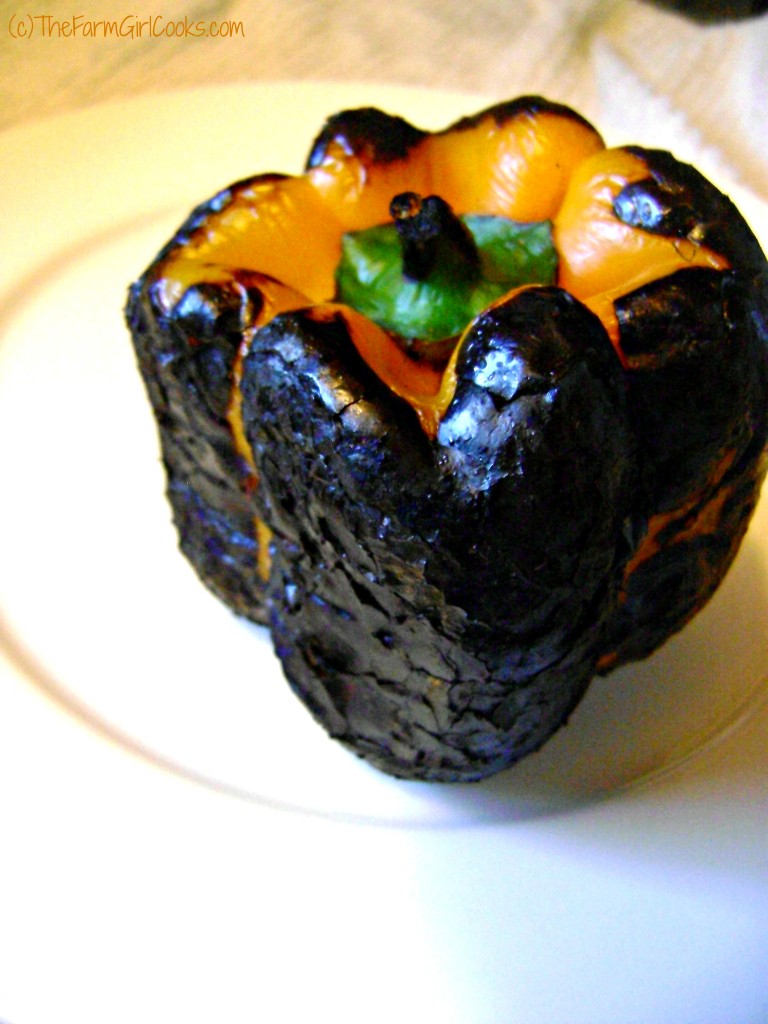 Slice the roasted peppers into thin julienne strips and toss in a bowl with some minced garlic, kosher salt, freshly ground pepper, and olive oil.  Let sit a while, or up to 4 days, while you slice some fresh mozzarella and arrange it artfully on your serving platter.  Pile the pepper salad prettily alongside the mozz, then douse with more extra virgin olive oil and lots of balsamic vinegar.  Sprinkle on a fine chiffonade of fresh basil and season with additional salt and pepper.
Serve this salad to all the people you love, then sit back and enjoy the compliments!