Parsley garlic butter with fresh parsley, to put on anything you can dream up.
I was washing up bunches of parsley for our 3 markets last week and the smell caught me right there. You know the place. That place in your nose where the aroma hits you so deeply that it triggers your brain and makes you think  you just have to have it – kinda like movie theater popcorn.
I brought a bunch home and whipped it up in the food processor with a few cloves of garlic, a stick of unsalted butter, a few tablespoons of olive oil and a sprinkling of salt.  This was while the corn on the cob, still in husk, was on the grill.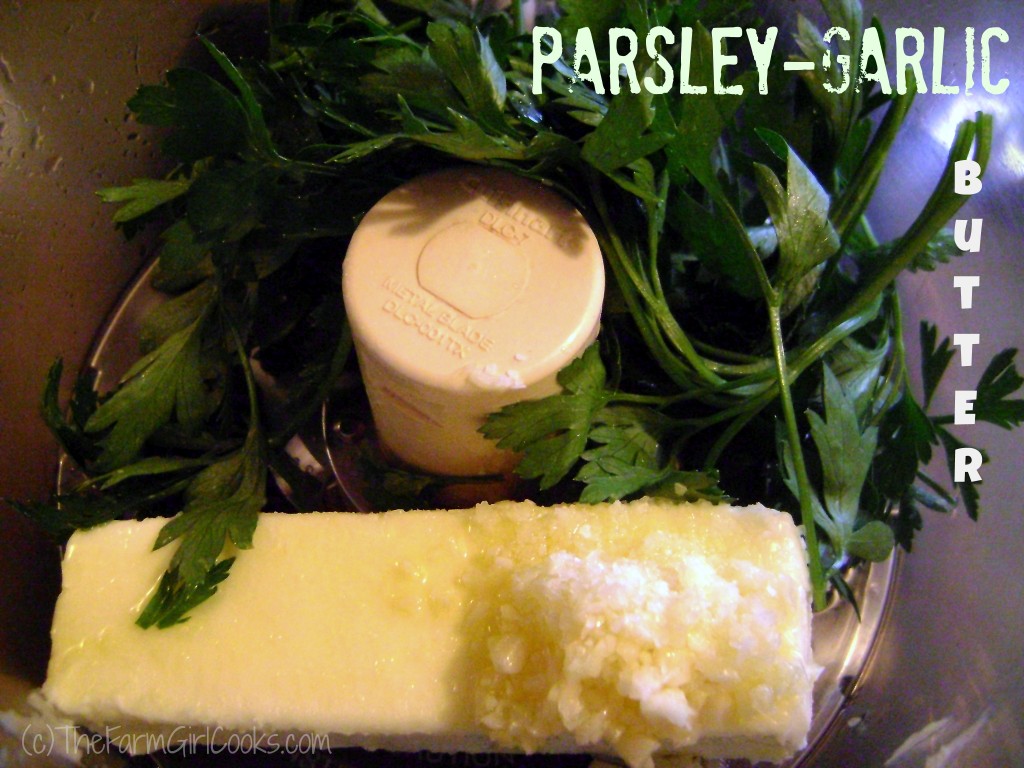 If you haven't grilled corn, or enjoyed it with parsley garlic butter, I encourage you to do so.  If you're like me, however, and can't stand that chewy mess that you get when you grill without steaming or boiling first, I say steam in the husks!  Essentially, the husks work like plastic wrap.  They keep the corn from charring before it is actually cooked.  I like that!  The thing I DON'T like is cornsilk.   Mostly because of the protests from my opinionated offspring.
"I can't eat this.  There's HAIR ON IT."  
Let me assure you.  There's an awful lot of eye-rolling going on at our dinner table, especially now that I'm feeding a third grader.
Grab the husks and split them in two, pulling them down opposite sides of the cob.  Do NOT tear them off.  Rather, pull off the corn silks as best you can, then pull the husks back up, enclosing the corn.  Place these on your grill over med-high heat and close the lid.  By the time the corn husks have dried and some have burned off, the corn is nicely golden and completely cooked to my tastes.  Your tastes may be different, so perhaps it would be good to do an extra ear or two for tasting, I mean TESTING, the first time you grill corn.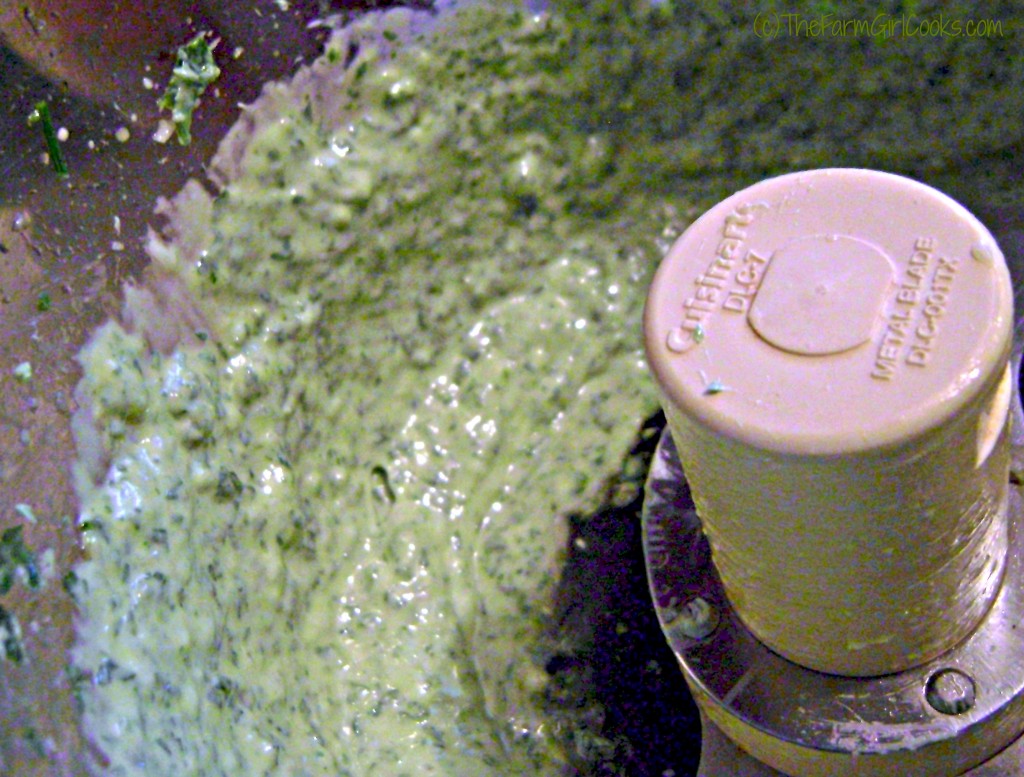 Remove the corn from grill and carefully pull off remaining husks.  Serve these heavenly bites hot with parsley garlic butter and a generous sprinkling of grated Parmesan cheese.  If you happen to have leftover corn, cut it off the cob and you'll have something akin to Trader Joe's frozen grilled corn, but far superior if you've used fresh, locally grown corn on the cob.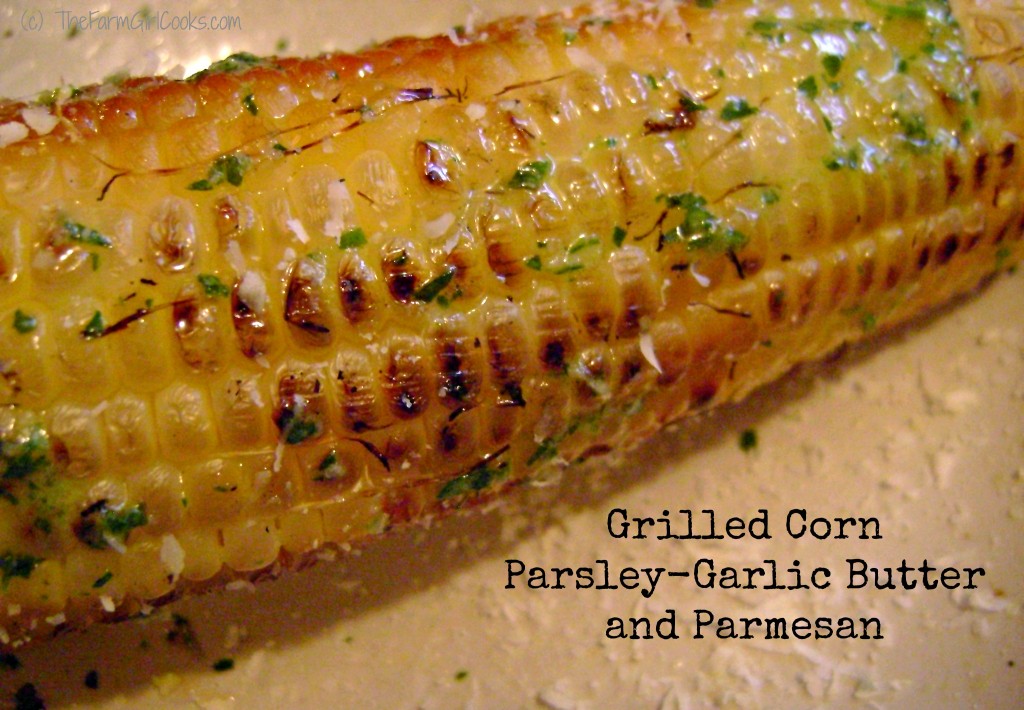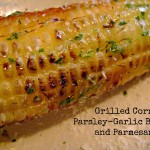 Parsley Garlic Butter
Ingredients
1

stick unsalted butter

softened

1

cup

flat-leaf parsley leaves

stems removed and packed to measure

1

T

chopped garlic

2-3

T

olive oil

salt and pepper to taste
Instructions
Combine all ingredients in bowl of food processor and pulse until well-combined, scraping down edges of bowl when necessary.

At this point, you can divvy up the butter into a few small containers and freeze them.

You can also form it into a log on a piece of waxed paper, twisting the ends closed, and refrigerate or freezer for longer storage.
Parsley-garlic butter makes terrific garlic bread (spread softened butter on a loaf of Italian bread – sliced lengthwise – and toast under broiler).  This butter is also a great complement to shallot risotto, scrambled eggs and angel hair pasta.