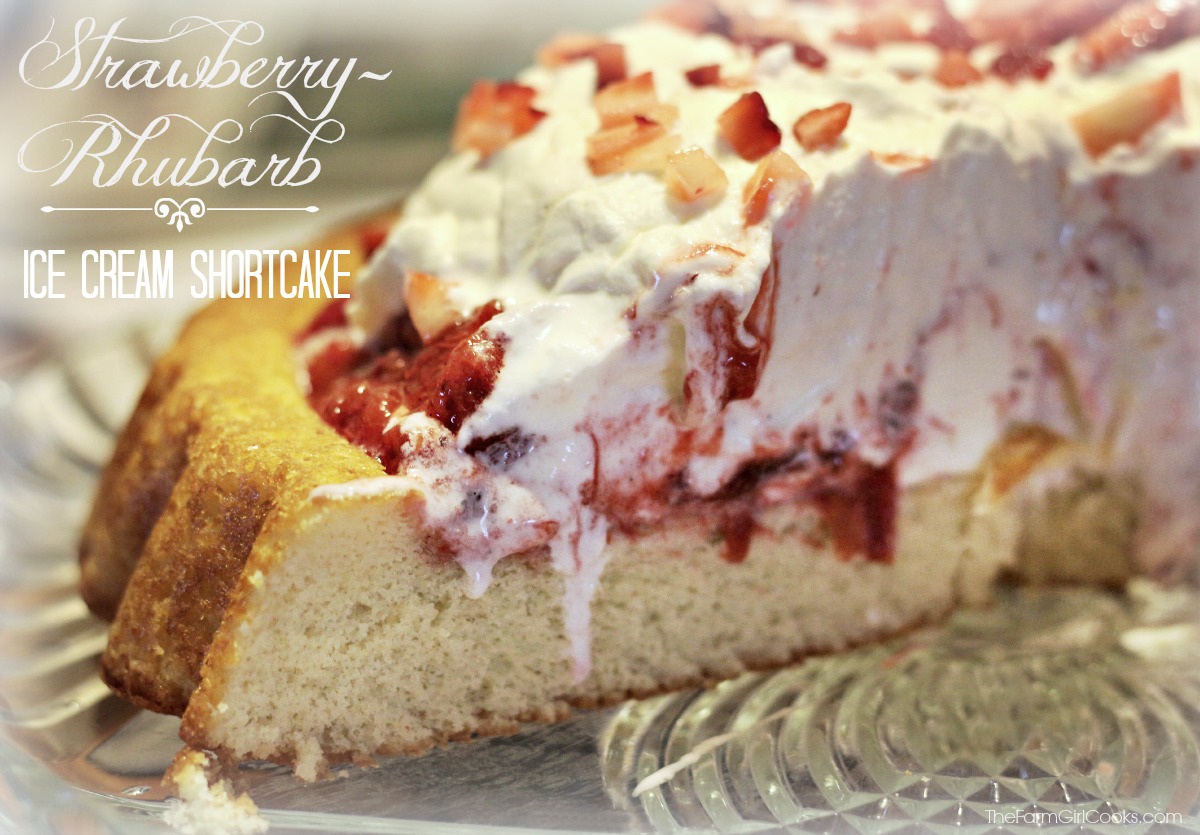 This pic pretty much sums up my absolute favorite way to use the strawberry-rhubarb sauce recipe which I posted earlier in  the week.  Well, other than just eating it with a spoon, that is.  The full-fat ice cream, whipped cream and vanilla spongecake are outrageously decadent and surprisingly light!  You cannot BELIEVE how much of this you can pack away before you even realize you're full!
It all started with my grandmother, Babci Sophie.  Babci was an excellent cook – not a professional chef, but very skilled nonetheless – and it was fairly common for her to bake a cake for her family to enjoy after meals.  After all, she was feeding eight hard-working farmers every day.
I think she missed that baking after the kids had left the nest. She was getting on in years, despite her diabetes. Babci would take a stroll down the road. Our family home being a stone's throw from hers. After her morning coffee and toast just to see what we were up to in 'the packing house'.
Inevitably, if we were picking strawberries, at least 2 pints of seconds (not-good-enough-for-sale) berries would go home with her.  We knew what was coming and our mouths would water in anticipation. By 3pm break time, Babci Sophie would bring us a strawberry chiffon pie  just like this one along with a stack of paper plates and plastic forks.
We loved those 'coffee' breaks.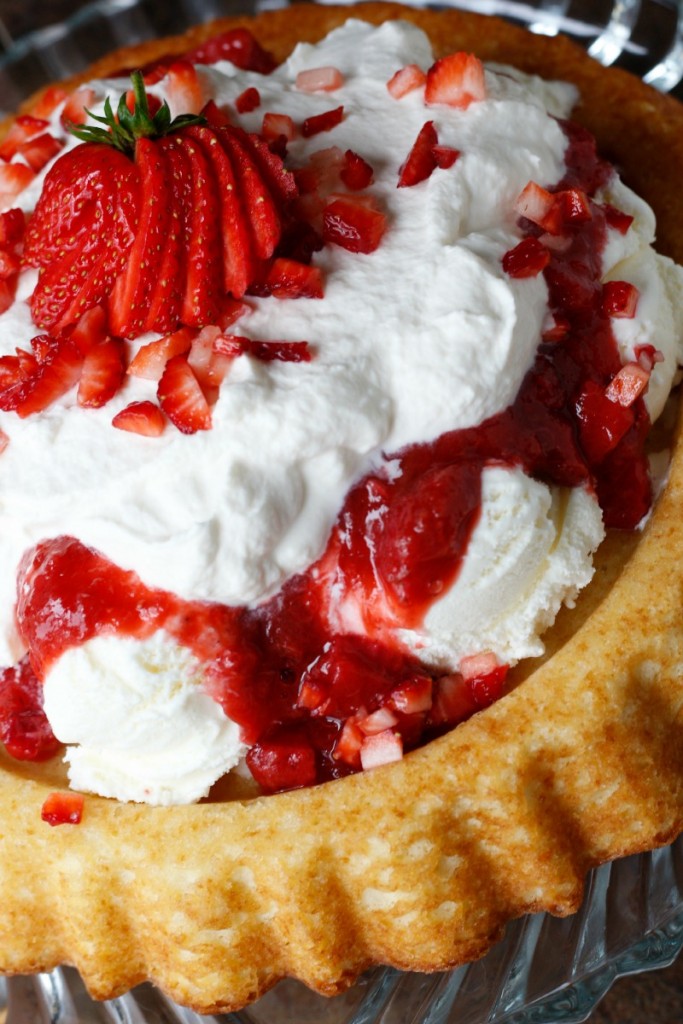 So now, totally random as my kid would say, I'm busting out the Kitchen Aid and making dessert to share.  Unless it's REALLY good… then  I hide out at home, keep the shades drawn and doors locked and I keep it for myself.
Thomas was icky one Sunday afternoon.  Not that this is unusual, to be honest.  There are plenty of times I want to hand him the bottle of Midol.  But sometimes Mommy knows that distraction can be the best medicine.
I opened up Grandma's old red and white checked Better Homes and Gardens cookbook and took out the mixer.  I grabbed the flour and a bowl and sifter and, like magic, the pouty boy on the couch disappeared and a bright-eyed smiling one appeared right next to me.
"Can I help?  What can I do?"
Never to let a teaching moment go by "Open the book to the desserts section and find strawberry shortcake in the index, then go to that page and tell me what we need."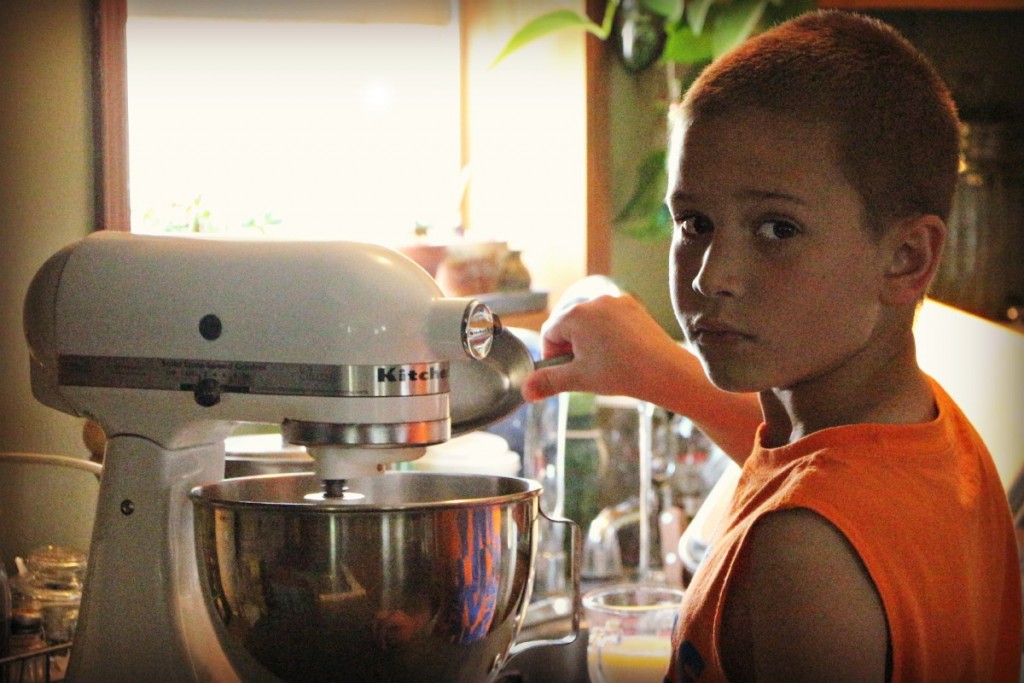 It was only a matter of minutes before the dry ingredients were sifted and the eggs were being beaten.  Thomas even cracked the eggs himself and got most of them in the bowl!  You may be saying, "whoop-di-doo, my 5 year old does that all the time" and I'd say, "hooray for you!  My kid is an egg-cracking flunkie."  Seriously, he still smashes that thing down on the counter and has no idea why it oozes all over.  He also has some kind of issue with getting his hands dirty and sticky.
This is the boy that needs reminding to wash BOTH SIDES of his hands before meals.  I don't get it either.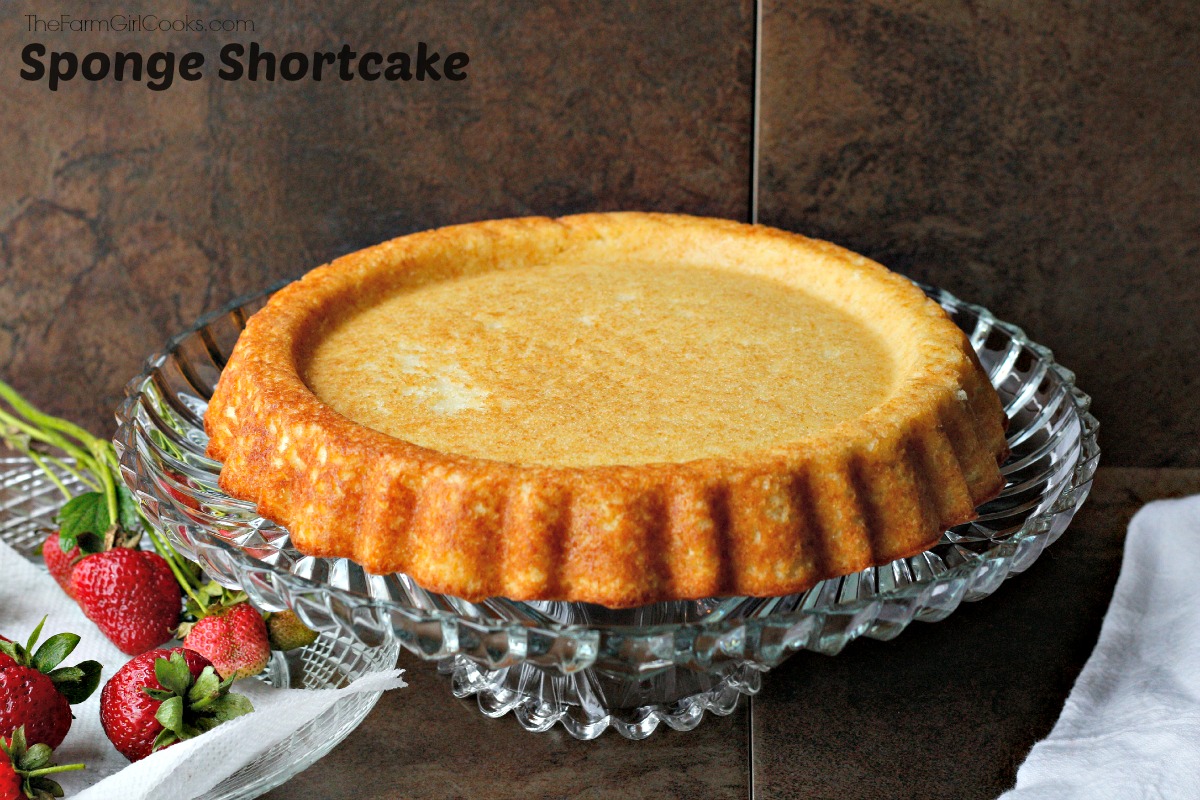 Sponge Shortcake:
1 cup sifted AP flour
1 t baking powder
1/4 t salt
2 eggs
1 cup sugar
2 T butter, unsalted and cut into small bits
1/2 cup milk, heated but not boiling
1 t vanilla extract
Preheat oven to 350°.  Spray the sides and bottom of an 8-inch square or 9-inch round pan  then line with parchment. ** I baked mine in a Duncan Hines/Ecko Tiara Desserts Pan from decades ago.  They aren't made any longer, but you could probably find one in your mom's kitchen, at yard sales  or online.
Sift together flour, baking powder and salt then set aside.  In bowl of stand mixer (hand mixer is fine…. it's what I used when I made this recipe as a teenager… back in prehistoric times), beat eggs until thick and lemon colored, about 3 minutes at med-high speed.  Original recipe says high speed, and with a hand mixer I would do that, but the stand mixer is much more powerful and I don't think you want the eggs to go all Jackson Pollock around your kitchen.
Gradually add the sugar, beating at medium speed for 5 minutes.  Gently, by hand with a rubber scraper, fold in the dry ingredients until mostly incorporated.  Stir the butter into the milk to melt a bit, then stir into the cake batter.  This will mix in any remaining flour that you missed before.  Don't over-mix. This spongecake relies on both the baking powder AND the air beaten into the eggs for its leavening.
Pour the batter into the pan and bake the cake for 25 – 30 minutes or until golden brown and a toothpick comes out clean with no wet batter clinging to it.  Cool the cake in the pan on a rack for about 15 minutes then turn out carefully to cool completely.  **Turn the cake out then re-invert so the top side is up.  It will stay pretty and you won't have cooling rack lines across it.**
Assemble the shortcake:
Place the cake on a cake stand or tray.  NTS: Be sure to thank Aunt Helen for making you this beautiful cake stand 😀 Scoop out balls of vanilla ice cream and pile onto the cake.  Generously pour the Strawberry-Rhubarb Sauce over top then dollop freshly whipped cream over all.  Sprinkle with diced strawberries and serve.  
Whipped Cream:
Place 1 cup heavy cream/whipping cream in the bowl of a mixer fitted with whisk attachment.  Add 2-3 T confectioners or white sugar and 1 t vanilla extract.  Beat on medium for about 1 minute then raise the speed to high and continue to beat until cream holds its shape when beater is raised.  It's better to err on the side of UNDER-whipping.  Over-whipping will (worst case scenario) separate and make butter – not as good as you think when you have already added sugar and vanilla.  A little over-whipping will make the whipped cream look grainy.  You can salvage it if you haven't gone TOO far by adding a bit more heavy cream and gently beating by hand to incorporate.
This recipe came from the Better Homes and Gardens New Cookbook (which is, of course, all relative, because our edition was probably printed in 1969).