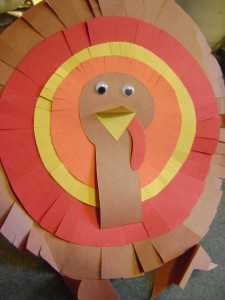 I'm not the only one who goes food-crazy on Thanksgiving.  I KNOW I'm not.  I've seen my share of folks pushing their chairs away from holiday tables and gently rubbing their tummies as they mosey to the living room to wait for dessert. (???)
I always have such good intentions and grand plans to put an elaborate spread on our Thanksgiving table, but I've learned that it's just more leftovers that my fridge cannot handle.  We were only 5 people this year for Turkey Day, and do we REALLY NEED 5 side dishes in addition to standard mashed taters 'n' stuffing?
No, we do not.
Nor do we need to wake up to find our son doing THIS at the kitchen table following a late night of baking and clean-up and preceding a long day of holiday prep, especially considering Mommy was feeling crappy.   But the lure of the dollar store wood model is too great for a 7-year-old.
So, I didn't make a million and one sides, even though I started out the week thinking of glorious veggie dishes to create and my tongue was hanging for cornbread stuffing with apples and bacon.  Instead, I focused on dessert (the cheesecake, recipe to be posted soon, and a special monster-sized apple crumb pie) and the oft-requested dinner rolls.
Mom had me pick up ingredients for her pumpkin pie (featured here – and since her clever little multiplier is set on 5 pies, that's what you'll be making if you use her recipe).  As much as we'd all ENJOY a slice of pie every morning for breakfast AND every day at lunch AND every evening for dessert, I have been thinking about re-making my pumpkin-mascarpone cheesecake since I first created it last Thanksgiving.  I've just been waiting for the perfect time (and by that I mean a time when I won't eat the ENTIRE THING by myself).  I told Mom it would be just fine if she waited a week or so and THEN made a bunch of pies for coffee breaks.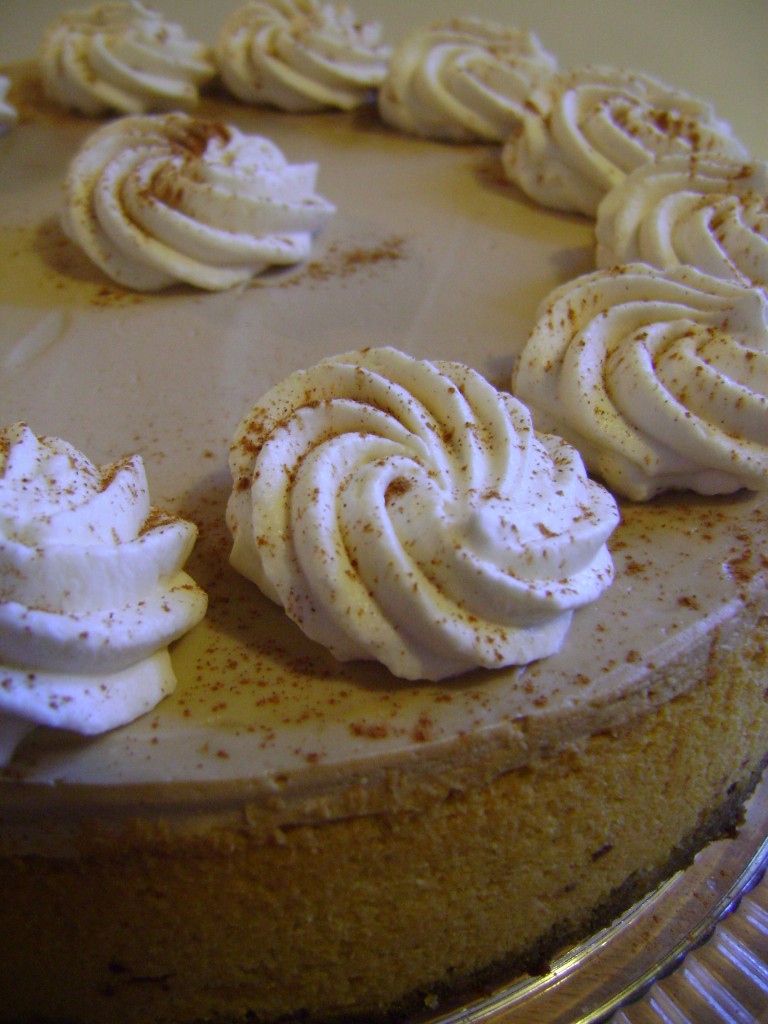 What I made is not a true pumpkin cheesecake.  It is, in fact, made with ambercup squash.  You see, pumpkins are squashes, and although varieties of squash have dramatically different flavors and textures, you CAN use squash in place of pumpkin in recipes – it just won't be as easy as opening a can.  It's not much harder though, at least in this case.
Ambercup is like a kabocha squash.  The outside skin is bright orange and very rugged.  The inside is deep orange and virtually fiber-less.  It's easy enough to prepare: cut the squash into wedges and scrape out seeds and inner fibers using a spoon.  Lay the now-cleaned pieces on a baking sheet, cut side down (line it with parchment paper to ease your clean-up) and bake it a preheated 350° oven for about 45-60 minutes.  You can also cover the pan with foil if you like – that will help steam it and keep exposed edges from drying out and caramelizing (flavor is good but texture just won't be right).  You'll know the squash is cooked when it pretty much collapses on itself when touched.  You will also be able to easily pierce it with a fork.
See how pretty?  This is pre-mashing, but look how un-stringy it is!  Very luxurious… for a squash.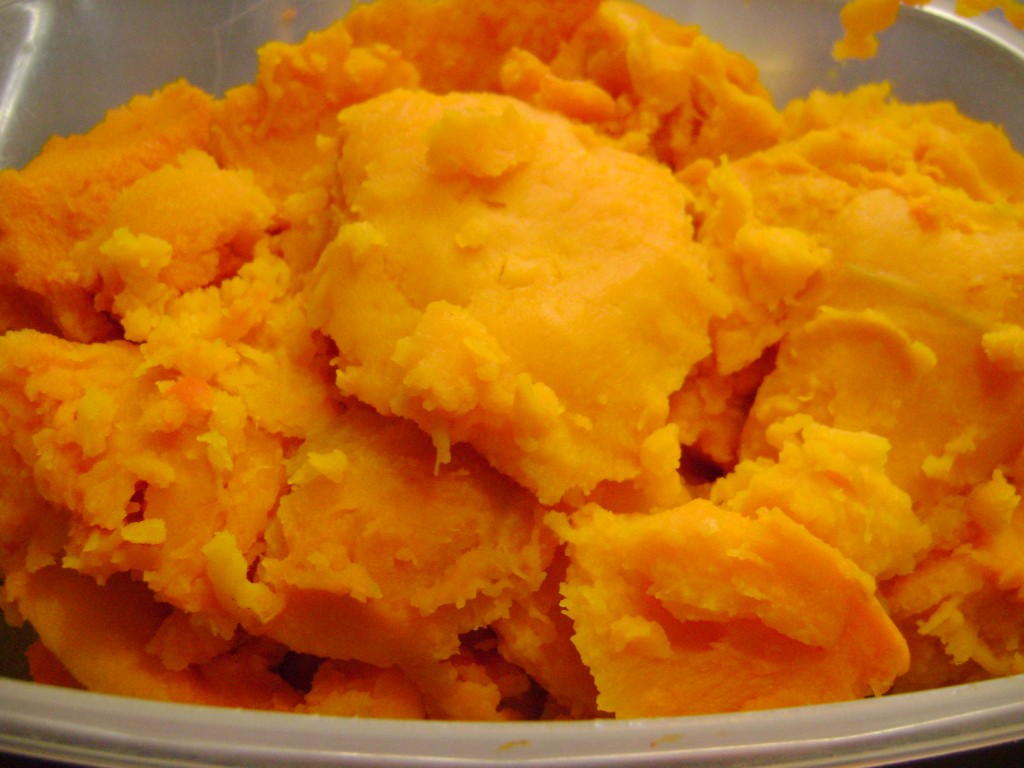 Once cooled,  scoop out the squash flesh and mash it with a fork (or food processor or food mill if you're doing a large quantity).  Store the squash in the fridge for a few days or freeze for several months.  I like to portion it in amounts that I'm likely to use in recipes, say 1-cup containers.  You can use it as is in any number of sweet or savory dishes such as pumpkin bread: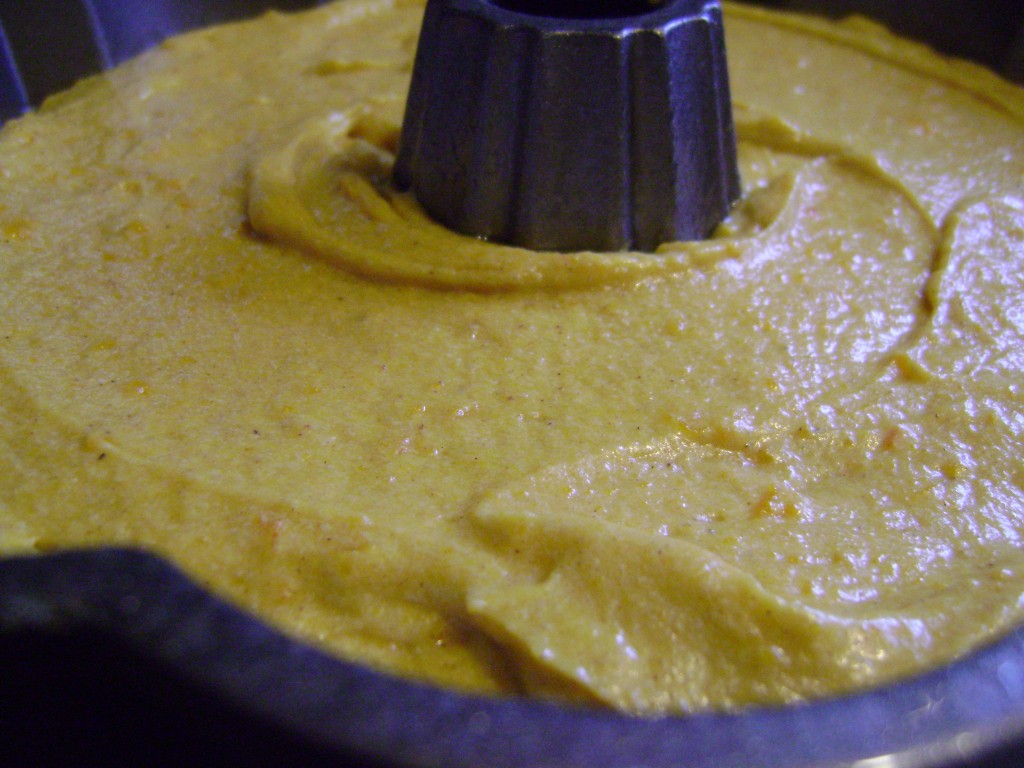 If you DO make pumpkin bread (in this cute little mini bundt pan from Nordicware – which I found on clearance at Target for $5.24 and just couldn't pass up) and let it cool on the counter, you may want to set up a hidden surveillance camera.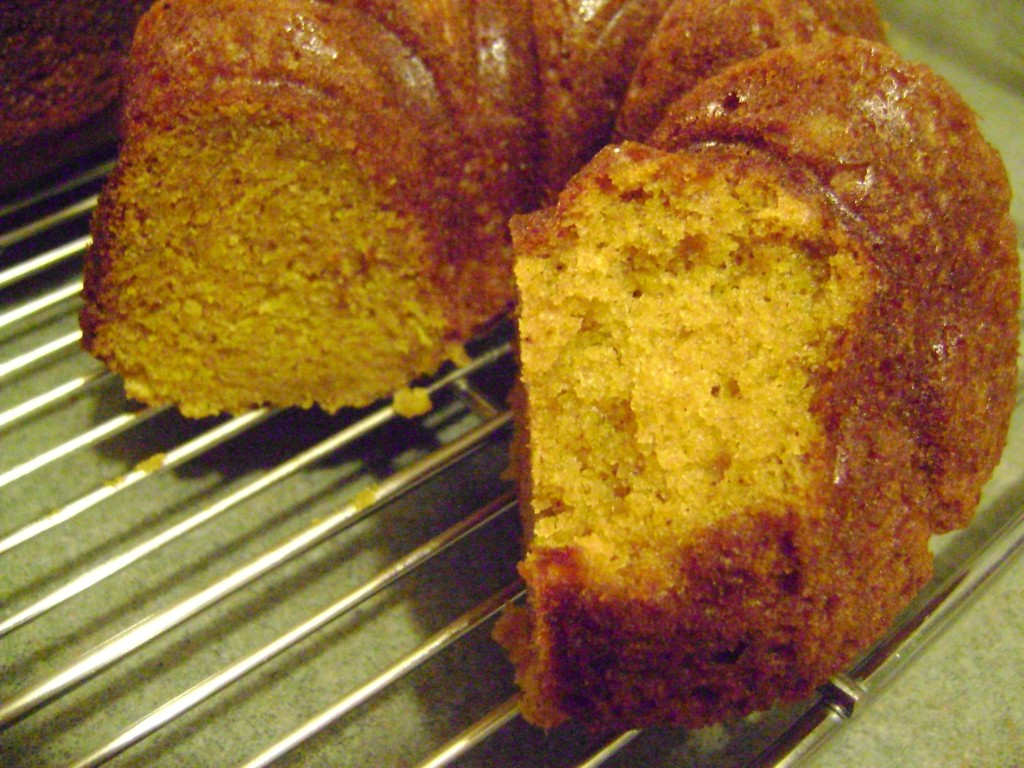 You have to pile the apples up really high
Get a load of this: I had to run out to the barn after The Boy and I had sampled the first piece fresh from the oven.  When I returned, it appeared as though something had torn or nibbled off some of the cake!  In my gut I knew it was him, but I wanted to give him the opportunity to fess up.
When questioned, my little prince informed me that it must have been the cat (we've been having issues with a new cat walking on the counters WHICH I HATE)!  The fact that he couldn't look me in the eye the entire time he was weaving this web of deception was a huge give-away.
"Thomas, are you SURE it wasn't you?  Because if it WAS you and  you are blaming the innocent cat, that's lying and it's a bad thing.  If I find out you're lying you will be punished."
This went on for a good five minutes and he stuck to his story very precisely before he finally admitted that it was him and not the cat.  The new handheld game was taken away for the rest of the night as well, because lying for 5 minutes is still lying.
All in all, it was a good Thanksgiving eve despite the fact that he didn't get into bed until 10pm.  He was very helpful to me and we created this masterpiece for Grandma.  I know, I know… that's an awful lot of crumb topping, Kasha!  Yes, but remember apples cook down a lot and you want to have a nice substantial pie after it's baked.  Mom instructed, "you have to pile the apples up really high, then pack the crumb on with your hands".
And so it was done.