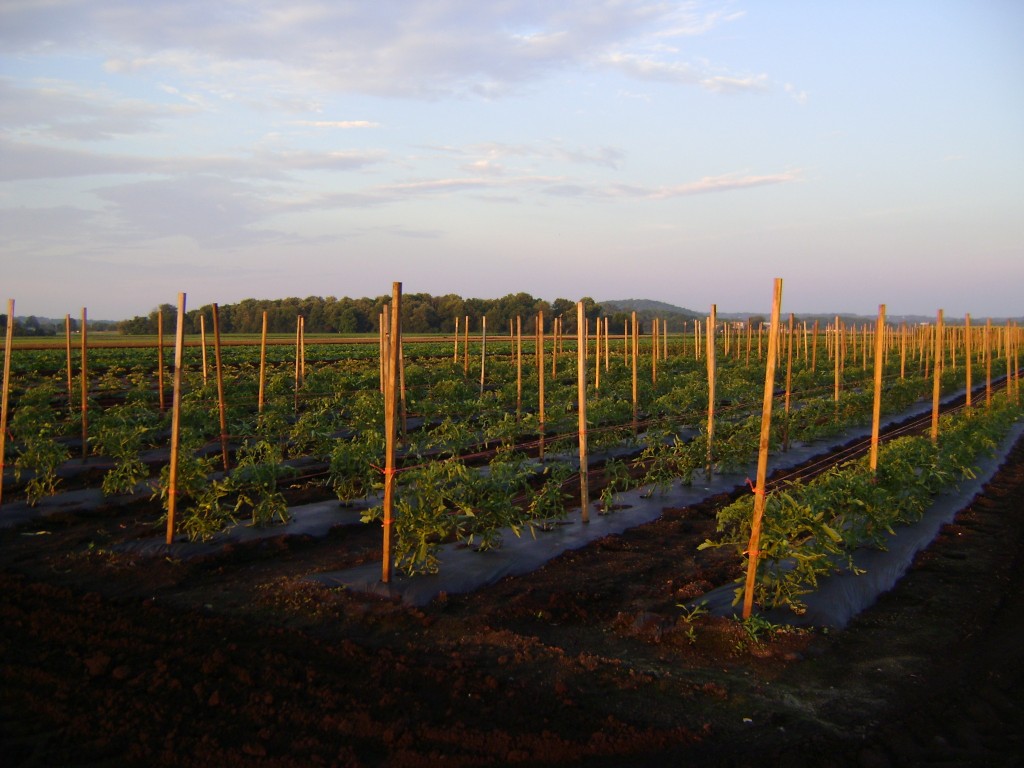 Should I apologize first or just get to the recipe?
Ok, apology: I am so sorry for not posting anything in the last several weeks.  I haven't cooked all that much, actually, and although I have TONS of ideas floating around in my head, farmwork, heatwave and motherhood have basically wiped me out and left me the shell of a woman who nods off on the couch each night while her kid rides his bike with his cousins and  the dinner dishes sit in the sink until morning.
I'm not going to lie.  I've eaten more than my share of Trader Joe's Thai Shrimp Gyoza of late, and on more than one occasion we've made the trek to the ice cream stand for 'dinner sundaes'
Walnut sundae, vanilla ice cream please… 
"Whipped cream and cherry?" 
Well, isn't that what MAKES it a sundae?   Don't toy with me, Barbie… Sheesh!
Now, as for grabbing the bull by the horns… I'm talking about tomatoes.
Over 4000 tomato plants on this farm and we've picked less than four dozen red tomatoes thus far.  It's frustrating.  Mostly because I want a tomato sandwich, dammit!
Also because our customers are practically DYING for home-grown, vine-ripened tomatoes right now.   They've HAD IT with supermarket tomatoes(and even farm market, because not everyone grows what the sell at markets.  It's true.)  that were picked green and gassed to get red.  We've got such an assortment of heirloom tomatoes planted this year and I can't wait to sample them all.
But Mother Nature is making us wait, and wait, and wait some more – so on Sunday I gave her the finger and used 'em green.
If you've never had fried green tomatoes, I urge you to try them.  FGT don't have to be greasy and soggy and mushy.  Coated with a crunchy coarse cornmeal and grated parmesan cheese, these rounds fry up fairly quickly and can be used in ways that will please everyone at your table.
Classic Fried Green Tomatoes
Choose green tomatoes that are JUST about to turn.  They start out dark green, then turn white-green before ripening red.  These are the right tomatoes for frying (or so says Louella, who taught me this and whom I love with all my heart.   She grew up Down South and has been frying tomatoes for over 60 years).
Slice the tomatoes thinly, about 1/4-inch thick.  Thicker ones will darken too fast before they cook through.
Assembly line ready!
1. AP Flour seasoned with salt, pepper and minced fresh sage
2. Beaten eggs
3. Coarse cornmeal mixed with a bit of grated parmesan
Dredge slices in flour first, coating thoroughly and knocking off any excess.
After dipping slices in beaten egg, letting excess egg drip off so it doesn't totally gunk up your cornmeal, finish coating your tomato slices – press gently to help meal adhere (yes, you can certainly use breadcrumbs).
I coat all the slices at once and lay them on a wire rack to rest, then start frying a bit at a time.  I hate the way my fingers get 'breaded' even when I use a fork, and this AR girl needs to have clean hands.
Heat a skillet over medium heat with about 1/4-1/2-inch canola oil.  When it's hot, you'll see faint ripples across the surface.  Unsure?  Dip in a test slice.  If it bubbles all around, it's good to go!  Slices will cook for about 6 minutes, but taste-test one just in case.
Drain your browned slices on paper towels (re-use that rack!) and salt immediately.  Taste again.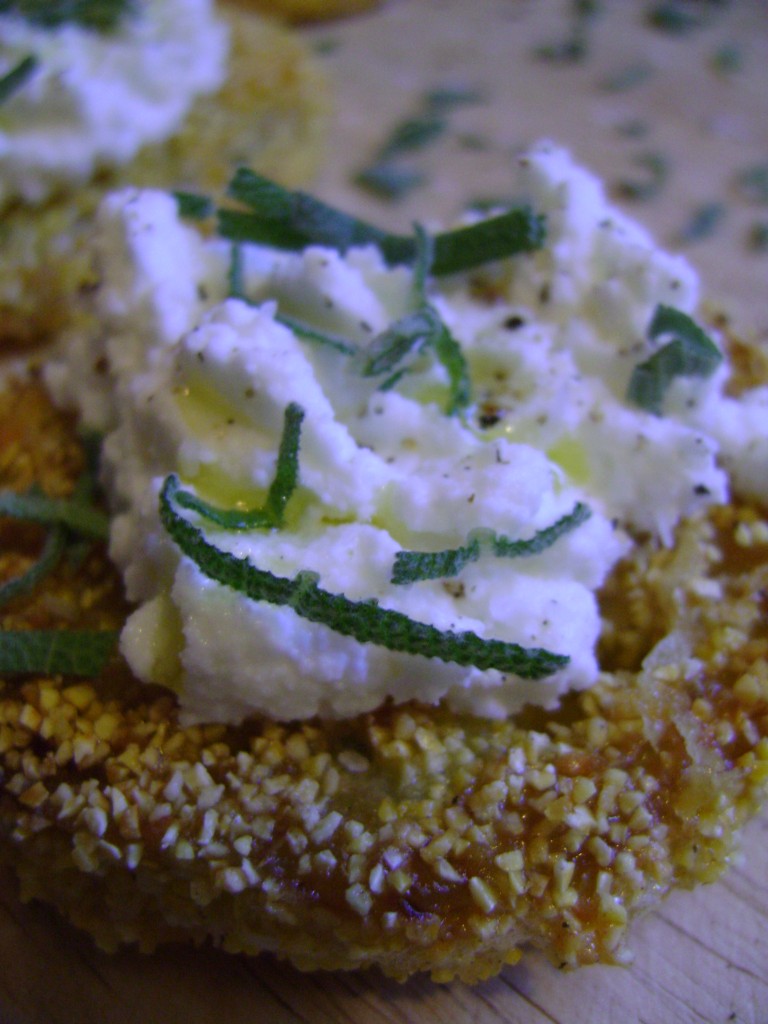 Basic topping turns this humble creature into an outrageously good party app or light supper:
1. Dollop of Ricotta Cheese
2. Chiffonade of Fresh Sage
3. Coarse Salt and Freshly Ground Pepper
4. Grated Parmigiano Reggiano
5. Light Drizzle of Truffle Oil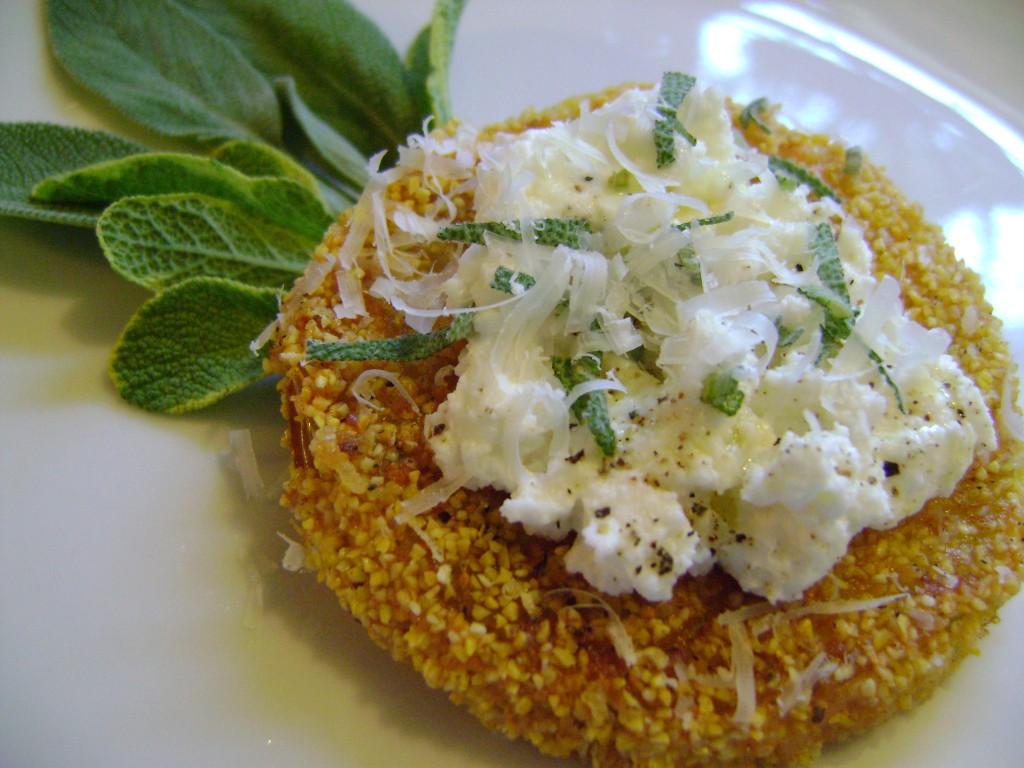 Enjoy singly or in batches.  Or eat them alone in the kitchen and don't count.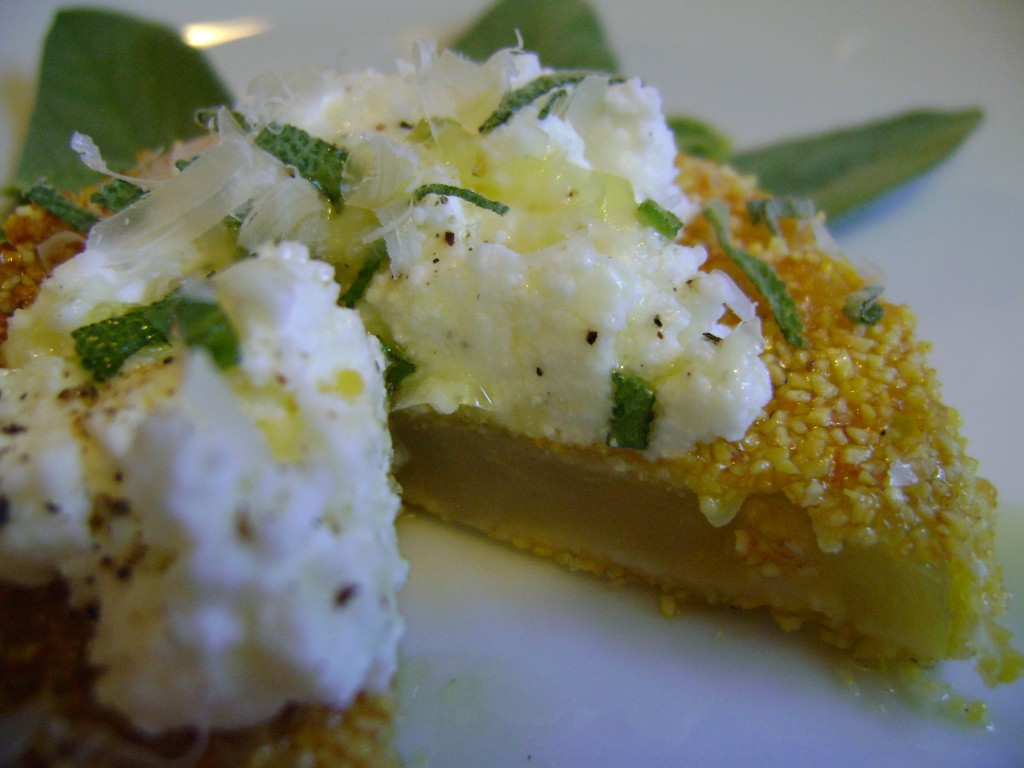 The interior texture is al dente, not mushy.  There's enough substance here that you can serve this as "finger food."