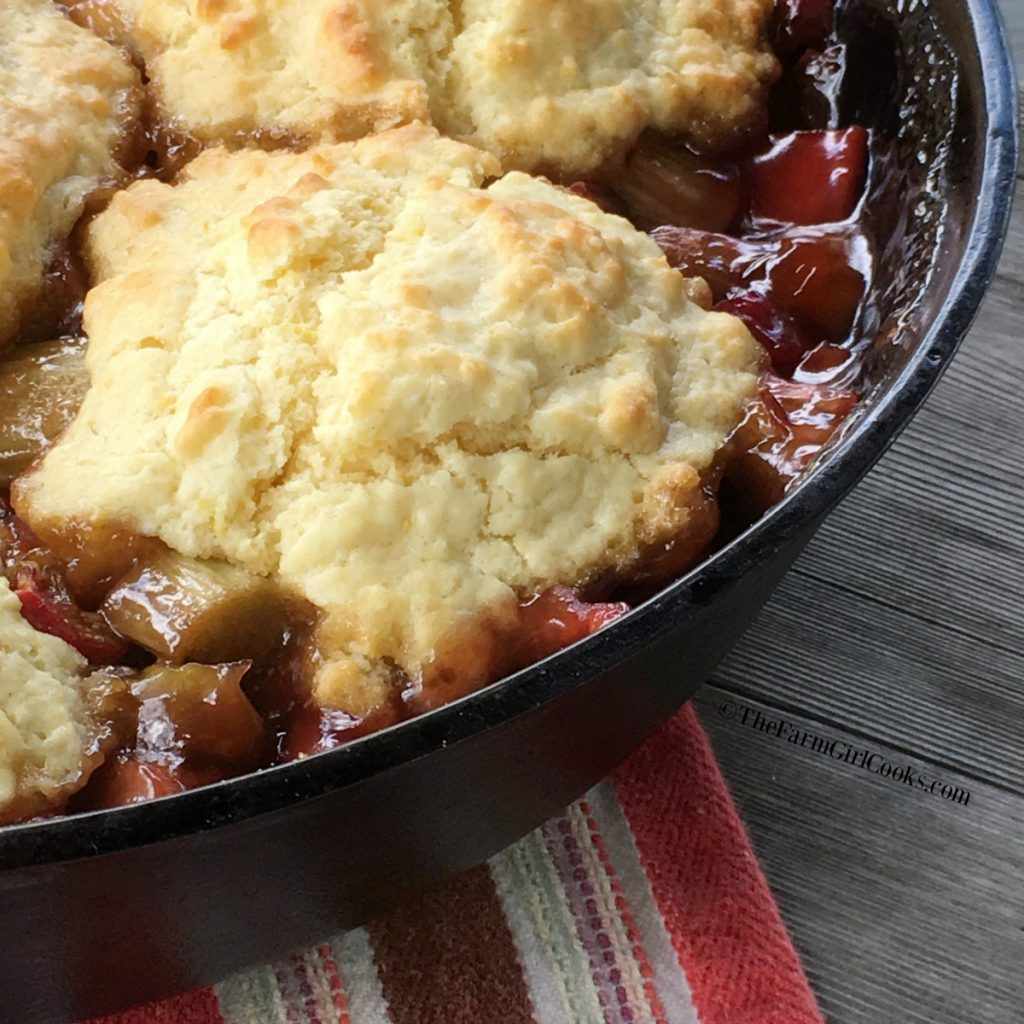 Every time I pick rhubarb for sale at the farm stand I think about the potentially diet-damaging and oh-so-delicious dishes I can create with the red celery-like stalks. I daydream about the cobblers and crumbles and compotes and jams and all of the wonderful ice creamy goodness! Then the summer temps slap those ideas right out of my head because this summer has been brutally hot.
That's the theme of my life these days and I'm not liking being (ahem) in my mid-forties one bit… especially in July.
My hormones haven't squelched my urge to cook and bake, but they have forced me to consider the consequences of turning on the oven. As I trudge further into "mature-womanhood", I become far more creative with my methods, and in fact, welcome the challenge of figuring out how to use my Weber propane grill to cook baked goods, potatoes, french fries, veggies, etc. I have some failures, but the majority are successes – most of which are not timed perfectly for photographic opportunities.
Other times, I get lucky. Those images go straight to Instagram @thefarmgirlcooks 😀
This day, however, I was not only lucky enough to have dessert success, but I was able to get good lighting for some decent pics, AND I had company stop by to share in the grilled deliciousness! Really, there's nothing better than sharing a homemade summer dessert with friends. Unless we bring up the Negroni I enjoyed while cooking this beauty on the patio grill!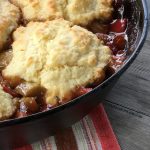 Grilled Rhubarb Cobbler
A classic old fashioned dessert, cobblers consist of stewed fruit with a biscuit topping. Here, rhubarb is enhanced by the caramel flavors of brown sugar and the sweetness of orange juice. We suggest the tender orange-scented biscuits and sweet-tart rhubarb be served warm with creamy vanilla ice cream.
Ingredients
2

lbs

rhubarb

chopped into 1" pieces

3

T

cornstarch

3/4

c

granulated sugar

1/2

c

brown sugar

2

T

orange juice

2

T

unsalted butter

--------------------------

1

c

AP flour

2

T

granulated sugar

1 1/2

t

baking powder

1/4

t

salt

1

t

orange zest

4

T

unsalted butter

cold, cut into small cubes

1/4

c

milk

1

egg
Instructions
Combine rhubarb, cornstarch, sugars, juice and 2 T butter in a 10" cast iron skillet.

Stir carefully then set aside while you prepare biscuit topping.

Stir together dry ingredients plus zest.

Cut in butter until mixture resembles coarse crumbs.

Beat egg with a fork to break it up, then stir milk and egg into dry ingredients. Do not overbeat - there will be a few lumps.

Set aside.

Set gas grill to medium and place skillet on grate. Adjust settings periodically so you maintain a temperature of 400° throughout the cooking process.

CAREFULLY stir with a wooden spoon until the mixture begins to bubble, then allow to simmer for 1 full minute.

Spoon dough around the perimeter of the pan first, then fill in the center, making 10 biscuits.

Close lid of grill and cook for about 20 minutes until biscuits are firm to the touch but still fluffy and not wet. They should be golden brown.

Using a pot holder, remove from grill and allow to cool on a trivet for about 30 minutes.

Spoon into bowls and serve with vanilla ice cream or homemade whipped cream.

For Oven-Baking: Combine rhubarb filling ingredients in saucepan.

Bring to a simmer over medium heat and boil for one minute.

Pour into oven-safe baking dish and set aside.

Prepare biscuits as directed above and spoon over filling.

Bake for about 20 minutes at 400°.