Salad Pizza. If I had even suggested such a thing when I was a teen, my parents would have looked at me as though I had two heads. Pizza is crust, sauce, cheese, heat. Now, however, as an adult who appreciates healthier and more colorful adaptations of food classics, I think salad on a pizza sounds divine. Lettuce and cucumber? Not so much. Try spiralized zucchini and tomato with just a hint of cheese.
Summer fun (or work, in my particular case) tends to cut into one's meal prep time, even if we rely on easy grilled dishes. Summertime saps my energy and makes me wish I had a personal chef catering to my food moods. I'm just as lazy as the next guy and sometimes just want to throw a slice of pizza on a plate and plop my butt on the couch to catch up with the Real Housewives (choose your location of choice). Pizzeria pizza just ain't what it used to be and while it's appealing in theory, in practice…. just, meh.
But then something inspires me and I'm caught up in the whirlwind of creating culinary magic in my tiny kitchen and I've got a half dozen things going on at once.
"Something inspires me and I'm caught up in the whirlwind."
pizza dough resting on an oiled cookie sheet.
peeling garlic
dicing and seeding tomatoes
spiralizing green and  yellow zucchini
snipping basil
scooping ricotta
Having a stash of frozen pizza dough rounds makes dinnertime a breeze and très gourmet. Salad pizza is easily customized with abundant veggies in all shapes, sizes, and colors and an assortment of cheeses and precooked meats.  If you like to entertain, the grilled pizza crusts may be made in advance – simply cook the crusts through Step #5, let them cool, and set aside until guests arrive. Each guest can create a custom personal pizza!
"Make your own grilled pizza and forget the take-out."
Some topping ideas
• grilled chicken, kalamata olives, cubed mozzarella & arugula
• grilled Italian sausage, peppers, onions & oregano with balsamic glaze
• breaded & fried (or grilled) eggplant strips, roasted garlic, diced tomato, mozzarella, ricotta & parmesan
• roasted garlic, goat cheese, cherry tomatoes, arugula
• pesto, heirloom tomato slices, fresh mozzarella
• roasted garlic, grilled onions, grilled red peppers, grilled zucchini, goat cheese, fresh basil, balsamic glaze
• minced oregano, salt, pepper and garlic pressed into raw dough before cooking, then top with cubed feta, diced tomato, yellow bell pepper, cucumber, arugula and Greek salad dressing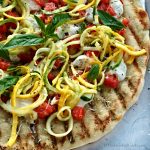 Grilled Summer Salad Pizza
Make your own grilled pizza and forget about take-out. It's easy, beautiful, and you can be as creative as you like! This recipe makes one 12" pizza. We suggest one pizza per guest.

NOTE: Grilling pizza dough takes a little practice. Don't worry if it's not a perfect circle and don't be afraid to eat a few mistakes. The grilled crust is amazing simply torn into bits and dipped in rosemary-garlic oil and balsamic vinegar.
Course:
Appetizer, Main Course
Ingredients
1

pre-made pizza dough, about 4 oz

thawed if frozen

1

clove

garlic

1/4 - 1/2

cup

ricotta cheese

8-10

cherry tomatoes, halved

or substitute diced, seeded tomato

1

small zucchini, spiral-sliced

1

T

extra virgin olive oil

plus extra for oiling dough

4-5

fresh basil leaves

salt, pepper, red chile flakes

grated parmesan cheese

to taste

balsamic vinegar or prepared balsamic glaze

if desired
Instructions
Lightly oil a baking sheet. Using fingertips, gently press out room-temperature pizza dough until it reaches the diameter and thickness you like. Set aside while you prepare toppings.

Spiral-slice zucchini or alternatively, use a vegetable peeler to cut paper-thin slices, then toss into a bowl with a drizzle of olive oil. Sprinkle with salt and pepper to taste, then set aside.

Have all ingredients assembled, then heat gas grill on high for about 10 minutes. Once the grate is hot, clean it with a grill brush to remove debris.

Using clean hands, careful pick up oiled pizza dough and gently drape it directly onto the hot grate, spreading it out to avoid overlap.

Let the dough cook for 2-3 minutes, then turn the crust about 45° and let cook another 2 minutes to obtain pretty grill marks. The crust will be bubbly and almost dry on top when it is ready to be turned over. Using a spatula or tongs (or both), carefully flip crust to cook the other side for about 1 minute.

Remove the crust from the grill by sliding it onto a sheet pan or cutting board. Rub a raw garlic clove directly onto the hot surface of the dough. Spoon evenly spaced small dollops of ricotta onto the crust and sprinkle tomato halves on top. Sprinkle with salt, pepper, and chile flakes if desired, then gently slide pizza back onto grill to finish browning the bottom crust and to heat the cheese.

When the crust is done to your liking, carefully slide it off onto baking sheet or cutting board. Top with zucchini 'noodles', torn or sliced basil leaves, and a generous sprinkling of grated parmesan cheese. Drizzle with balsamic glaze if desired.
---