Especially when you're whipped with butter and splashed with vanilla.
WHAT?!?!?!
Where did you THINK I was going with that? Honey Butter!
Slathered on a delicious piece of toast, of course!
Compound butters are no stranger to The Farm Girl.  This maple-orange butter was equally delicious on roasted acorn squash, baked sweet potatoes and wheat toast.
I was in the mood for something sweet and remembered making a honey-buttercream to top a yellow butter cake.  It was fabulous, but way more work than I was up for at the time.  I had some Irish soda bread on hand so I toasted some slices and literally whipped up this honey butter in a matter of minutes.
Note that it does take some time to allow the butter to soften properly – a few hours at room temperature will do the  trick.  If you prefer to speed up the process, just open up the butter wrappers and slice the sticks into tablespoon-sized pats and separate them from each other.  They will come to room temp in no time and you'll be able to incorporate the honey without fail.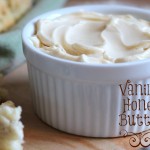 Vanilla Honey Butter
Excellent on toast, corn muffins, pancakes and waffles!
Ingredients
2

sticks unsalted butter

softened to room temperature but not melted

1/3

cup

honey

1 1/2

t

vanilla extract
Instructions
Place butter in bowl of mixer fitted with whisk attachment and beat until fluffy.

Gradually add honey and vanilla and beat until combined, scraping down sides of bowl as needed.
That's it.  Really!
You can, of course, beat the ingredients together with a wooden spoon or a hand mixer.  The honey butter can be stored  in a small container in the refrigerator or in the freezer for longer storage.  You can also form the butter into a log on a piece of parchment or waxed paper, wrap it tightly in plastic wrap or a freezer bag and freeze, cutting off slices as needed.
If you're so inclined, perhaps for a special Mother's Day breakfast, you can serve beautiful rosettes of butter on a pretty plate alongside home-baked scones.  It's simple: place soft vanilla honey butter into a pastry bag fitted with a star tip and pipe rosettes onto a cookie sheet lined with waxed paper or parchment.  Freeze the butter rosettes for several hours until solid, then stack in an airtight container, the layers separated by waxed paper.  Store the butter rosettes in the freezer until needed.