Happiness is Gorgonzola cheese sauce atop crispy tater-tots!
Every day when The Boy comes home from school  I go through the contents of his backpack and homework folder.  He has some kind of reading, math and spelling homework Monday through Thursday nights.  Last night, in cleaning out his folder for the upcoming week, I found a reading comprehension handout about a type of dog that does not bark.
The question that required a written answer (as opposed to multiple choice) was "Would you like to have a dog that did not bark?  Why or why not?"
If there was ever a question as to Thomas' maternal link, it ended with this:  "I would (like a dog that didn't bark) because it won't be annoying."
I love this child with every ounce of my being.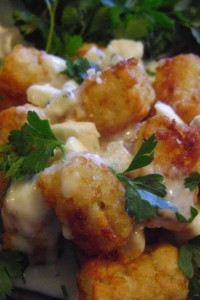 Did anyone else know that last Thursday was National Tater Tot Day?  How did I miss out on this glorious celebration of the tot?   That little nugget of starchy, greasy, salty goodness that made me buy school lunches when everything else on the tray looked and tasted like crap?  I need to get on some kind of mailing list that tells me when these holidays occur.  Anyone have a link?
 I KNOW we have tens of thousands of pounds of potatoes lying around the farm every year.  I KNOW we have up to 9 different varieties of potatoes, each with their own unique characteristics and flavors and uses.  But sometimes you just want a Tater Tot!
Please don't be disappointed in me.  I'm sorry… I keep a bag in the freezer for those times when I really need a pat on the back from The Boy and want to be appreciated for being 'that mom'.  Like last week.  I wanted to surprise him and we haven't had desserts in the house since the holidays so I picked up a package of Klondike Bars.
"You are the BEST MOM EVER because you got me Klondike Bars!  Except they make my teeth hurt."  
"Ok, then don't eat them and I'll give them to Grandma."
"They don't hurt THAT much!"
The pat on the back ended with a kick in the tush, but still, all in all, I got smiles and thank yous.   What more can we ask for, right?
My belated observance of  National Tater Tot Day was inspired by a recipe I'd seen nearly 20 years ago in "The Frugal Gourmet Cooks Italian".  I typically use this sauce to top polenta and sauteed mushrooms but since the bag of tater tots fell out of the freezer and onto my foot I figured they just wanted to be eaten.  This rich, flavorful Gorgonzola cheese sauce proves to be a lovely counterpoint to the trashy cafeteria staple.   This sauce comes together in minutes and keeps in the fridge for a few days.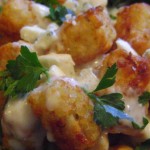 National Tater Tot Day and Gorgonzola Cheese Sauce
Course:
Gorgonzola Cream Sauce
Ingredients
1

T

butter

2

T

flour

3/4

cup

milk

1/2-3/4

cup

gorgonzola

crumbled

salt

pepper and fresh chopped Italian parsley

additional gorgonzola for garnish
Instructions
Melt butter in small saucepan.

Whisk in flour, then cook over med heat, stirring, for about one minute.

Gradually stir in milk, whisking until smooth. Bring to a simmer and let cook until mixture thickens (kinda like pancake batter), about 3 -5 minutes.

Stir in Gorgonzola, salt and pepper and remove from heat.

Garnish finished dish with more Gorgonzola and chopped parsley.