Harvesting Potatoes on a Summer Afternoon Makes a Welcome Meal
"C'mon, Thomas.  Let's go get some potatoes for dinner."
That doesn't mean going to the store, or even to the barn… yet. Yesterday, it meant going out to the field to dig them up fresh.
REALLY?   Yes.
With the afternoon sun beating down upon us, and with temperatures nearing 100, I dragged the "poor boy" all the way to the other side of the farm just to get potatoes for dinner.
He was gung ho about it until we burned our tushies on the seat of the pick-up that had been baking in the sun all day. Plus, all this dry weather has made the Black Dirt so powdery that we had to close the truck windows most of the way so we wouldn't be completely covered in dust by the time we got to the potato patch. So, to say the very least, it was an uncomfortable trek.
He was helpful for all of 2 minutes, and quickly turned into a moody little cuss, dragging his feet and whimpering, "I'm STARVING! I think I'm gonna faint if I don't get some food. Daddy doesn't feed me.**"
I gave up asking and ignored the dirt-kicking (because sometimes you have to pick your battles), and just picked a few plants myself, digging through the soft mounds of dirt to find the delicate little treasures so expertly hidden by Mother Nature. I was able to find about 1 pound of small Yukon Golds and Adirondack Reds (red inside and out).
I got them home and within 15 minutes they were in a pot of salted water, boiling away happily. Thomas was completely thrilled to eat them as is, but I have been dying to try out a recipe that some friends of mine have raved about called Crash Hot Potatoes from The Pioneer Woman, Ree Drummond.
Once boiled and smashed, I stuck them under the broiler instead of baking them as directed, and I used minced rosemary and lemon-thyme (Yes, I know.  You already know it's my new favorite herb.).
To say they were delicious is an understatement. The texture was so creamy, yet crispy where the broiler worked its magic. The Yukon potatoes had a butteriness to them, and the Adirondack Reds were absolutely sweet. There's no other way to describe them. To be completely honest, Dad and I were both moaning with delight and raving about these damn things. Please. MAKE. THESE. POTATOES. You can thank me later.
It just makes me stop to think.  How can a few simple ingredients, prepared in a basic fashion, be so wonderful? I don't need, nor do I have time for, fussy gourmet food with ingredient lists a mile long and preparations spanning days. When you are starting with the freshest, top-quality ingredients, how can the finished dish NOT be wonderful?
It was the night for simple, too, as the heat just wiped me out and despite my love of all things culinary, I was not in the mood to cook anything too taxing. Alongside those potatoes was a simple cucumber salad and some fish, lightly breaded and fried in olive oil.
We've been picking cucumbers like crazy lately so they were the natural choice for a side dish. They are loving this hot weather, although, if it gets any drier, we WILL have to irrigate – especially newly planted seeds that require moisture to germinate.
I couldn't think of a better meal for a hot night, nor could I have had better company than my son and my father. And to top it all off? S'mores around the fire pit for dessert!
---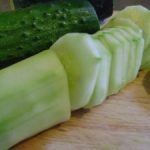 Cucumber and Dill Salad
An oldie, and still a goodie! Of course, you can substitute Kirby cukes if you prefer them.
Ingredients
2

Cucumbers

peeled if you prefer, sliced 1/8-inch thick

heaping 1/4-cup Sour Cream

2

T

chopped fresh Dill

not dry or dill seed

1/4

t

lemon juice

Lemon-Pepper seasoning

or kosher salt, fresh ground pepper and grated lemon zest, as desired
Instructions
(This is very difficult so please pay attention and follow instructions closely.)  Put everything into a bowl and mix well.  Serve.

If you don't finish the salad (it should serve 4) leftovers will water out, so pour off the liquid and stir well before serving
**FYI, his father DOES indeed feed him, just not always what the young man WANTS to eat.   Also, The Boy's behavior improved dramatically once we were home, in the A/C and his belly wasn't quite so empty.  Moms just know these things!