Eggs Goldenrod? Someone please hand my mother a napkin.
I'm pretty sure she just spit her coffee all over her monitor.
You see, Eggs Goldenrod was  a staple in my childhood home, and not just at Easter.  It is a fabulous way to stretch a food dollar and who doesn't like breakfast for dinner?
Why did my mother do a spit-take?  Because this dish was NOT one of my favorites.  Oh, don't get me wrong, it was the stuff of which memories were made – memories that I will relive with my darling boy every time he complains about the 'wacky-crazy' stuff I force him to eat for dinner.
"Well, at least it's not Eggs Goldenrod!"
For some reason, though, and perhaps it's the whole "time to color Easter eggs" thing, I've been thinking about the old goldenrod a lot lately.  I've been thinking that creamy eggs and toast is a great combination and why the heck couldn't I remake it into something that not only would I tolerate (lest I get sent to my room without supper), I would actually eat willingly?
I mean, this stuff is serious comfort food, and it couldn't be any easier to make.  Plus, you'll get to use up some of those eggs you colored last week.  Because how many deviled eggs can one family eat?
The primary component of Eggs Goldenrod, the standard of post-war Home Ec classes everywhere, is a basic white sauce, or if you wanna get fancy, a béchamel.  First you make a roux (butter and flour), then you add milk and seasonings and let it simmer to thicken.  A white sauce is the basis of so many things, including the best macaroni and cheese ever.  Once you master it, the possibilities are endless!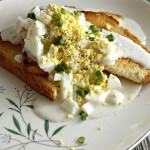 Eggs Goldenrod
Eggs goldenrod is a retro breakfast-for-dinner dish that is inexpensive and easy to prepare. This classic dish uses a simple white sauce which can be embellished to suit any purpose.
Ingredients
1

T

butter

1

T

+ 2t flour

1 1/4

cups

milk

1/4

t

dry mustard

1/4

t

kosher salt

1

bay leaf

freshly ground pepper to taste

3

hard boiled eggs

peeled, yolks and whites separated

3

slices

of bread

toasted

scallions or chives

optional
Instructions
Put egg yolks in a small dish and smoosh with a fork. Dice egg whites and set aside.

Melt butter in a small saucepan. Add flour and whisk to combine.

Cook for about 30 seconds, then gradually stir in milk while whisking constantly. Stir in dry mustard, salt, pepper and bay leaf.

Keeping the heat on medium, continue stirring (switch to a heat-proof rubber scraper to get into the edges of the pan) until milk comes to a simmer.

Allow to simmer GENTLY (means no big bubbles plopping up, just tiny, gentle blubs) for one minute then remove from heat. Remove bay leaf and discard, then taste for seasoning.

Stir in diced egg whites, then spoon over toast. Sprinkle with reserved yolks and scallions or chives if using.

Serve to eagerly awaiting diners and if they don't like it, pull out the guilt card. They'll be yearning for it again in 30 years 😉
The Easter Bunny left some Peeps, M&Ms and a tiny chocolate bunny here. He also left a tube of The Boy's favorite toothpaste.
I thought that was very sweet of Old Mr. Cottontail.