Because you can't have a birthday without cupcakes!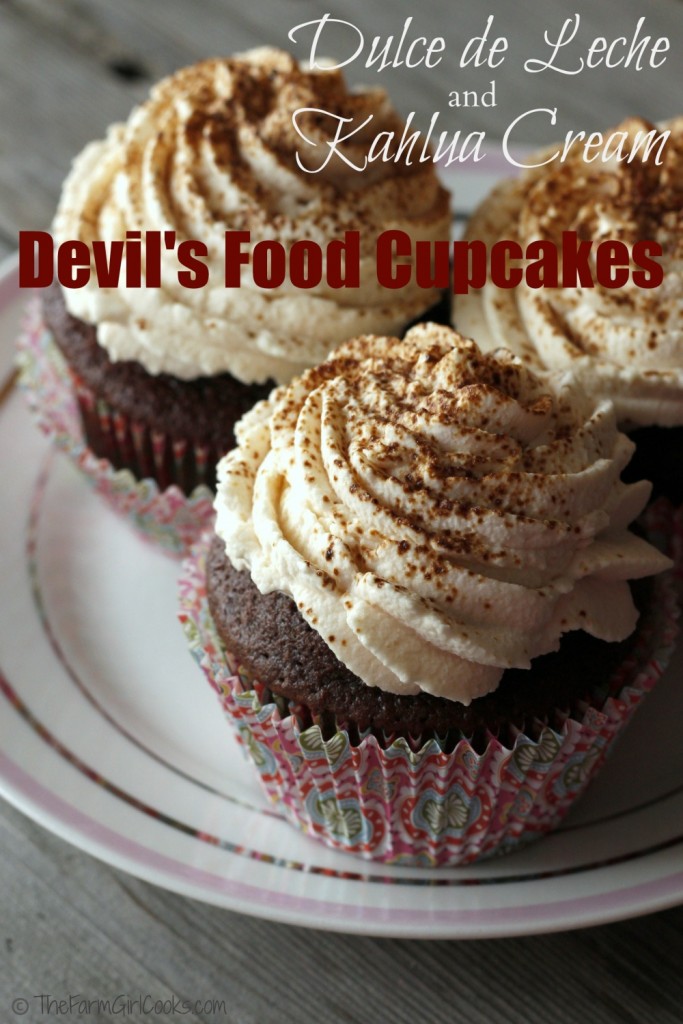 I started blogging exactly three years ago in hopes that my farmers market customers would stop by here to find the recipes and cooking ideas that I dole out with reckless abandon each week during market season.  Seriously, if you see me at market, you know that I will tally a sale, instruct workers, corral my child, zing my mother, and give a lecture on the proper care and storage of sweet corn all at the same time.
Over the course of the last three years, however, this blog has undergone a metamorphosis.  What started out as equal parts recipes and "fresh off the farm" fun has turned into a photographic autobiography of sorts.  Food is like breathing to me.  I am completely immersed in it from seed to sale to scrumptious supper… and that's ok!  I'm good with that.  It's what I love.   But, while I absolutely adore food in all its forms, it ain't what The FarmGirl's about 100% of the time.
Food is like breathing to me.
I've also discovered that I'm totally and completely in love with a young man who has grown up quite literally before my very eyes.  I have learned through writing about him, that my son is hands-down the most amazing creature who has taught me more about life in the last 9 years than all of my pre-motherhood years combined.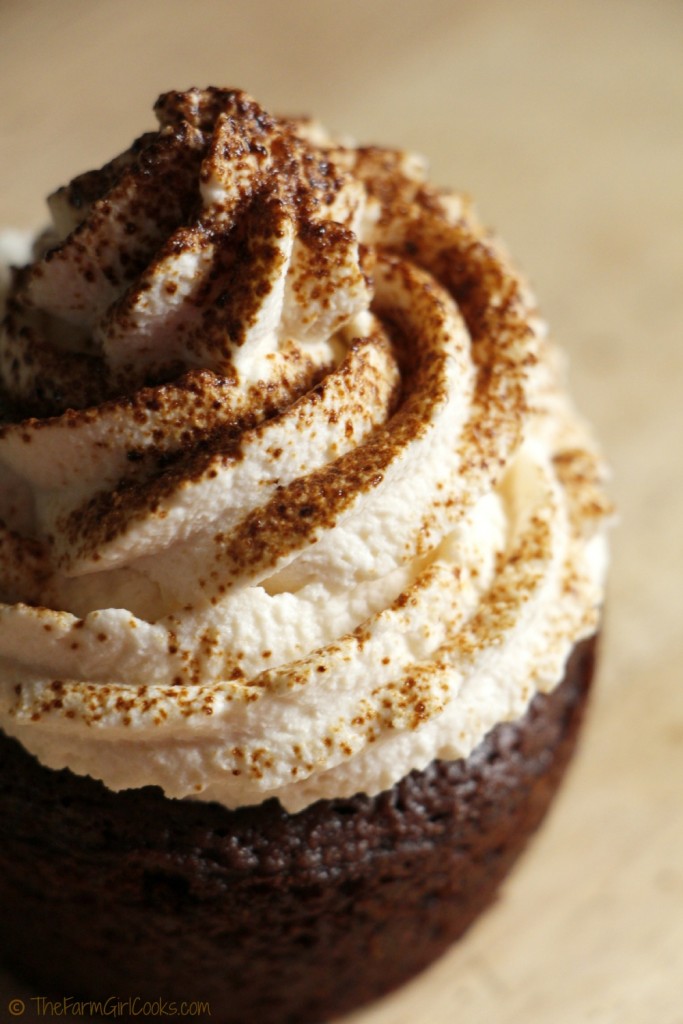 I've discovered a love of photography that would not have been possible if not for a very special someone who believes in me unconditionally.  I've discovered that there are plenty of people out there in cyberspace who actually like what I have to say and come back repeatedly to see what is going on in my kitchen.
My sincere thanks to all of you for making this web journal a very important part of my journey of self-discovery instead of just a once-in-a-while hobby.
In the spirit of celebrations, I'm giving you two of the easiest, most impressive ways to jazz up any chocolate cupcake.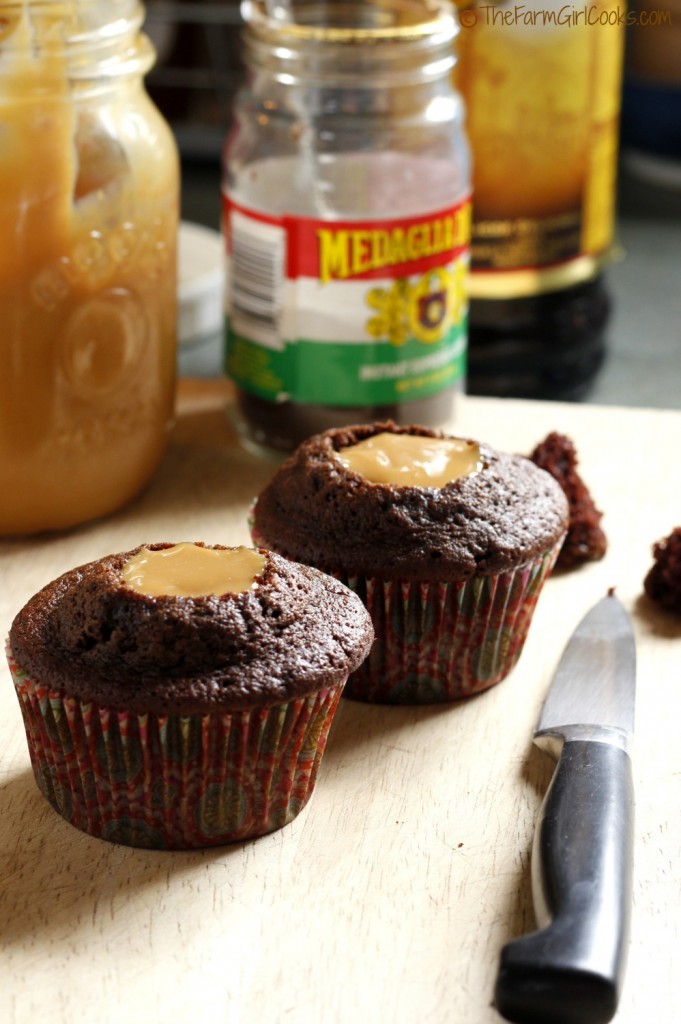 Homemade dulce de leche
is nothing more than cooking sweetened condensed milk in the oven until it is caramelized.  To do this, you'll need two ovenproof casseroles, one larger than the other.  Empty a can of sweetened condensed milk (do not use evaporated milk – they are NOT the same thing) into the smaller casserole.  Cover tightly with foil and place inside the larger casserole.  Pour hot water into the larger dish until the water reaches halfway up the sides of the smaller one.
I hope my description isn't confusing you because it's really quite simple. You're baking this thick milk in a water bath like you would a cheesecake.
Bake this in a preheated 400° oven for 1 1/4 – 1 1/2 hours, stirring once or twice (carefully, and be sure to replace the foil).  When it's deep golden and very thick, it's done.  Remove from oven and let it cool then refrigerate until you need it.  I've had it in my fridge for over a month now and it's still great over ice cream and waffles or to dip apple slices into.
To make the Kahlua whipped cream
combine in the bowl of an electric mixer (yes, you can use a hand mixer or even a whisk if you're into self-inflicted pain) 1 cup heavy cream, 2-3 T Kahlua, 1/4 cup powdered sugar and 1 t vanilla extract.  Beat on medium-high until beater marks show and cream holds peaks when beaters are raised.  Be careful not to overbeat or the cream will start to separate.
To fill these bad boys, take a paring knife and cut a 1″ diameter circle about 1″ deep into the top of the cupcake.  Remove that cylinder of chocolatey goodness and set aside.  Fill the hole with a generous teaspoonful of cooled dulce de leche.  Cut away most of the cake from the center 'plug' and replace just the top to cover the secret caramel center.  Eat the remaining center bits before anyone catches you.
Kahlua Whipped Cream is piped onto the cupcakes (if you win this box, you'll have TWO choices of bags to use and a lovely star tip to go with it) which are then sprinkled lightly with instant espresso powder for garnish.  This makes enough cream for about 20 cupcakes, but you'll have plenty of the dulce de leche leftover for  other purposes.  Let me know what you do with it!