It's spring. Which means Crepes, among other things.
It's finally. Officially. Spring.
Spring: the season of renewal and rebirth and clarity that follows a long mental and physical hibernation.
It's that time of year when the birds start singing and the trees are starting to bud and we're rubbing the winter haze from our eyes with our fists.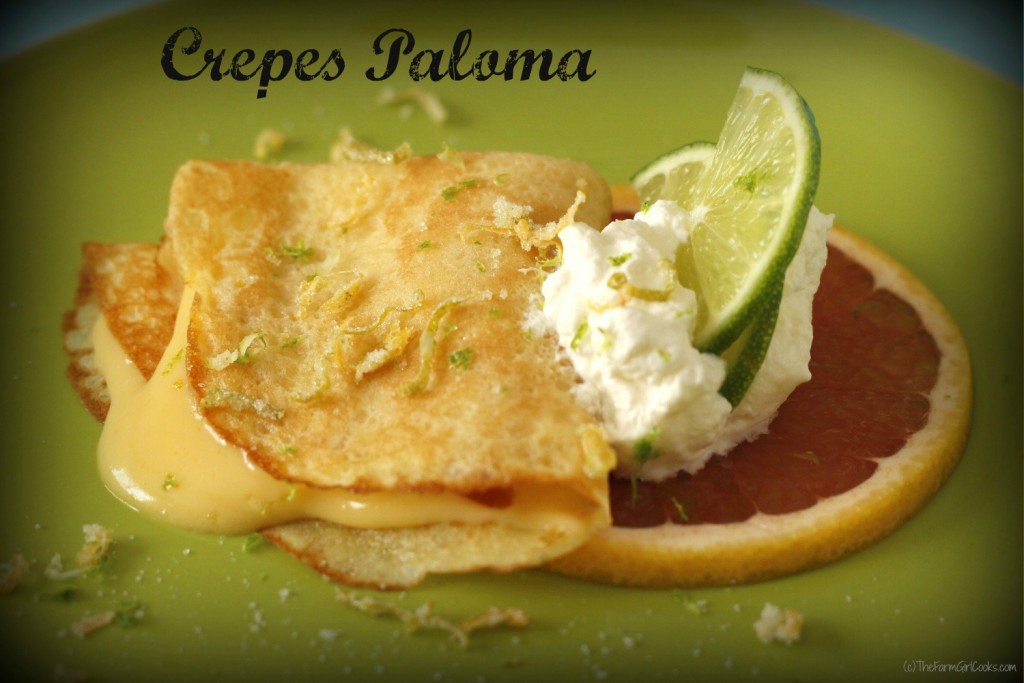 That's exactly the way I felt the first time I went to cook and shoot photos with my friend Amy Roth. I mean, I've been snapping pics for this blog for almost three years, but I have a LOT to learn about actual photography and food styling. BIG DIFFERENCE! What an eye-opener it was for me. There is so much more to food photography than I ever imagined and I'm honored to have the opportunity to learn from a professional.
I see so many people when I sell our vegetables at farmers markets and Amy has been one of those customers since we started the Ringwood Farmers Market in 2007. When I found out she had a food blog? I was over-the-moon impressed long before I ever had the chance to get to know her. You will be, too, I promise. Chimera Obscura/Minimally Invasive is a feast for the eyes.

And now that I do? Well, let me say that in addition to being a fabulous cook who is diligent in her efforts to eat locally grown foods (so close to my heart), Amy is also a great photography mentor. As you'll see when you check out her photos and descriptions of all the great crepes we made last week, I have a lot to learn. In fact, at first glance, the photos I took looked nothing like the ones that Amy shot.
I'm still amazed at what we were able to accomplish. With a bit of advanced preparation (I made about 60 crepes to bring with me plus batter for another 40), Amy and I got together and whipped up 4 savory and 3 dessert crepes in a matter of hours. There are complete descriptions on Amy's blog so please click through and check them out. My favorite of the day? The Cajun Shrimp with Andouille Sausage.
Oh, and also the fact that we got to eat all the leftovers.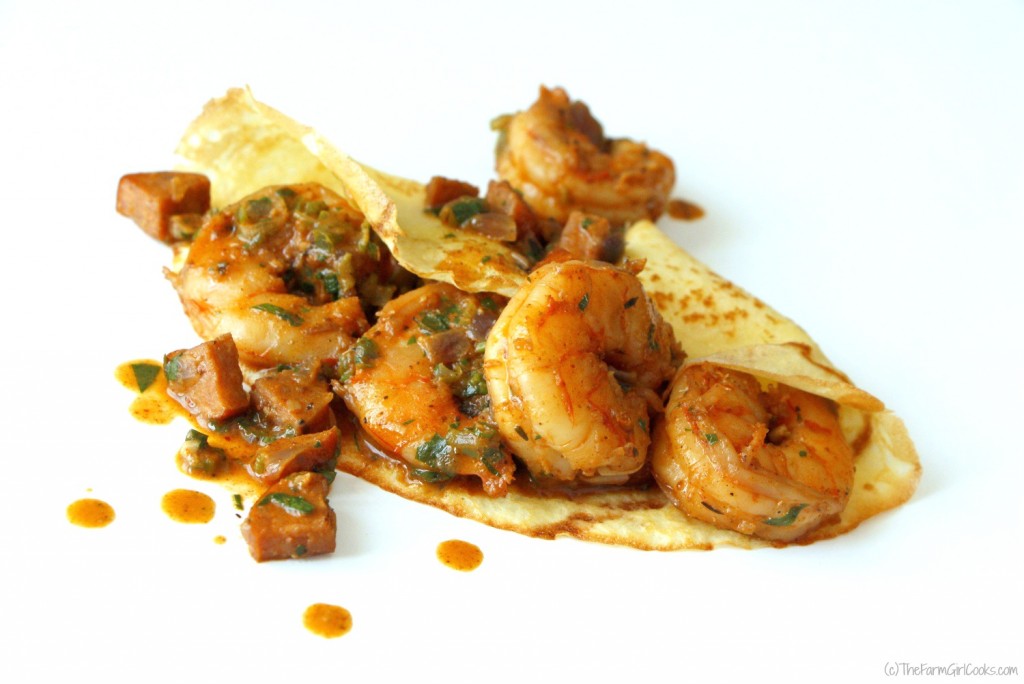 Crêpes Paloma
I conceived of the recipe for crêpes Paloma when going through old magazines. I love grapefruit, and now that I'm old, I don't have to dust it liberally with sugar. This curd sounded wonderful but I didn't want to make anything heavy with it. It just so happened that we had a snow day and The Boy was home from school. What does he want for breakfast? CRÊPES! Always crepes.
And so it was fated. I had to make a huge batch of crepes (my original recipe makes about 50 crepes) anyway. Crêpes filled with grapefruit curd sounded interesting. Whipped cream must be part of the equation, but how do I flavor it? A quick Google search reveals…dun dun dunnnn… A Paloma cocktail is made with grapefruit juice, tequila and lime! Perfect. This recipe would be perfect for a light Easter dessert. All of the components can be made in advance: the crepes and the curd can be made a day or two ahead, the cream can be whipped a few hours in advance. Store all in the refrigerator until serving.
Grapefruit Curd From Martha Stewart Living
For Crepes:
Makes about 15
4 oz all-purpose flour
1 oz sugar
1/2 t salt
2 eggs
2 egg yolks
2 oz butter, melted and cooled
1 cup milk, warmed
In a large bowl, whisk together dry ingredients. Make a well in center of flour mixture and pour in eggs and yolks. Begin whisking the eggs, gradually moving the whisk and pulling in flour until the mixture is smooth and well-combined. Gradually whisk in melted butter, then gradually whisk in milk. The crêpe batter will be as thick as heavy cream. The crêpe batter can be used right away, but you'll get better results if you let it rest in the refrigerator for at least an hour, and even as long as overnight.
Heat an 8-inch non-stick pan over medium heat until a few drops of water will dance across the surface when sprinkled on pan. Holding pan in left hand, quickly pour a scant 1/4-cup of batter into the pan. Tip the pan forward and backward and from side to side to swirl batter evenly across surface of the pan.
Put back on heat and let cook until light golden speckles appear on the underside of crêpe, about 1 1/2 – 2 minutes. Use a heat proof rubber scraper to carefully lift the edge of the crepe to check it. Gently flip the crêpe over and cook the other side, again, looking for those pretty speckles. This time it shouldn't take more than 30-45 seconds.
Remove crêpe from pan and stack on a plate or tray until you're ready to use them. Wrap the crêpes in plastic wrap or a heavy duty plastic bag and refrigerate or freeze for longer storage.
Tequila-Lime Whipped Cream
Enough for 8 – 12 crêpes
1/2 cup heavy cream
1/2 t vanilla extract
2-3 t tequila
2 T powdered sugar
Lime zest, about 1 teaspoon plus additional lime and grapefruit zest for garnish
Combine all ingredients in bowl of electric mixer and beat on med-high speed until cream holds peaks when beaters are raised. Refrigerate until ready to assemble crêpes.
To assemble: Spread about 2 T grapefruit curd on 1/2 of a crêpe and fold it to cover. Spread a bit more curd on top then fold it again to make quarters. Top with a bit of whipped cream, sprinkle with zest and garnish with sliced fruit as desired.
The FarmGirl's Notes
* PLEASE use a digital food scale to measure ingredients whenever possible. You will get much more consistent results.
* Crêpe making is a skill! Learn how to make them and don't get upset. Just scrape it out of the pan and start with another scoop of batter. I learned to make them in one pan, but typically have 3 pans going at once now, so the process goes faster.
* I make large batches of crêpes at once so I can freeze them so Thomas has his first choice breakfast option. Stack the crêpes, separating with waxed paper as many as you want to heat at a time. Thomas will eat 4-6 so I put paper between each batch of 6 then simply wrap them in plastic wrap and put them in a freezer bag. They will last a month or so in the freezer.