I want to take this opportunity to send huge thanks to all of my friends for sharing my FarmGirl Facebook page and recommending my recipes and site to your friends and family.  As a promotion, I recently offered a dozen cookies to "Like" number 250 and the person who referred her.
It didn't take long before those Facebook numbers climbed (YAY!) and two dozen Salted Cashew-Toffee-Chocolate Chip cookies were shipped yesterday.  They stack like a dream in a wide-mouth canning jar, which can then be boxed, safely cradled in packing material.  Have you tried packing in popped popcorn?  It works like packing peanuts and can be tossed outside for the birds when your recipient opens their package.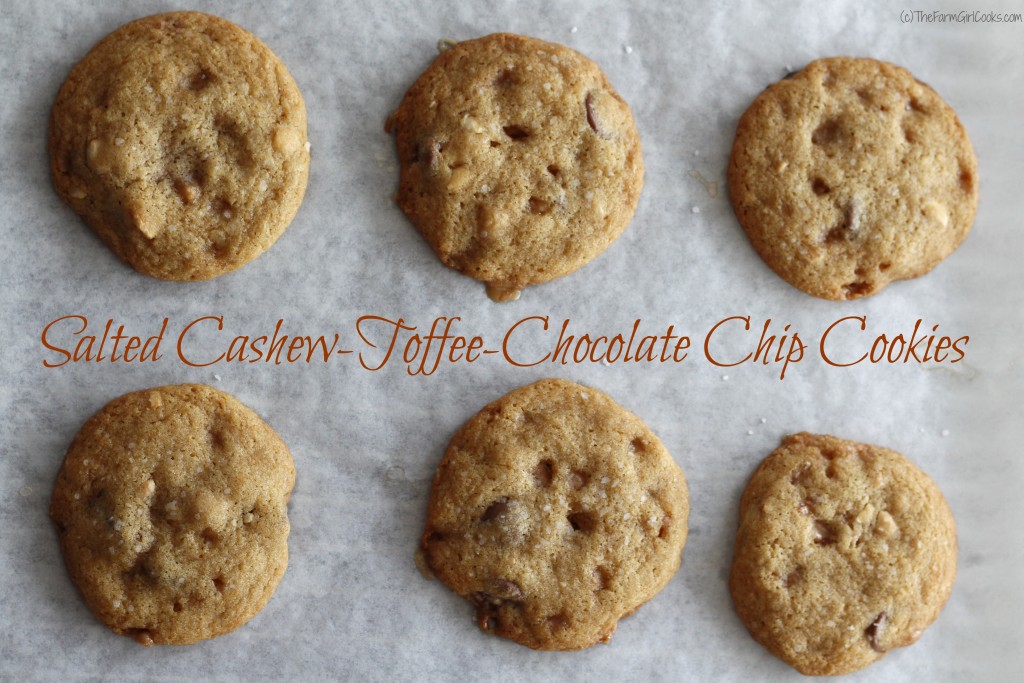 In the spirit of giving, I'll be posting a giveaway later this week right here on the blog. It just so happens that The FarmGirl Cooks is turning three! How have three years passed since I started this blog? I really don't feel any older (some days), but apparently The Boy thinks I'm a little worse for wear.

He siddled up next to me as I sat in my comfy cozy not-quite-big-enough-for-two-butlet's-try-anyway desk chair.  He hugged me and stroked my hair and very cautiously proceeded to say, "Mommy… I hate to have to tell you this."
It took a few seconds, but I quickly realized where this was headed.
"Then DON'T!"
"I have to…  You really need to go to the salon.  It's atrocious up here!"
It took every ounce of will I had in me to not point out that 75% of those gray roots have his name on them.  Had I done so, I guarantee you that Thomas would have grabbed the magnifying glass from his science kit to try to find his name written on each hair.  He may be bright for his age but some metaphors just escape him.
I guess that's part of his charm.  Well, that and his deep toffee-brown eyes and jealousy-inducing eyelashes.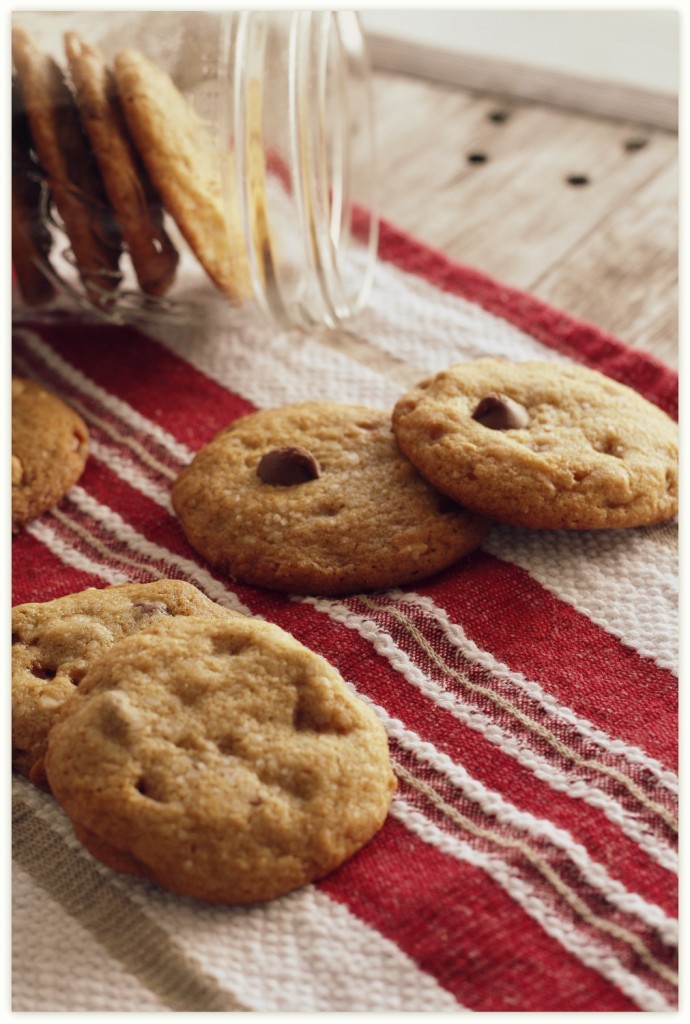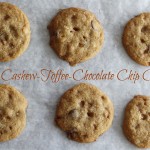 Salted Cashew-Toffee-Chocolate Chip Cookies
This adaptation of the standard Tollhouse Cookie recipe is a bit lighter in sugar. I used milk chocolate chips here, but you can use semi-sweet or bittersweet chips or chunks if you prefer. I love the addition of kosher salt sprinkled on top just prior to baking. Fletch, not so much. Hence, it's optional.
Ingredients
2 1/4

cups

all-purpose flour

1

t

baking soda

1

t

salt

2

sticks unsalted butter

room temperature

3/4

cup

sugar

1/2

cup

brown sugar

1

t

vanilla

2

eggs

2/3

cup

salted roasted cashews

chopped

1/2

cup

toffee chips

Heath bar bits found in baking aisle

1

cup

chocolate chips

kosher or sea salt

optional
Instructions
Preheat oven to 375° and line 2 baking sheets with parchment.

Stir together flour, baking soda and salt in a bowl.  Set aside.  Beat butter and sugars with electric mixer on medium speed until very light and fluffy, about 3 minutes.  Lower the speed, then beat in eggs, one at a time, and vanilla.  Scrape down sides of bowl as needed.  Again, with mixer on low speed, gradually add flour mixture about 1/2 cup at a time.  Scrape down sides again, then stir in the nuts, toffee and chocolate chips.

Chill the cookie dough for at least 30 minutes.  Scoop out heaping tablespoonfuls of dough and place on parchment-lined cookie sheet about 2 inches apart (12 to a pan is perfect).  Dampen your hand a bit, shake it off so you aren't dripping all over, then carefully flatten the balls a bit with the palm of your hand.  Sprinkle a tiny bit of salt on each cookie.

Bake for 9 - 11 minutes or until cookies are just turning golden around the edges.  Cool on a wire rack and store in an airtight container for up to a week.
The FarmGirl's Notes:
*   Chilling the dough may seem inconsequential, but if the butter in the dough is too soft or warm, your cookies will spread out too much, not cook evenly, and will be very thin and crispy around the edges.
* This may go without saying, but using parchment makes cookie-baking so much easier!  I remove the cookie sheets from the oven, let them cool for a few minutes on cooling racks, then carefully slide the entire sheet or parchment, cookies and all, right onto the cooling rack.  This way, the cookies don't continue to cook from the heat of the pan, the pans will cool down faster and you can bake two more pans of cookies in no time.
* I use a small ice cream (cookie) scoop to portion the dough into balls, but the "two teaspoon method" works just as well.
* I like to make cookie dough balls and line them up on a parchment-lined cookie sheet, then freeze them until solid.  Frozen dough balls can be stored in a plastic bag or storage container and baked whenever you need a few!