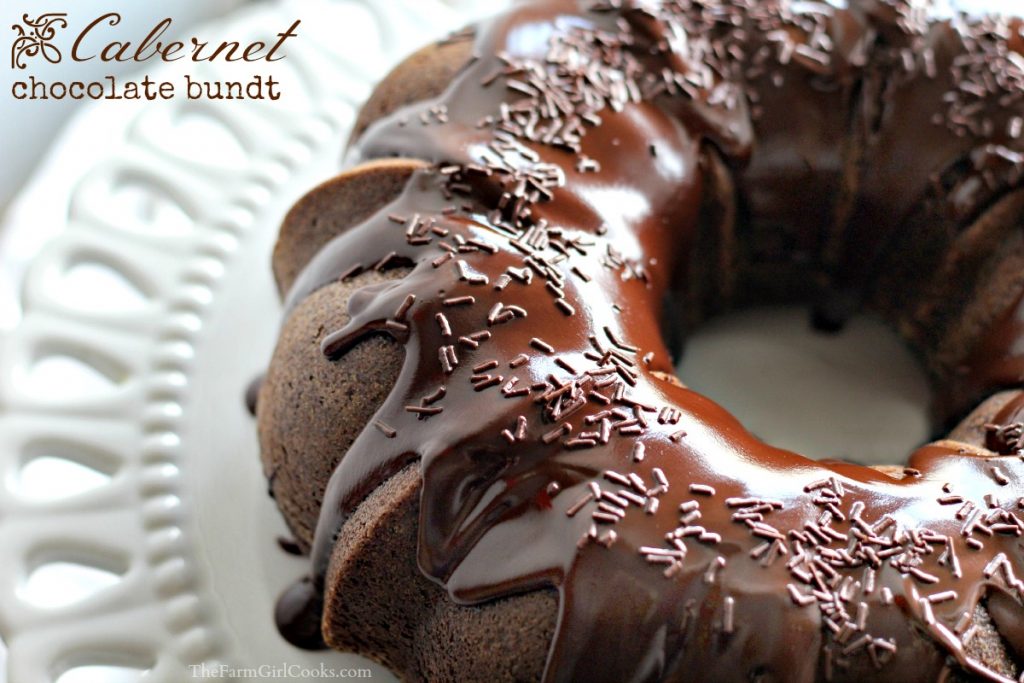 Did you ever want to give someone a gift because they did something nice for you?
Maybe 1) they helped you shovel ridiculous amounts of snow or 2) they watched your kid so you could have a girls night out when your regular sitter came down with a (legit) 104° temp or 3) they did something outrageously thoughtful and a simple card just won't do?
Or, maybe you missed a birthday or Mother's Day or National Drink Wine Day (Feb 18th. No joke)? Perhaps you missed Valentine's Day.  I almost did…
Give someone a gift because they did something nice for you.
I finally put my sweet youngster to bed after a long and drawn-out game of Battleship the other night and he hugged me tightly and said he cannot WAIT to give HIS valentine her gift.
That would be me, of course, because he's 9 going on 10, and is completely smitten.
However, once I sat down on the couch and caught Olympic fever yet again, I realized I DIDN'T GET MY KID A VALENTINE'S GIFT!   Sure, I was going to pick up a little heart box of candy, but thought better of the idea since we are still nibbling on the Halloween stash.Yes, this makes me smile like a goon.

So at 11pm on February 13th this mom opened up the box of painting supplies and created a gift for her boy.  It was made with love and very well received.  We even got a little life lesson in: giving or receiving, handmade gifts just scream "I Love You" and that is what counts.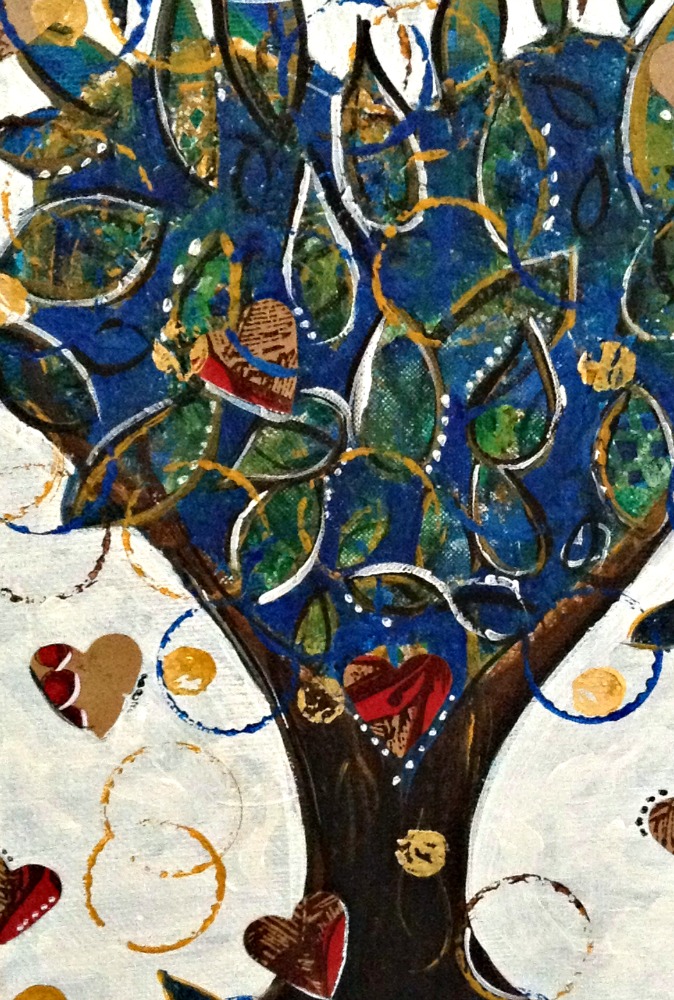 I know it's hard to see, but I made a collage with a heart doily and some paper bag heart cutouts.  The doily forms the canopy of leaves.  The textured look of the bark of the tree trunk is really I Love You written in black with a liner brush.
Corny?  Perhaps.  But it meant a lot to me to create this for my son and when he looked at it the first time I swear he had stars in his eyes.
If you're not handy with a paintbrush and canvas, chances are you can make do with a whisk.  A chocolate cake, especially a bundt – for some strange reason people adore bundts – is always a welcome thank you and this one has the added bonus of a healthy splash of red wine.
It will come together in a flash, I promise.
You'll be using a large bundt pan – 10- or 12-cup capacity and you must butter every last bit of the interior before dusting with flour.  Seriously, make absolutely sure that you butter and flour the pan very well.  Bundts are notorious stickers and the cake won't release cleanly if there's a dry spot in your pan. I use very soft butter that is on the verge of melting and I paint the interior of the bundt pan with a pastry brush.  It makes getting into the nooks and crevices a breeze. 
Fear not the cabernet.  It lends a deep, rich flavor to the cake without tasting too heavily of alcohol.  It's subtle.  Deeply flavored, yet still subtle.  If you prefer to go sans vino, substitute an equal amount of water for the wine.  I've done this before, as well, then glazed the finished cake with a creamy Bailey's Irish Cream glaze.
Trust me, it'll be a hit either way.  One taste of this and people will be lining up to do nice things for you.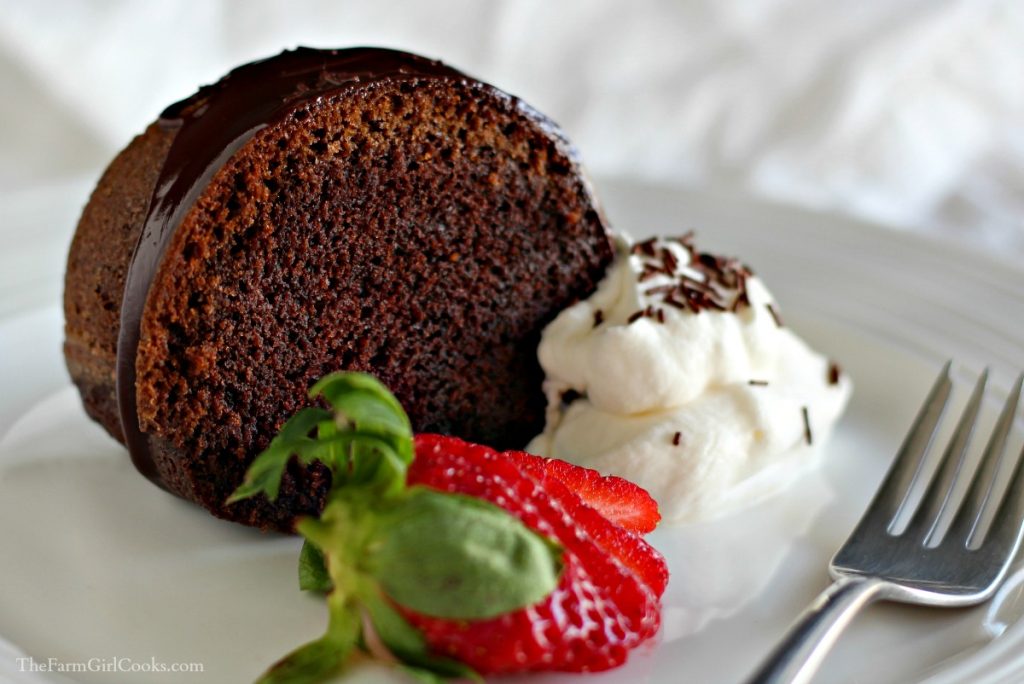 Cabernet Chocolate Bundt Cake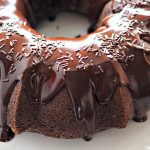 Cabernet Chocolate Bundt Cake
Ingredients
For the cake
1

cup

2 sticks unsalted butter, plus more for the pan

1/3

cup

1 ounce Dutch process cocoa powder

1

teaspoon

kosher salt

1

cup

cabernet or other red wine

2

cups

9 ounces all-purpose flour, plus more for the pan

1 3/4

cups

sugar

1 1/2

teaspoons

baking soda

2

large eggs

1/2

cup

Greek yogurt

fat free is fine

1

teaspoon

pure vanilla extract
For the glaze
4

oz

unsweetened chocolate

4 squares

4

oz

sweet chocolate

2/3 cup chocolate morsels

1

stick unsalted butter

softened

2

T

light corn syrup or honey
Instructions
Preheat oven to 350° and butter/flour bundt pan.

Make the cake: combine butter, cocoa powder, salt and wine in a small saucepan and place over medium heat.  Cook, stirring, until butter is melted and all ingredients are combined, then remove from heat.

In a large mixing bowl, combine flour, sugar and baking soda.  Whisk well, then add half of the melted butter mixture.  Yes, it will be very thick.  Add the rest of the liquid mixture and whisk until combined.  Add the first egg, whisk until completely blended, then add the last egg.  Stir well, then whisk in the sour cream and vanilla.  Make sure the mixture is deliciously smooth, then pour it into the prepared bundt pan.

Bake the cake for about 40-45 minutes or until a toothpick inserted in the center of the cake comes out clean with no wet batter clinging to it.  **Make a note of the color of your pan.  If you are using a very dark pan, you may want to reduce the oven temperature by 25°.  Place the cake on a cooling rack and let it cool for about 15 minutes, then invert and carefully remove the pan.  Let cake cool completely before pouring the glaze over it.

Make the glaze: Place glaze ingredients in a heatproof bowl and place bowl over a saucepan of simmering water.  Stir carefully with a heatproof spatula until glaze is melted and smooth. Let cool slightly then pour all over the cake, letting it dribble down the sides.  Top with a small bit of chocolate sprinkles if you like.  You may have more than you need for the cake (oh, the horror), so just store it in the fridge for up to a week.  Reheat as necessary and use for dipping straweberries or cubes of poundcake.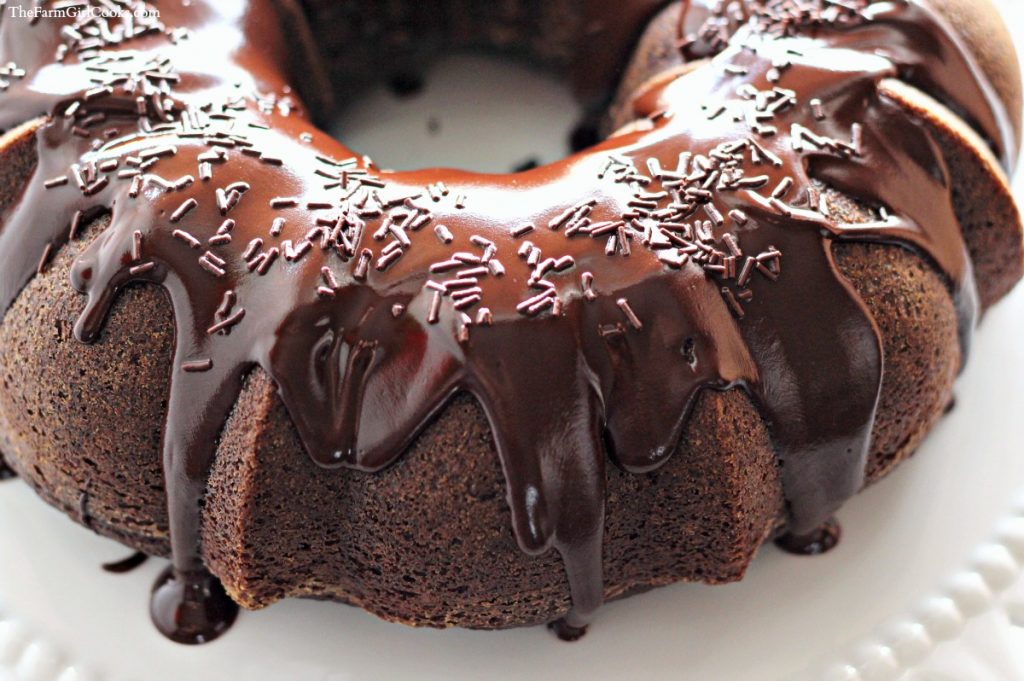 Cake adapted from Bi-Rite Market via Leite's Culinaria.
Glaze attributed to Fannie Farmer Baking Book.