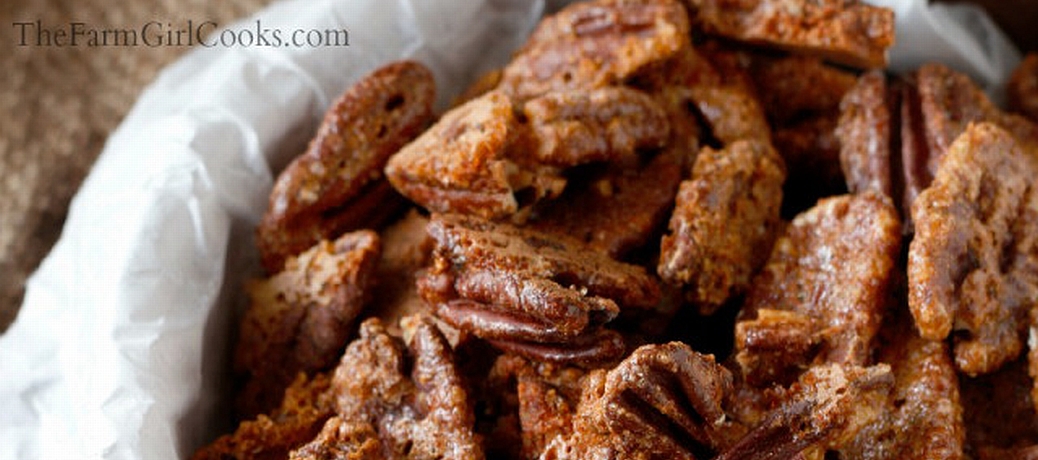 Also known as… those damn pecans!
Why?  Because you won't. Be able. To stop. Eating them.
I made a test batch to check on seasoning, then promptly ate nearly all of them before my event.  I had to get more raw nuts to make batch #2.
I first made these nuts as a mocktail munchie for a Painting Night Out at the Farm workshop that my dear friend Jen and I hosted this past Friday night.  We're having another one on Friday April 11th if you're interested in joining us.  Friends gather for a few hours of intuitive mixed-media creation, drinks and finger foods and lots and lots of laughs.  Sounds like the recipe for a perfect Friday night!
I experimented with a standard sugared nuts recipe and played with the spices until I stumbled upon this combination.  Thanks to my fellow foodie and Field to Feast compadre, Amy Roth, I'm head over heels in love with cajun and creole seasoning.  If this New Orleans native tells me that Emeril's 'essence' recipe is good, then who am I to argue?  You can find Mr. Lagasse's creole seasoning recipe here, and I urge you to adjust the salt to your liking. I will admit to wishing these were a little spicier, so next time I will probably add more cayenne.  Your mileage may vary; know your heat tolerance!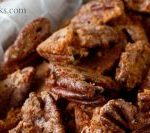 Creole Sugar 'N' Spice Pecans
Add as much cayenne or other spicy chile powder as you like. Pure ancho or chipotle powder are especially good here.
Ingredients
1

egg white

1/3

cup

sugar

2

T

Creole seasoning purchased or make your own

10

oz

pecan halves
Instructions
Preheat oven to 300° and place a piece of parchment on a cookie sheet. Alternatively, use a silicone baking pan liner.*

In a medium bowl, whisk egg white until frothy. Whisk in sugar and creole seasoning. Using a spatula, stir in pecan halves, making sure to coat them evenly and completely.

Pour the nuts onto the parchment-lined baking sheet, ensuring they are in a single layer. There shouldn't be much gooey eggy spicy liquid, but if there is, don't scrape it all out of the bowl and onto the pan. It will just stick to the parchment and will make for more difficult nut removal.

Bake the nuts at 300° for 15 minutes. Give the nuts a stir – I used a large off-set spatula to do the dirty work – then reduce the oven to 250° and bake the nuts for another 10 minutes. Immediately give the nuts another stir to release them from the parchment. Allow them to cool and store in an airtight container (something with a padlock would have been helpful here) for as long as you can stand not eating them.

Note: While they began as a Martha-Stewart-trendy baking accessory way back in the 90s, silicone pan liners are readily available now both online and in stores (use that Bed, Bath and Beyond coupon). They are a huge help when baking sticky things like florentines and fortune cookies.