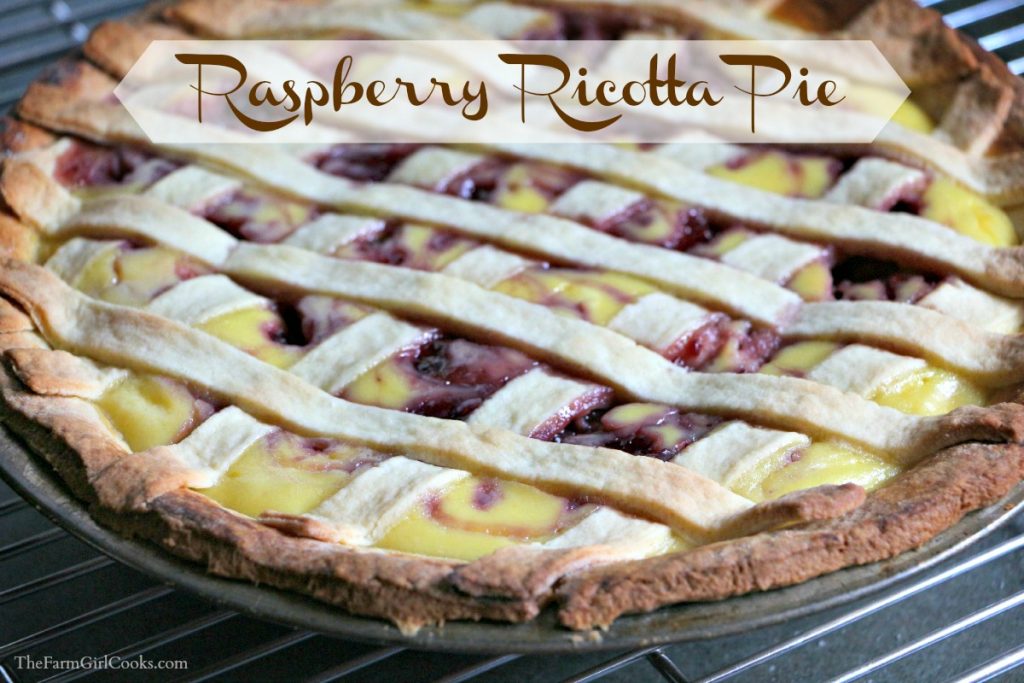 I tend to get an idea in my head and dive in – only later realizing that what I thought was a great thing is, in actuality, a shit-ton of work.
Yesterday I woke up and went about my usual routine and set my happy child on the school bus at 8:30am.  My daily scan of the school lunch menu revealed tomorrow (today) is 3/14.  I HAD to make a pie.
How can any self-respecting blogger pass up this golden opportunity?  The pie itself wasn't really a shit-ton of work.  The list goes on after that: little jam turnovers made with leftover pie dough, almond biscotti (just because…) and homemade egg noodles to go with chicken and broth I'd made the night before.
I need an abacus to figure out how many dishes I washed yesterday. The pile in the dish drainer was HUGE!
So, yeah… Today is Pi Day!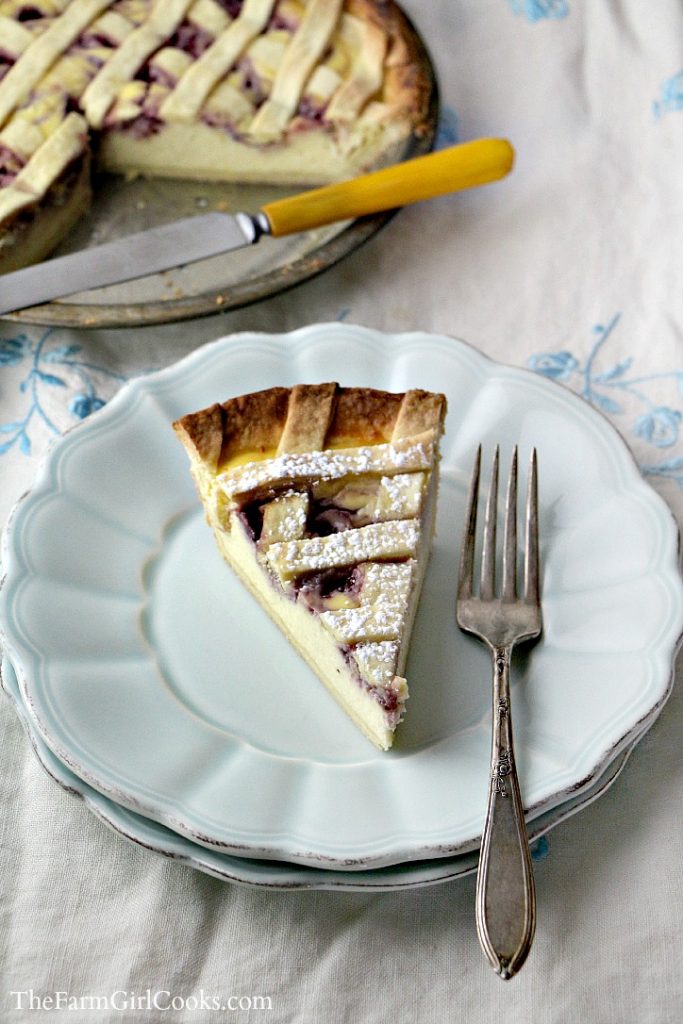 Big deal, you say?  Or maybe you know you SHOULD know it but really you have no recollection of ever learning this pi thing?
I'm a math geek.  I love it, can't help myself.  I just really like numbers and formulas and postulates and theorems and graphs and differentiation and integrals and yes, even teaching my youngster what he's missing (in my opinion) by suffering through the Common Core curriculum.  It's so sad to see a 9-year-old banging his forehead with his palms because he cannot DO IT the way the teacher says they have to for the [cue evil music] dreaded state tests.
I hope that my guidance and enthusiasm for the subject matter will help him get through this school year with nary a tear, but if not, there's always pie.
Pie makes everything better.
I set out to make a pie yesterday with things I had lying around since there was no time for a trip to the store.  Plus, like I said, I tend to dive into an endeavor at a moment's notice. It's good for me to have recipes in my arsenal that are terrific and rely on pantry and fridge staples.
I found a "sweet ricotta pie" recipe in Dorie Greenspan's Baking with Julia that looked as simple as can be.  Sure enough, recipe contributor Nick Malgieri hit the nail on the head.  The filling could indeed be "made-in-a-minute" and was quite good, but I thought it needed some oomph.  My additions are in the recipe below and, let me tell you, this pie sliced like a dream once it was chilled – like a cheesecake in a crust but not as dense – and firm enough to eat out-of-hand.
Walk-away desserts are one of life's little treasures.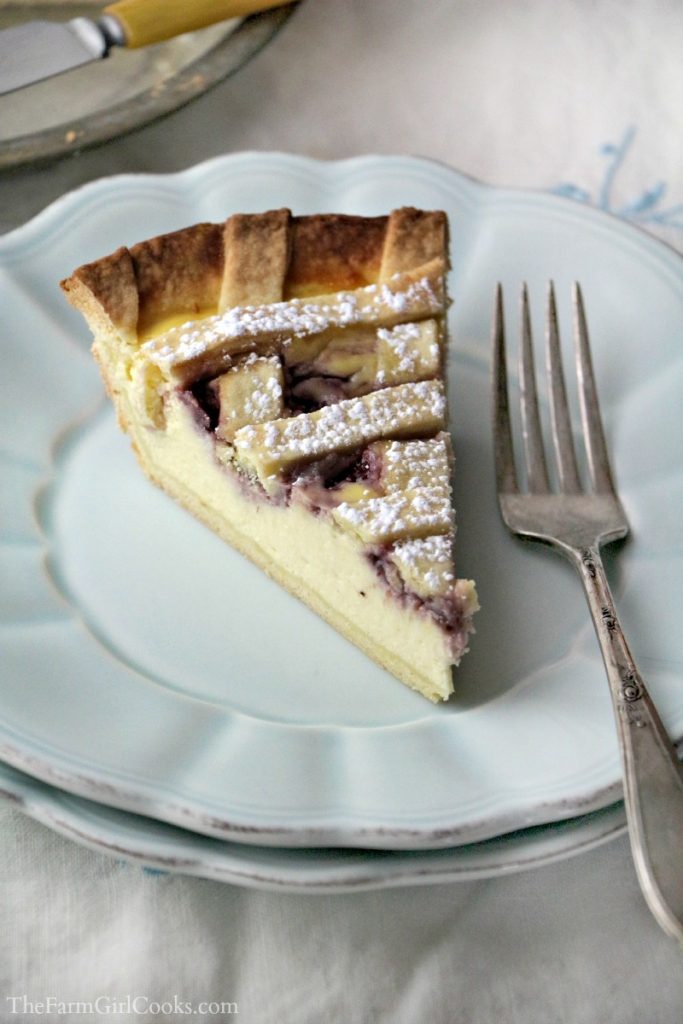 Raspberry Ricotta Pie
1 pound whole milk ricotta (use a kitchen scale or buy a 1-lb container)
1/4 cup sugar (vanilla sugar rocks here*)
3 eggs, beaten
1 T fresh lemon juice
1 1/2 t vanilla extract
1/2 t lemon zest
3 T raspberry jam (choose your flavor, just make sure it's the best quality you can get)
prepared pie crust to fit a 9″ pie pan*
Preheat oven to 350° and put rack in lower third of the oven.
Make the filling: stir together ricotta, sugar, eggs, lemon juice, zest, and vanilla until smooth.  Set aside.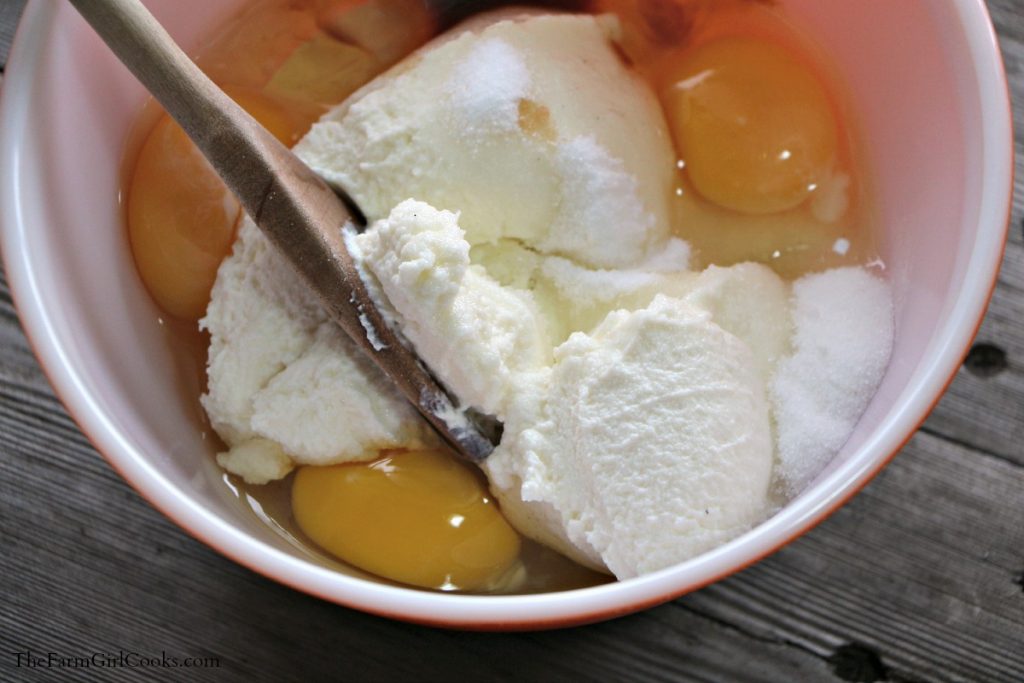 Make the shell: Roll out 2/3 of the pie dough to a 12-inch round and fit into a 9-inch pie tin.  Trim the excess with a sharp knife to the edge of the tin. Pour the filling into the shell and smooth the top.  Spoon the jam evenly atop the pie in little blobs.  Using a paring knife or skewer, swirl through the jam – but not too much!  Swirl it just enough, then set it aside.
Roll out remaining 1/3 of the dough into a rectangle about 10-inches long by 8-inches wide.  Using a pizza wheel or a sharp knife, cut this rectangle lengthwise into 12 even strips about 1/2-inch wide.  Arrange 6 of the strips across the pie at 1 1/4-inch intervals.  Crisscross the remaining strips across the pie, placing them diagonal to the first.  Trim the ends of the lattice (the crisscross pie dough) even with the edge of the pan and press down gently but firmly.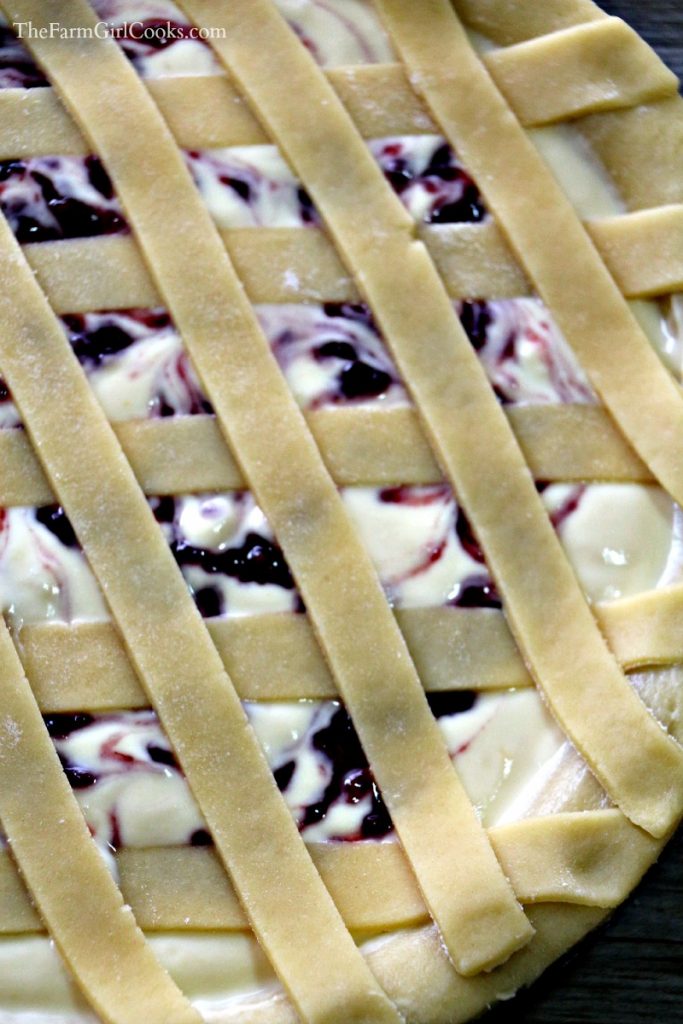 Bake the pie for 35 – 40 minutes or until the crust is golden and the filling is firm and slightly puffed.  If the crust browns too quickly, crimp some strips of foil over the edges (careful not to touch the filling with the foil) and continue baking.  Cool completely on a rack.  Store covered in the refrigerator and serve at room temperature or slightly chilled.
FarmGirl Notes: * Vanilla sugar is simply made by burying a split vanilla bean in a jar of sugar for a week or more.  I have had the same beans in my canister of sugar for years – I just keep adding more sugar and spent pods to it when I have them.  Using vanilla sugar is not required, but it does add additional depth that plain white sugar does not.
* If you are making your own pie crust, be safe and use a recipe with 2 cups of flour or one designed for a double-crust or lattice pie.  If you are buying crust, get enough for a double crust pie.  You need extra to do the lattice on top.
Recipe adapted from Baking with Julia.
Print the recipe without pictures by clicking the Print/PDF button below.