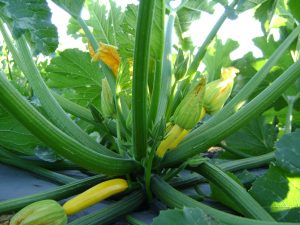 The very first zucchini flower that springs out from the plant always gets me all a-tizzy.  I fantasize about stuffing the flowers with goat cheese and herbs and baking them quickly after a shower of olive oil.  Sometimes I crave deep-fried squash blossoms. 
Dipped in a basic tempura batter and salted immediately after removing from the oil, these babies are so good they don't make it out of the kitchen.  The anticipation of the sweet fruit sauteed until golden brown, perfectly seasoned with salt, pepper and loads of chopped garlic, makes my mouth water.
Seriously, I'm a total food snob and for the most part only eat homegrown seasonal veggies, but zucchini is one of the few vegetables I will buy all winter long.  There is something so different about zucchini that's eaten within hours of being picked.  One other special ingredient in great home-grown zucchini?  Black Dirt.  Call me crazy, but I truly believe our soil makes a huge difference in taste.   Or maybe I'm just biased?
Although I cook summer squash most of the time, I discovered several years ago that zucchini tastes great raw as well!  See?  Sometimes something good DOES come out of snacking while cooking. Zucchini can be sweet, so I thought I'd balance that with some peppery arugula. When I'm feeling 'gourmet', I'll use extra-virgin olive oil infused with lemon rind.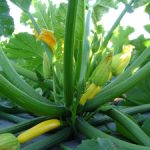 Zucchini Carpaccio
Ingredients
2

small Zucchini

green or yellow

1/2

cup

shredded Arugula leaves

or 1/4 cup shredded Sorrel or chopped fresh herbs

Kosher Salt

Freshly Ground Pepper

Your favorite Extra Virgin Olive Oil - about 2 T

but you be the judge
Instructions
Slice the squash on the diagonal as thinly as possible.

Arrange in a pretty overlapping pattern on serving dish.

Sprinkle with salt and pepper, then allow to sit at room temperature for about 30 minutes.

Drizzle with olive oil, then top with arugula.

Really. That's it. It is a beautiful crowd pleaser. Inundated with squash and can't think of one more thing to do with it? Make this.  You'll be glad you did.
Gardeners take note: the plant needs to reproduce.  (And who doesn't like THAT?)   Take off the large, inevitably forgotten squash and throw them away if you can't leave anymore on neighbors' doorsteps without getting caught.  Your zucchini plants will thank you and they'll be healthy and able to  produce more beautiful squash for many weeks.