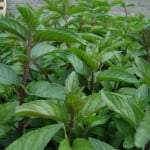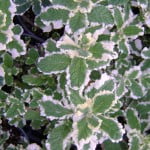 In other words, if the glorious mint plants that you bought and planted so painstakingly in your gardens seem to overtake everything in their path, USE THEM!  The obvious answer to the common question, "what can I do with mint?"
A Mojito is a refreshing rum-based Cuban drink made with fresh spearmint and lime juice.  It's great to sip on a hot summer night, and even better to enjoy with a hot date.  So whip up a pitcher and dig out that Little Black Book.
Tabbouleh, A parsley & mint grain salad
Another great use for mint is Tabbouleh.  While bulgur wheat is traditional in this parsley-mint grain salad, I prefer quinoa (keen-wa).  The cooked grain is combined with chopped tomatoes, cucumbers and onion, then dressed with a lemon-olive oil dressing and LOTS of chopped parsley and mint.  It's loaded with fiber and a makes a delicious and easy-to-pack lunch.
I've discovered that mint makes a wonderful addition to beverages (both iced and hot teas), so I thought I could whip up a simple syrup with mint that I could add to my tea in the evenings.  It was so easy and very tasty, so here it is….
Make Mojitos! With Fresh Mint!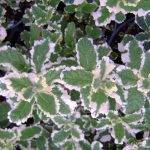 Mint Simple Syrup
Ingredients
Spearmint Leaves 1 cup

pack to measure

1 1/2

cups

water

1 1/2

cups

sugar
Instructions
Combine all ingredients in small saucepan over medium heat.

Stir occasionally and bring almost to a simmer.

The sugar should be completely dissolved before it gets to that point, about 7 minutes.

You'll notice the mint is no longer vibrant green and is now wilted.

Turn off the heat and let the syrup sit until cool.

Strain it into a jar or squirt bottle and refrigerate until needed.
I used spearmint in this syrup, but you could substitute any variety of mint.  The resulting syrups would simply have subtle flavor differences.  I'm willing to bet the Chocolate Mint would be great this way – like a liquid Peppermint Patty.  And while we're on the subject, I was told that chocolate mint martinis are quite good as well.  I'll let ya know!
I had to experiment when I made it and this syrup does indeed make a lovely, although non-traditional, mojito.   It's also fabulous poured over vanilla bean ice cream topped with sliced strawberries.  Shhhh….