Beautiful Pasta with Sorrel Sauce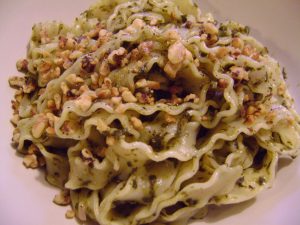 We had some SORREL for sale at the farmers market last week. I'd tried it in the past, sauteed with spinach and chard. I wasn't thrilled with it since it wilted so quickly and didn't have the texture I wanted. I took the opportunity to ask everyone I sold it to just how they planned to prepare it.
Everyone said they were using it to make soup – both cold and hot variations. I wasn't in the mood for soup, though, regardless of how quickly it was going to come together. All I could think about was making the sorrel into a sauce for fish. It was in my head every time I sold a bunch.
When I finally got home, I didn't have the energy to prepare fish. My go-to meal when I'm tired is pasta, so I figured a sorrel pesto would be interesting. The fresh lemony bite of sorrel would be great with pasta. Then there's that drawback of having to wash the blender (YUCK!).
So no pesto for me. Instead, I gently 'simmered' about 2 finely chopped garlic scapes in 2 tablespoons of butter. Then I added one bunch of sorrel, leaves only, cut into fine ribbons and seasoned with salt and pepper. Within minutes the sorrel cooked down to a sauce-like consistency, but I helped it along a bit with my heat-proof spatula.
Within minutes the sorrel cooked down to a sauce
By this point, my pasta was cooked perfectly (save a little pasta water when you drain in case your sauce isn't quite as thin as you'd like), and once drained, I stirred the sauce into it. Once plated (a half pound of fettucine made a nice entree for dad and me), I topped each serving with a heaping tablespoon of chopped toasted walnuts and a generous grating of pecorino romano cheese.
I have actually made it again since then and used orzo pasta – which made a wonderful side dish to my baked lemon-herb tilapia.
The sorrel ideas that were in my head ALL DAY had to come out somehow – despite being so tired after a long market day. No matter how much I had yet to do that night, I HAD to cook, I HAD to create something. That ingredient was nagging me for hours and when I finally got home I mastered at least one new thing to make with it.
I like that feeling of success in the kitchen, don't you? Maybe it's time to try something you thought you didn't like? You never know what might come out of it!