Easy make, easy eat.
That's how I like it.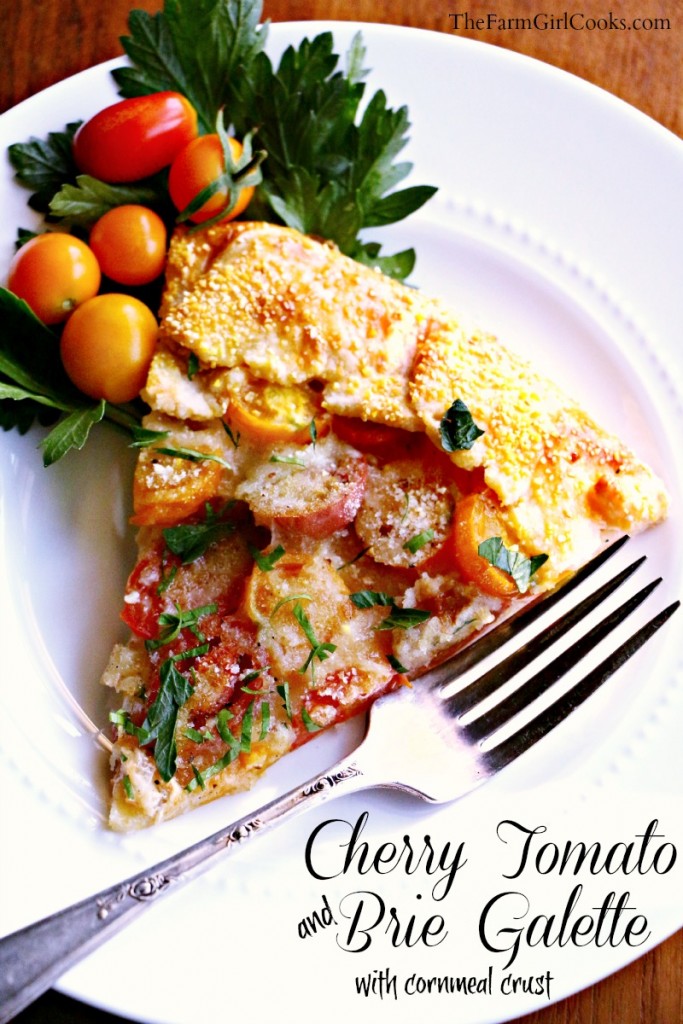 Cherry Tomato and Brie Galette
I don't have time for much else these days and I found myself  buying Velveeta mac 'n' cheese cups and PopTarts (formerly known as Flood Food) to keep The Boy's belly full.
After three microwaveable macaroni meals in as many days, Thomas has declared he won't be eating them again for a looooong time.  He's so used to my homemade soups, meals, and snacks that it really ISN'T a treat to get store-bought, but sometimes my 9-year-old needs to experience what a lot of other kids think is normal food to appreciate what he's got at home.  There go the endless requests for crap meals in cardboard cups.
My plan worked!
As for me, well, I'm making a meal and living off of it for a few days.  Don't even ask about the paprika chicken thighs I put on the grill last week.  But please do remind me to get a small fire extinguisher to have on hand.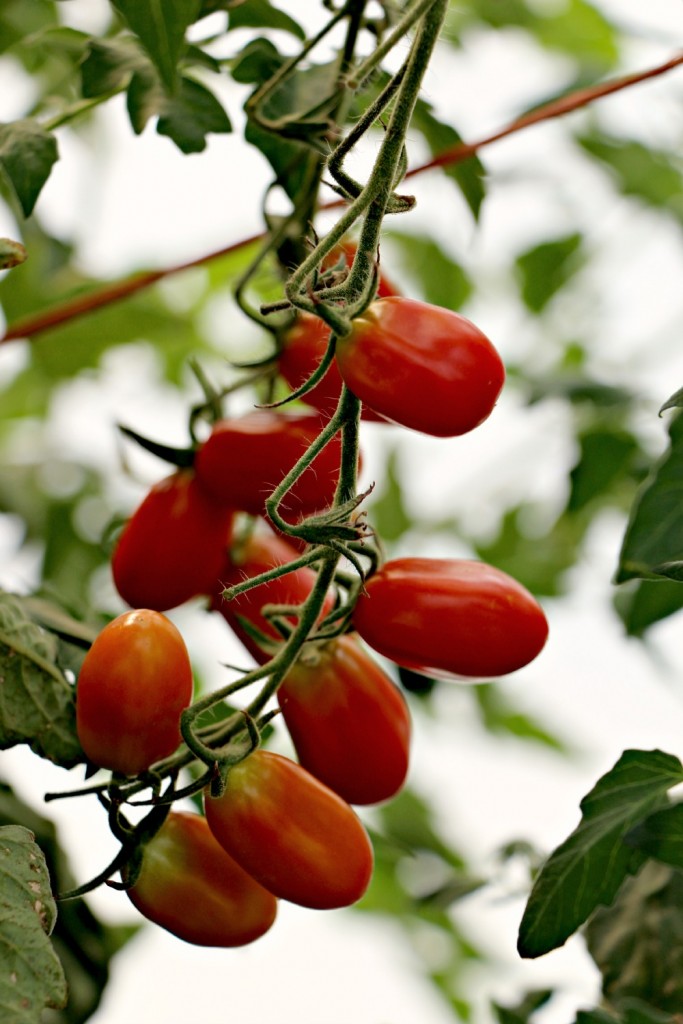 Galettes are free-form tarts
Galettes are free-form tarts or tartlettes (little tarts!).  The crust can be topped with whatever filling is blowing your skirt up at any given time.   On this particular Sunday, my larder contained a wheel of Edgwick Farm's Idlewild cheese.
Cornmeal Galette Dough
From Baking with Julia/Dorie Greenspan/Flo Braker
3 T sour cream or yogurt or buttermilk
1/3 cup (approximately) ice water
1 cup all-purpose flour
1/4 cup yellow cornmeal
1 t sugar
1/2 t salt
7 T cold unsalted butter, cut into bits
How to Prepare
Stir the sour cream and 1/3 cup water together in a small glass measuring cup and set aside.  Put flour, cornmeal, sugar and salt in a large bowl and toss to combine.  I use my hands, but you can use a fork or pastry blender if you prefer.
Drop the butter pieces into the flour and start to smoosh and squeeze the butter bits and flour together.  You want to form little flakes of butter within the flour.  It's actually quite fun and fast doing it this way, but by all means, use a pastry blender if you don't want to get your hands dirty.
Once the flour and butter have combined to form pieces that range in size from fine crumbs to small peas, sprinkle the cold water/sour cream mixture evenly over the dough 1 tablespoon at a time.  Toss the dough around with a fork.  By the time you've added all the liquid, the dough should be moist enough to stick together.  If you need a teaspoon or two of additional water, sprinkle it over and try again.  Gather pieces together with your hands to form a ball. Flatten the dough into a disk (or two or four) and wrap in plastic wrap.  Refrigerate dough for at least two hours.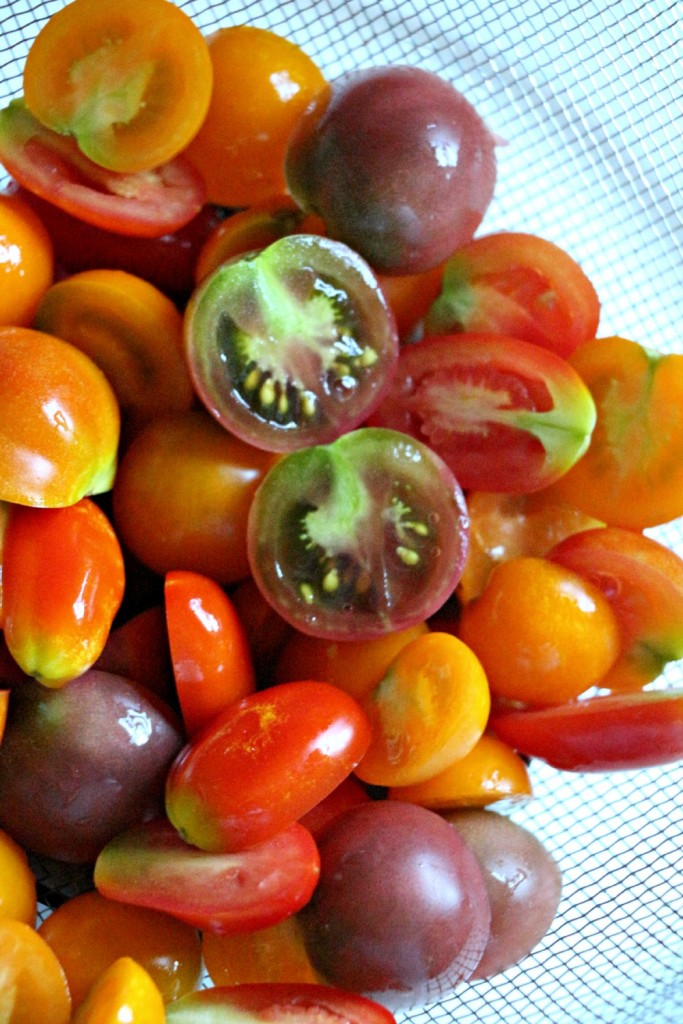 While the dough is chilling, assemble your fillings and toppings.  For this large galette (one batch of dough rolled into one circle about 12-inches in diameter) use a 4-ounce wheel of Idlewild (brie can be used) cut into slices. Remove the rind. Add almost one pint of assorted cherry tomatoes. You may use garlic-infused oil. However, roasted garlic would be terrific spread over the dough prior to topping with the cheese.
On a lightly floured board, roll out the dough to a large circle about 12-inches in diameter.  Carefully place the dough round on a parchment-lined baking sheet and refrigerate for about 10 minutes.  Done?  Ok…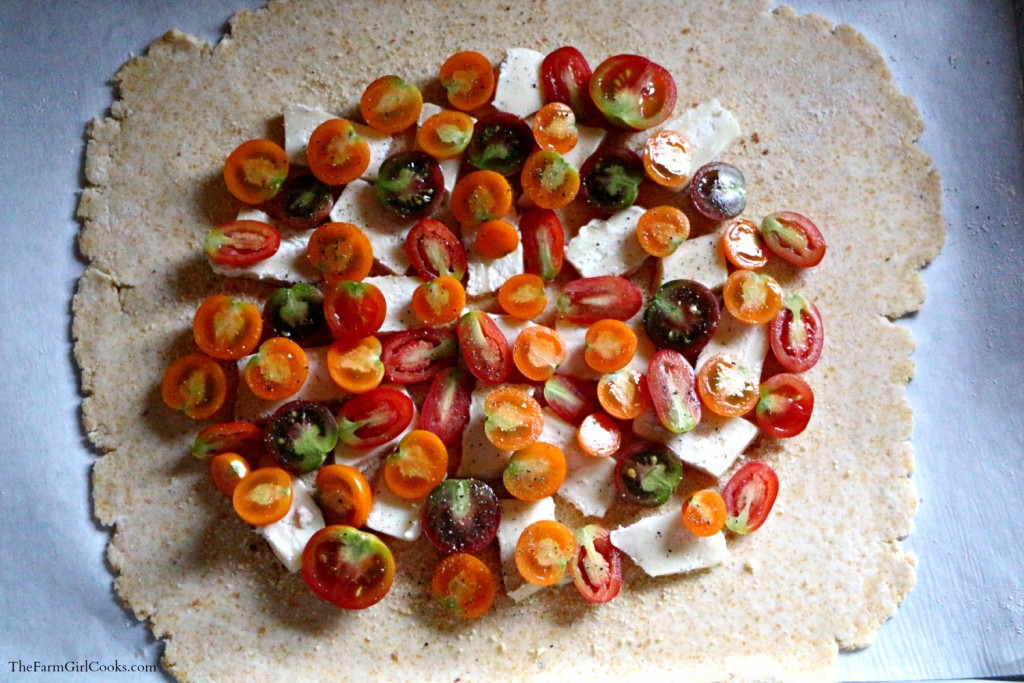 Brush the dough with a bit of garlic oil or spread with roasted garlic.  Arrange brie slices around entire circle, leaving a 2-inch border around the edge.  Top with halved cherry tomatoes.  Sprinkle with salt, pepper, a small handful of panko crumbs and drizzle with a tiny bit of olive oil.  Carefully fold up the edges onto the tomatoes and cheese, pleating them nicely and evenly.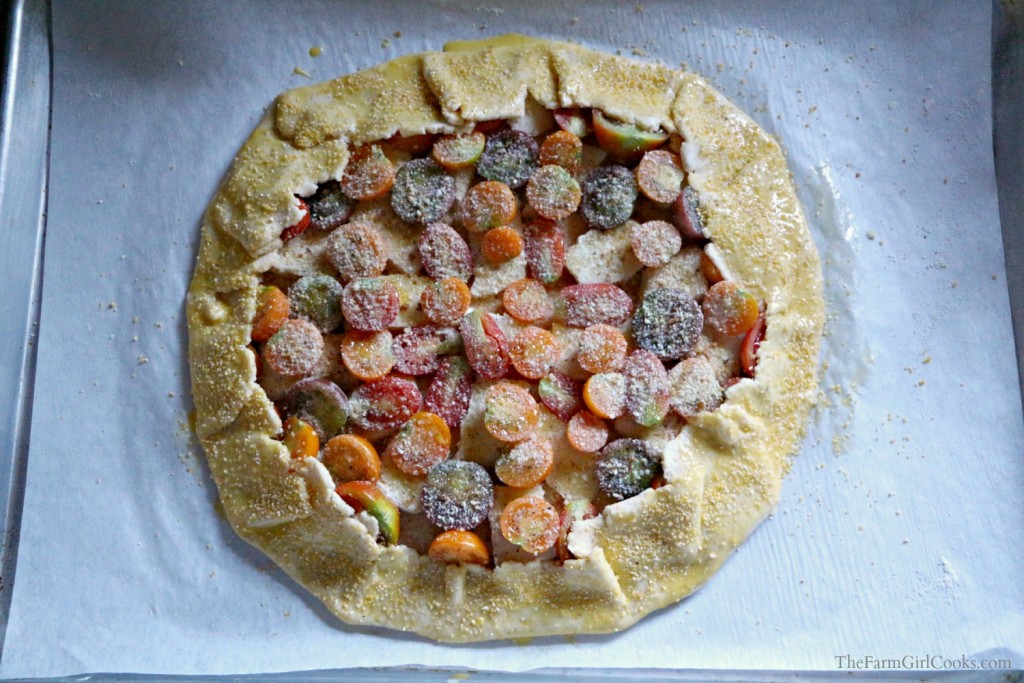 Brush the edges with a bit of egg wash (beaten egg and a splash of cream) and sprinkle with coarse cornmeal.  Bake in a preheated 400° oven for about 35 minutes or until golden brown.  Remove from oven and sprinkle with chopped fresh parsley.  Let the galette rest on a cooling rack for at least 10 minutes before attempting to slice.  The cheese is molten and will run all over the place.
You can refrigerate leftovers, if there happen to be any, and reheat them in a hot oven for a few minutes for a late night snack.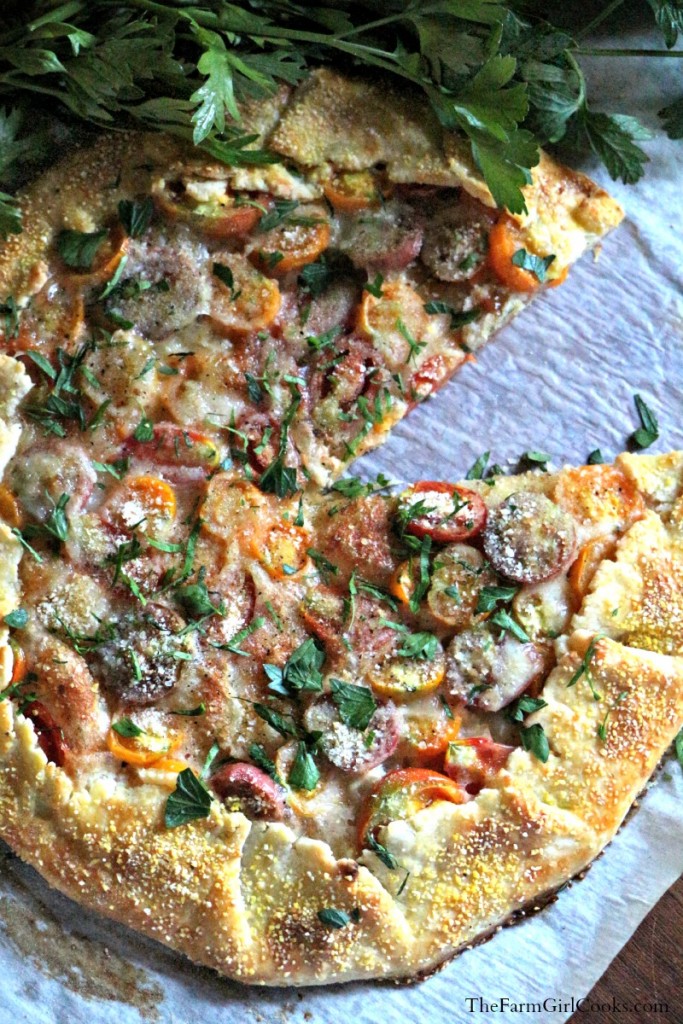 * * * * * * * * * * * * * * * * * * * * * * * * * * * *
If you have no clue what Field to Feast is, click back here to read a recap of the recipes in our summer cooking series.
In another state, Amy's been very busy these days whipping up beautiful dishes and taking even more beautiful photos.
Now git in the kitchen and whip up some tomato-y goodness before the season is over!