A recap of the seasons best recipes
August is when the farm season heads into top gear at breakneck speed.   Summer is in full swing, and with it a multitude of veggies are ready for harvest.  By the end of the month, we'll have melons and early squashes ready, and customers will start asking for parsnips and Brussels sprouts.
I realized that it was "that time of year" when Amy caught me at market last Saturday and asked, "when do things start to slow down?"
"Thanksgiving."
It dawned on me just what a long stretch of time that is, from July to mid-November, and it made me tired to think about it.
You probably think we're busy harvesting all the crops that were planted in the spring.  'Tis true, but Dad will continue to plant certain crops through much of September because, with any luck, a frost will hold off until October and we'll have fresh radishes and herbs and greens into November.  One year, a long time ago, I remember picking fresh lettuce from the fields (and wearing short sleeves!) on December first.  So, it could happen!
"… but when there is too much rain…"
This year, in addition to the usual CSA, farmers markets and wholesale orders, we have had to deal with weather extremes that are difficult to rebound from.  We can irrigate – set up long lines of sprinklers and move them every 4-6 hours all over our 55 acres – but when there is too MUCH rain?
Neither Bounty nor Brawny have enough paper towels to mop up the mud and puddles and save our plants.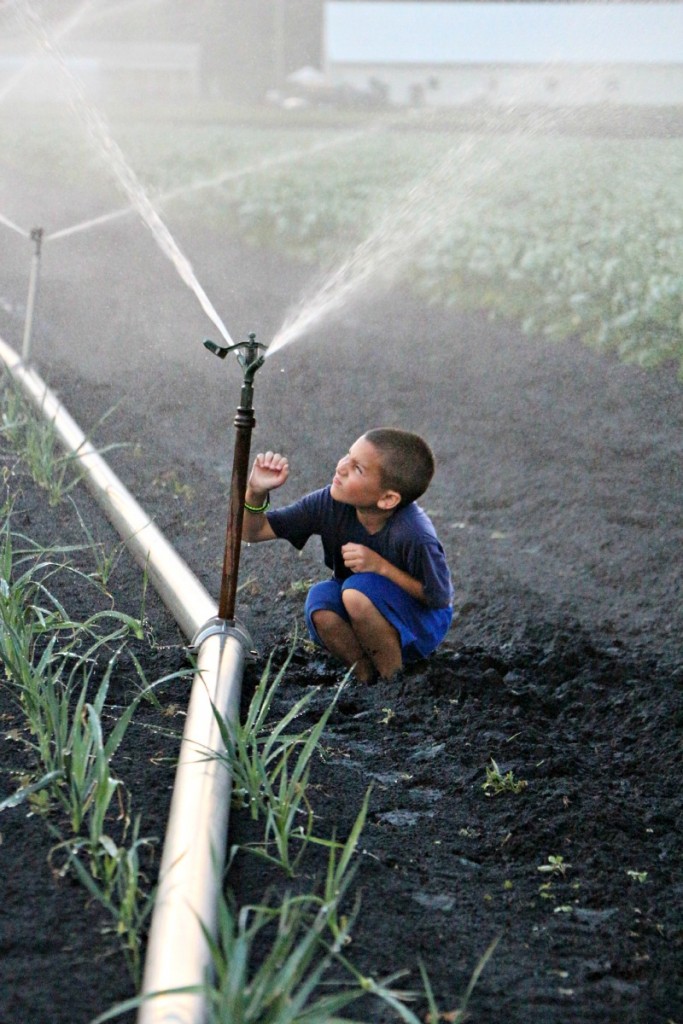 Deal with it.  We still get angry about it, though. When we don't have any cilantro or basil to go with the mountains of vine-ripened heirloom tomatoes on our tables. We grumble when our pretty little Kirby cucumbers are the perfect size for pickling and our dill is nothing but rain-yellowed stems. Quietly we feel completely defeated when the 20 acres of onions that looked so healthy and strong in June got 'tip burn' during 2 July heatwaves and will no longer produce big onions.  In this case, size really does matter.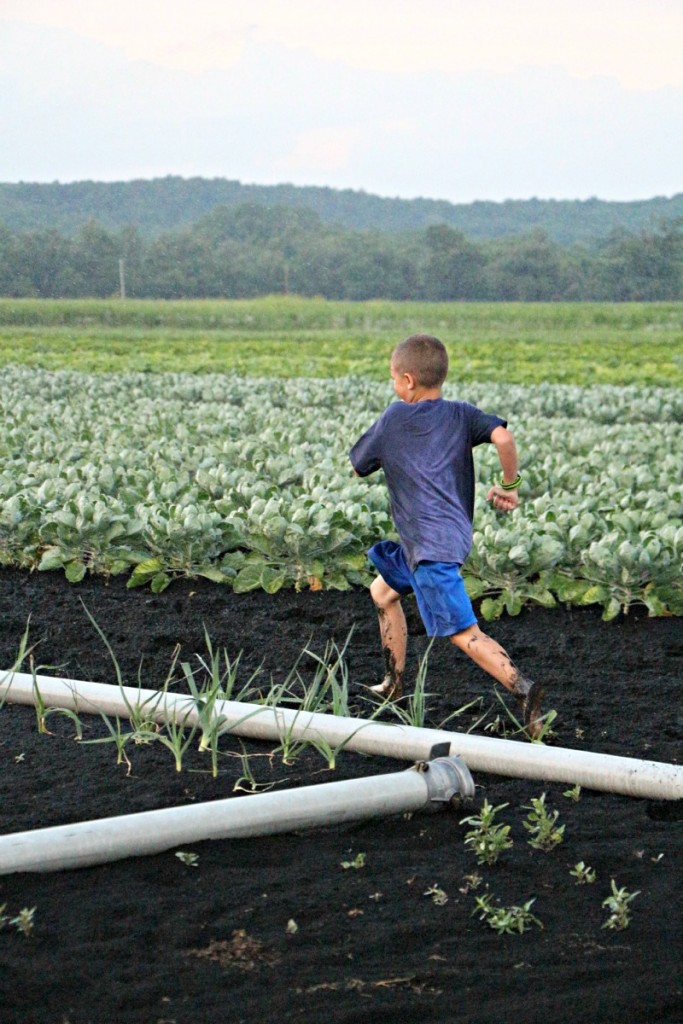 But with the bad comes the good, and with drought comes a sprinkler run.  Thomas had to show me the sprinklers, how they work, how you can run through the mud and water and cool off when it's still hot even after dinner.
I reminded him that I was born here on the farm (in a hospital, but I was living here on Celery Ave on Day 4 of my life) and have seen my share of irrigation pipeline.  But I let him go on (and on and on, because he is his grandfather's boy) and then I followed him through the mist and sprays as Papa watered the leeks and Brussels sprouts.
It was much easier running through mud when I was 10.
Field to Feast
No doubt you've heard me talk about Amy and her food-photography blog, Minimally Invasive.  We're collaborating on a project called Field to Feast.  We post recipes and pics based on a particular seasonal, farm-market fresh veggie or fruit.
How do we decide what's going to be our next post?  Well, typically Amy arrives at the Ringwood Farmers Market just after opening on any given Saturday and I'm racing around doing a million and one things that no one else can do (properly, IMHO).
I have a thing… in fact, I have many 'things', but one big 'thing' is I like my handwriting and I prefer my price cards and chalkboards to be written BY ME.  Hence, my pride has added yet another huge task to my daily to-do list.
I swear, I will never, ever learn.
For those who may have missed a post or two, I'm providing a recap of the recipes that Amy and I have posted thus far under our Field to Feast umbrella – which really is a timely comparison since our Friday market last week was flooded for hours.  A mere 3 1/2 inches of rain fell at the farm (of course we have a rain gauge!), but up to 6 inches fell in nearby towns.`
Green Garlic Confit – Minimally Invasive – We all love roasted garlic, and this green garlic version is just as versatile and deeply-flavored but with a green, vegetal quality.  I love this confit (simmered or baked in oil) on baked potatoes, grilled meats, summer veggies, artisan bread – basically, everywhere!
Brown Butter and Miso-Glazed Radishes  – MI – Radishes are ubiquitous salad toppers, but did you know you can cook them too?  Oh, they are heavenly!  And when glazed with this salty, rich miso brown butter… you better buy two bunches!
Green Garlic Risotto with Asparagus & Shiitakes – The FarmGirl Cooks –
Spinach Turnovers (GF) – MI – Spanakopita hand pies!  Perfect for picnics or brown-bag lunches.
Spinach & Brie Grilled Cheese Agrodolce – TFGC – Crazy as it sounds, raisins, pine nuts and balsamic make a tasty relish for this fresh spinach and brie grilled cheese.
Strawberry-Rhubarb Almond Crisp (GF) – MI – Almond flour, oats and chopped almonds make a lovely crunchy topping for this early summer crisp.  Baking it in individual dishes would be perfect portion control, too.  Try topping any of your favorite summer fruits with the 'crisp topping' before baking – I'm thinking peaches and strawberries!
Coconut – Rhubarb Swirl Popsicles – MI – A coconutty-rich base with tart rhubarb swirled throughout?  YUM!
Stawberry Galette (GF) – MI – Ground almonds make a liquid-absorbing base under intense bal
samic-roasted strawberries in this gluten free, free-form tart.
Strawberry-Rhubarb Sauce – TFGC – This sauce, a true taste of summer if ever there was one, can be made in under 20 minutes with the added benefit of storing perfectly well when water-bath canned or frozen!  No excuses… you need this in your pantry for mid-winter.
Strawberry-Rhubarb Ice Cream Shortcake – TFGC – The FarmGirl's go-to recipe for sponge shortcake and an ice cream dessert that will make you weak in the knees.  Or will get you marriage proposals!
Homemade Gravlax – MI – Salt, sugar, fresh dill are all you need to cure salmon in your very own home.
Fresh Dill and Garlic Scape Dip – TFGC – Easy to shake up in a jar, this buttermilk-based dip/dressing is excellent for dipping but also terrific poured over fish or chicken or salads!
Dry-fried Garlic Scapes – MI – Spicy, blackened Szechuan-style garlic scapes are reminiscent of green beans in texture.  Great idea, Amy!
Red Komatsuna Salad – MI – Red komatsuna is a Japanese mustard-spinach that we've been growing for several years.  Its colors are amazingly vibrant, much like the flavor it imparts when paired with other greens.   Komatsuna can be cooked or eaten raw, as in this salad that Amy made and topped with a Buttermilk-Avocado Dressing.
Grilled Corn with Compound Butters – MI – Amy takes simple grilled corn on the cob to new heights with a roasted garlic-miso butter and gochujang compound butter (Korean hot pepper paste).  Bonus links to several corn-y recipes included!
Two-Minute Microwave Corn on the Cob – TFGC – Yes, seriously.  No fuss, no mess, just corn on the cob steamed to perfection within the husks.
Grilled Eggplant and Tomatoes with Buttery Basil Pesto – MI – The whir of the blender and the aroma of sweet basil signal summer to me.  Pesto is standard fare, but Amy jazzed up this one with miso butter and roasted garlic.  Plus, she posted some pics from our farm tour.  EEK! Seeing the farm through others' eyes is always an experience for me.  LOL
Basil- Goat Cheese Pesto – TFGC – Simple nut-free pesto made with creamy fresh chevre.  It's great on grilled shrimp or chicken as well as pasta and veggies!
Carrot Gazpacho with Spicy Harissa Oil – MI – A traditional gazpacho contains tomatoes, cucumbers, peppers and onions.  Amy's version is fortified with sweet carrots as well!  Make this chilled carrot soup as spicy as you like it with an oil infused with dried spices.
Please enjoy these seasonal recipes that Amy and I are putting together for you and by all means, put your own spin on things!  Creativity is king….
… and this is my prince 😉