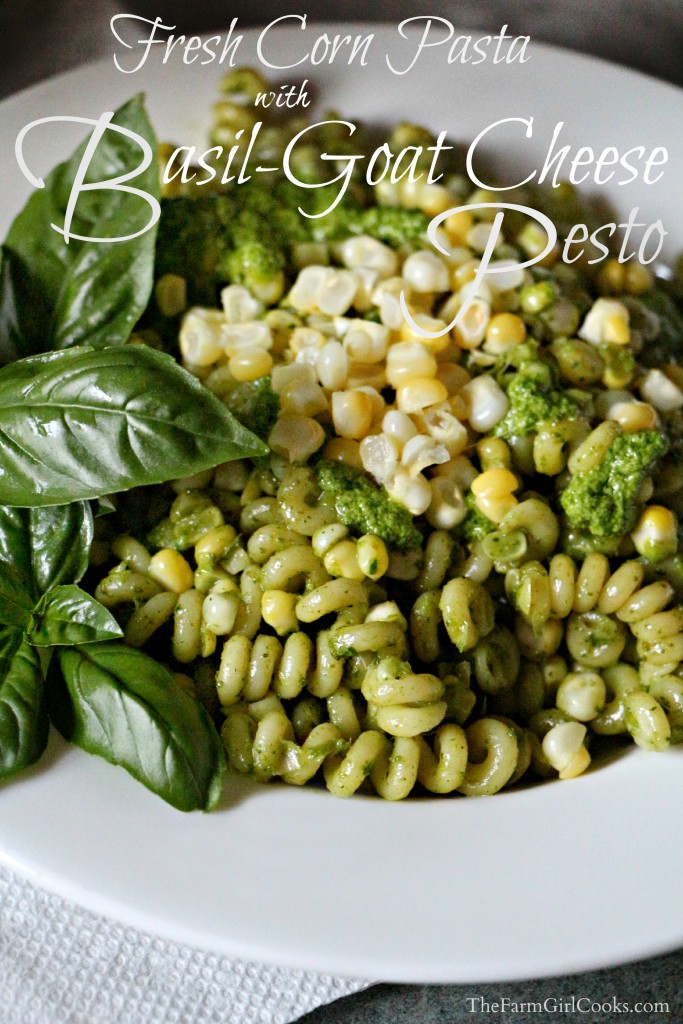 It always amazes me how much produce we grow here on our 55 acres of Black Dirt.  The sheer quantity is astounding. The veggies are all sold at farmers markets or through our CSA (community supported agriculture) programs. We also maintain numerous wholesale accounts.
I realized the other day – when I was simply and utterly exhausted and barely had the energy to make my kid dinner – that I sort and/or stack about 85% of what leaves this farm.  No WONDER I'm tired in the summer!
It probably comes as no surprise to any of you that I'm ridiculously OCD about my cooler.  It's a 20′ x 30′ refrigerator that I can drive into with a forklift, but I usually use a pallet jack to maneuver around with my skids (40″x48″ wood pallets) of produce.  Whatever we are working on during the day is sorted onto pallets and divvied up for each order or market and those pallets are set up so that the skids in the front are the ones we will be shipping out first.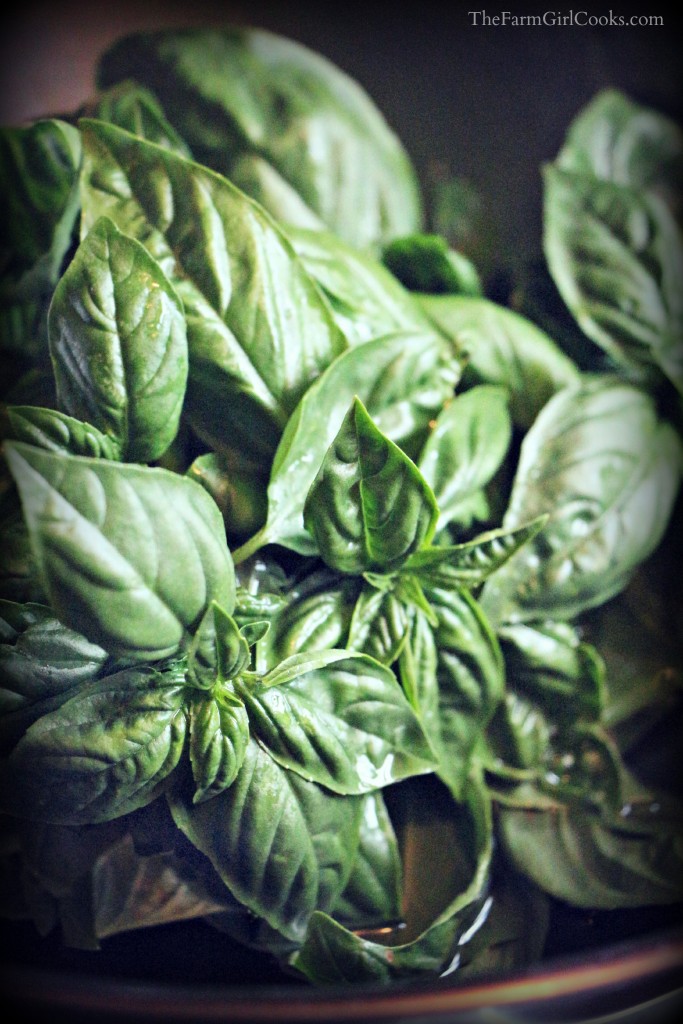 "I couldn't get over the sweet, licorice aroma…"
I hate to have to touch things more than necessary.  If it's going into the cooler, it's going to go in its proper place the first time — no jockeying of skids over and over to dig out what you need.  If you've been to my house in the summer you will see that much more care and consideration are put into keeping my cooler clean and organized.
So, during the workday prior to this night when I had absolutely no energy, we were harvesting and bunching basil for the markets.  I couldn't get over the sweet, licorice aroma and my mind was racing trying to think of something to make for dinner using the leftover leaves that I'd trimmed off.
I kept coming back to pesto, but the last thing I wanted to do was stand in my hot kitchen over a steaming pot of pasta water and grate parmesan cheese.   It wasn't going to happen….  No way, no how, not a chance.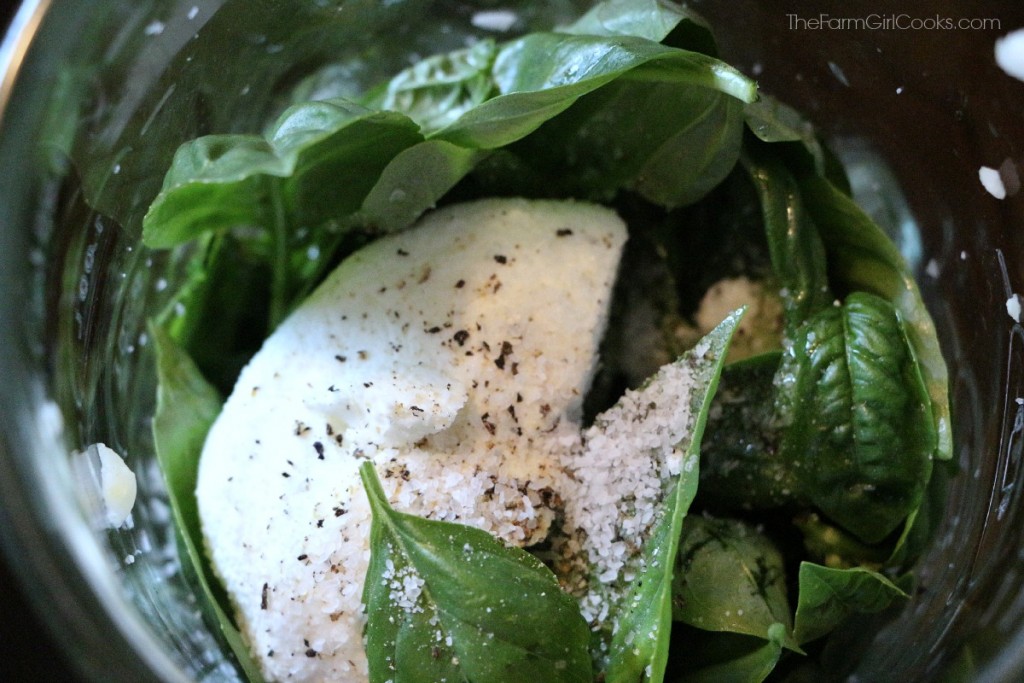 I grabbed a few ears of corn and my bag of basil scraps and headed home, put on water for pasta, then hopped in the shower to send a few pounds of dirt back from whence it came.
Following the cleansing of the chef, the corn was promptly microwaved and I set about searching the fridge for my secret ingredient.  In all honesty, I had no idea what that secret ingredient was, but I knew I had to be able to find something in there… something that would make this pesto stand out.
"I had no idea what that secret ingredient was."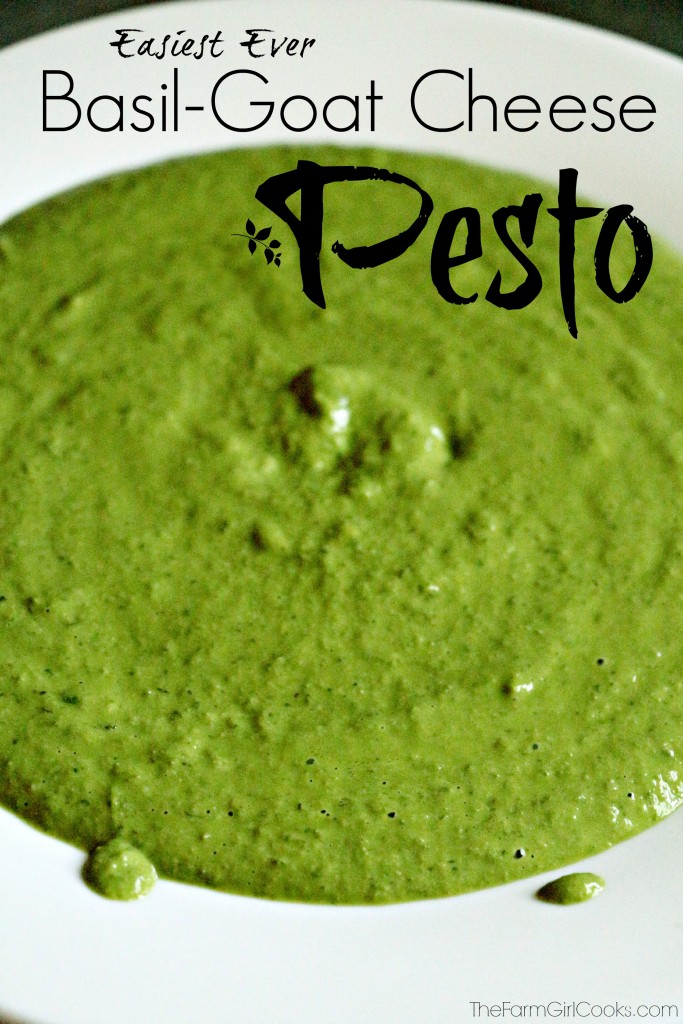 At this point I'd like to send a warm smile and heartfelt thank you to Talitha of Edgwick Farm.  Talitha and Dan, your fresh chevre (Canterbury) is the no-longer-secret ingredient to the Easiest Ever Basil and Goat Cheese Pesto.
"Try this for some delicious Basil Pesto."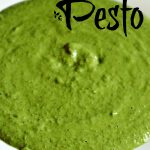 Basil and Goat Cheese Pesto
Ingredients
1

clove

garlic

peeled

2

cups

fresh basil leaves

packed to measure

2

ounces

fresh chevre soft goat's milk cheese

1/2 - 3/4

cup

extra virgin olive oil

salt and pepper to taste
Instructions
Turn on the food processor or blender and carefully drop the garlic clove through the chute into the blade(s).

The blade(s) will chop up the garlic quite nicely.

Turn off the machine. Add the basil, chevre.

Begin to pulse, adding the olive oil in a nice stream until you have a creamy paste.

You decide how fluid you want the pesto and add oil accordingly. Taste for seasoning and add salt and pepper as needed.

To store the pesto, place into a small container and pour a layer of olive oil completely over the top.  This will eliminate any browning as the surface is sealed off from air.  Freeze for future use or refrigerate for up to a week.
"I loved how creamy the pesto was."
I needed more than just pasta with pesto, however awesome it may be. Adding kernels carefully cut off a few ears of corn and tossing them with the hot pesto-sauced gemelli pasta was the pop this dish needed.
It was outrageous.  OutRAGEous!  
The sweet corn paired incredibly well with the pungent basil and the hot, spicy garlic. I loved how creamy the pesto was with the addition of the fresh goat cheese.  Can't get enough of this on day one? Warm it up for lunch the next two days and topped it with some leftover grilled chicken.
Now THAT is something that can keep a busy farmgirl moving!