I cleaned out my freezer (Again.  This is becoming a problem.) and found 2 bags of frozen peas.  There are only so many peas you can force an 8-year-old to eat before they become ammunition and are shot at the cats as they pass by the dinner table.
*lightbulb moment*
Make soup!
Sadly, the hoarding tendency is hereditary.   My kid is turning into his grandfather and I may need to buy him a storage shed for his birthday. The Boy decided (20 minutes before the school bus was to arrive) that it was time to un-package a remote control car that Santa had left for him.
What does that say about the amount of gifts this child received if he waits until mid-January to open one?
This thing was screwed into it's packaging. WHY? It makes a parent crazy – specifically because the little sticker that The Boy can now read says, 'Danger: only an adult should remove screws" and well, there's nothing ELSE to do at this time of day!
I gave the child 'the look' – the look that said, "have you flipped your dirty-blond cow-licked lid?"
"Go get the toolbox and find a Phillip's head screwdriver.   You are almost 9 years old and can surely remove a few screws by yourself.  I'm right here if you need help."
He did as he was told and promptly went about extracting the little piece of crap race car from it's package.
"Should I save these screws?"
"Good Lord, NO!  We have enough miscellaneous screws lying around." 
*It's so easy being disciplined for someone ELSE.*
"I'll just put them in this little container in the toolbox… in case we need them someday."
*face-palm*
He'll be a good farmer, my boy, if he so chooses, although, he currently aspires to be an astronaut, an architect, a race car driver, and a chef.
But not a parent.  That job is too hard, he claims.
He has no idea.  🙂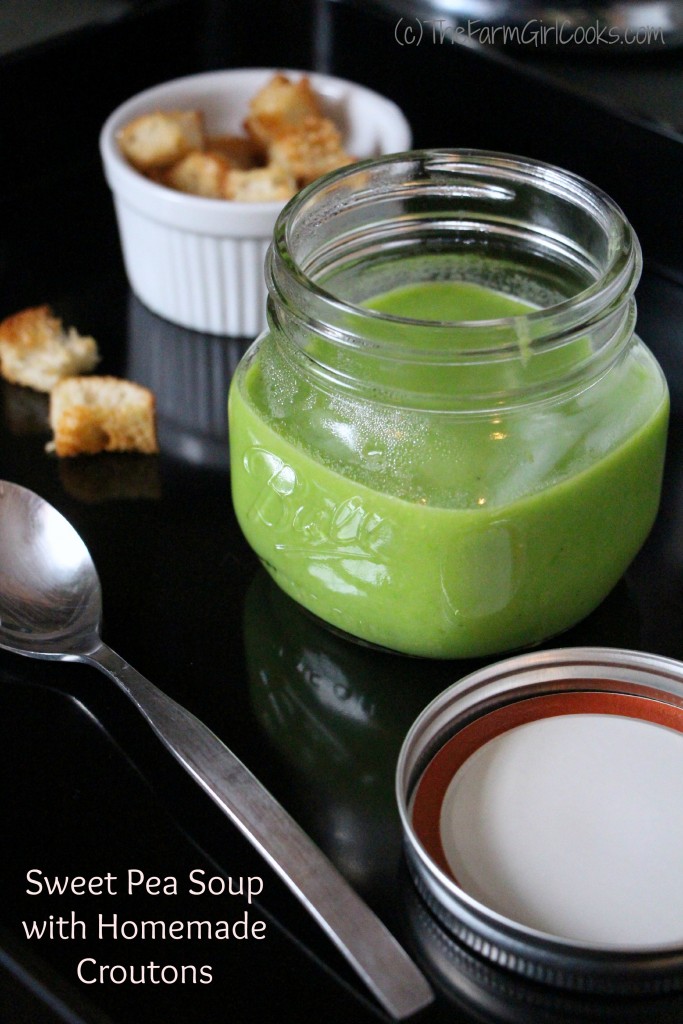 You know I made those croutons last week for a reason, right?  They were such a good, crunchy, grab-and-go snack that I'm lucky I had some left for this soup.  This soup is a great way to get a serving of veggies into your kids (or you for that matter!) – just warm it up and serve it in a cute mug.  With only a tablespoon of butter in about 6 cups of soup, you're doing great calorie-wise.  You can store the soup in the fridge for up to a week and it will still be sweet, delicious, freak-you-out green.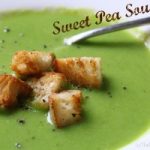 Sweet Pea Soup
This stunning springtime-green soup will come together in a matter of minutes and is a terrific way to get some more veggies into your family's diet. Skip the salad and start dinner with a cup of soup!
Ingredients
1

small yellow onion

sliced

1

T

unsalted butter

1

medium non-waxy potato

Yukon Gold, about 6oz, peeled and sliced thinly

1

quart

cool water

1

lb

bag frozen peas

1

t

salt plus pepper to taste

Optional: fresh chopped tarragon
Instructions
Place butter and onions in a soup pot over medium-low heat. Sweat the onions until they are softened and translucent but do not allow them to brown, about 5 minutes.

Add sliced potatoes, salt and water and raise the heat to medim-high. Bring to a simmer and cook until potatoes are tender, about 8-10 minutes.

Pour the frozen peas into the pot and bring just to a boil. Puree CAREFULLY with an immersion/stick blender until very smooth. Season to taste with salt and pepper.

Serve hot with crunchy homemade croutons.