Thomas will be turning 9 this week.
He's wicked smaht with a mouth to match and has, apparently, no fear of punishment.  As much as it pains me afterward, I tend to let him have an opinion and voice it as well.  Then I suddenly regain my composure and tell him to zip it and go to his room until he can speak to me with respect and kindness.
It kind of irked me when we were away last week and he complained about my driving.  Not the driving so much as the getting lost.  If you Google Map it, you will see that Cape Coral, Florida is a well-laid out community with a grid pattern of streets.  Cape Coral also has about 8,675,309 canals around which you need to navigate.  Not so bad if you're actually in a BOAT, I suppose, but if you're in a car and you come upon a dead end, well, it's time to turn around, spout a few expletives, and take a deep breath while you try to figure out which way to go.
WHY, oh why would NE 6th Street be cut by a canal and why would the house numbers continue on the other side of that watery barrier?  The place is kooky.
He questions my methods on occasion, and gets downright huffy when he tells me  "really, Mommy, I can take care of myself!"
Then I hear, "when am I gonna get to be the boss?"
I tell him when he's the dad.
"I don't want kids", he says. "They're too much work."
Indeed they are, which is why snacks like these mini jam pies are easily customized so they will appeal to even the most picky eater in your life.
Or so you'd hope.
Just don't use raspberry jam to fill them because, of course, some people prefer strawberry.
Snacks like these mini jam pies are easily customized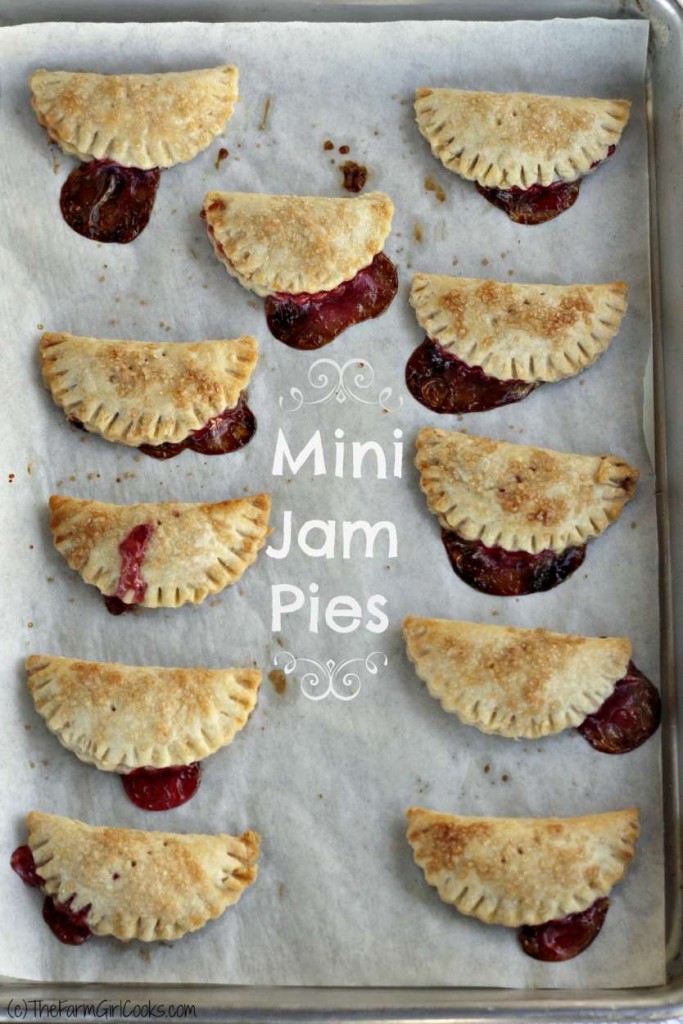 Mini Jam Pies
These little treats are a leftover pie dough creation.  I'm sure you have had leftover pie dough – the stuff you cut off the edges when you fit it into a pie pan?  Waste not one bit!
Gather scraps of dough into a ball.  Press it together but don't knead it like you would bread dough.  You'll make it tough, and this dough has already been worked once so you want to be gentle. Roll it out to about 1/4″ thick and cut out circles or squares with a cookie cutter.  Place a small amount of jam on each circle, then working a few at a time, dampen the edges of the circles with a bit of water.  I use my finger.  I hate washing dishes.  This cutter was 2″ in diameter and I used a scant teaspoon of jam.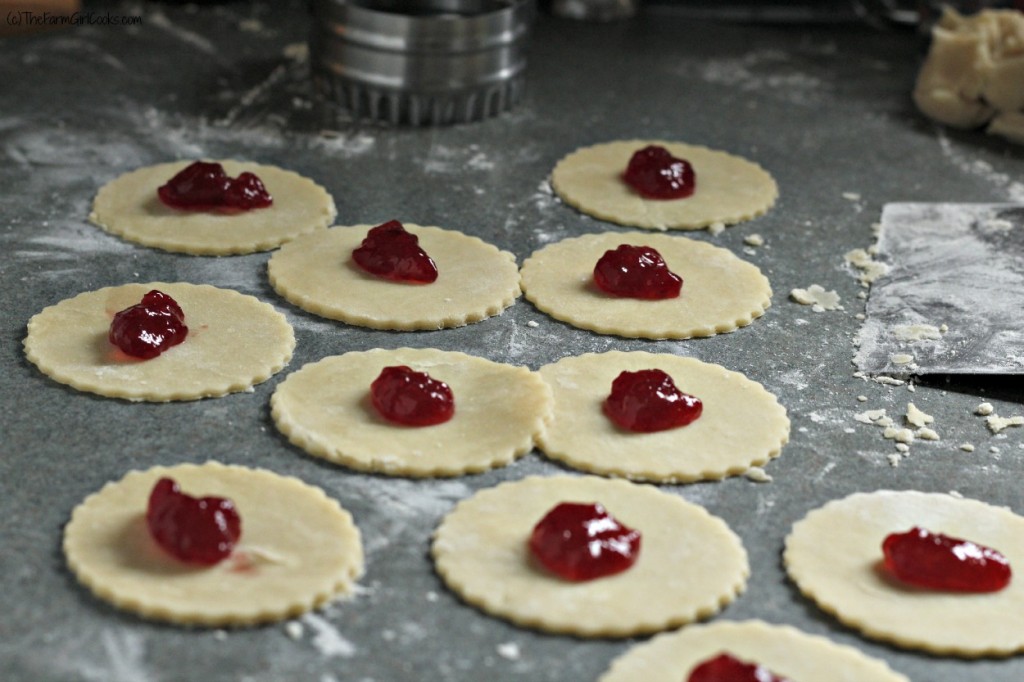 Fold the circles over to make – get this – SEMICIRCLES!  TADAAAA!  Press the edges with a fork to seal.  Be sure to dip the fork in flour occasionally.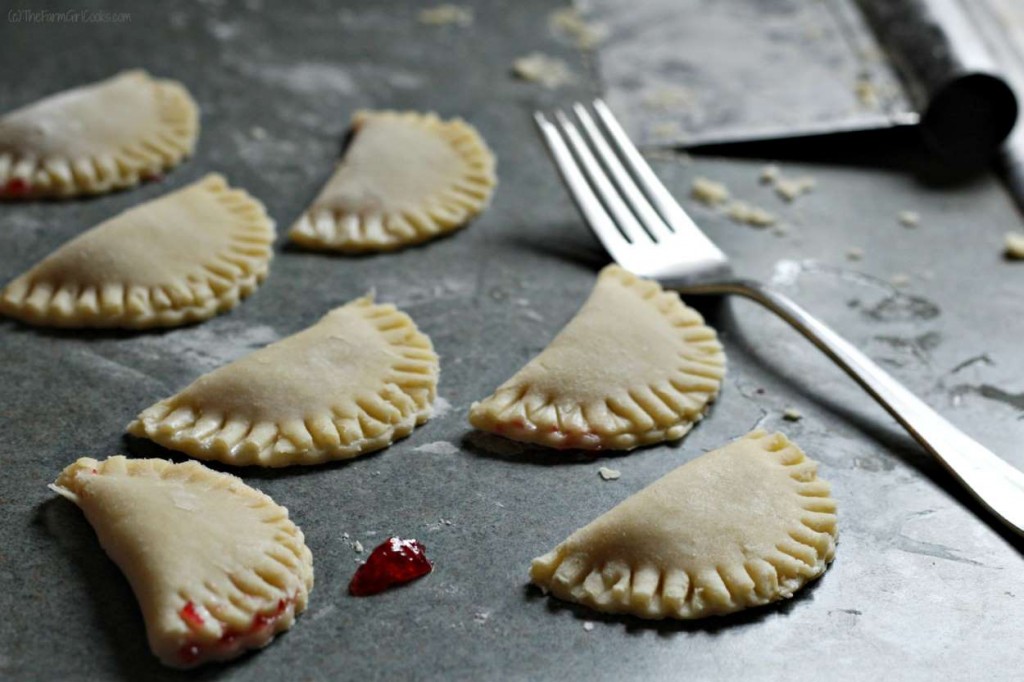 Arrange the little pies on a baking sheet lined with parchment.  AGAIN with the parchment!  You'll thank me at clean-up time.  Jam will inevitably leak out of these and form a cement-like bond with your baking sheet.  Poke them each with a fork once to allow steam to escape.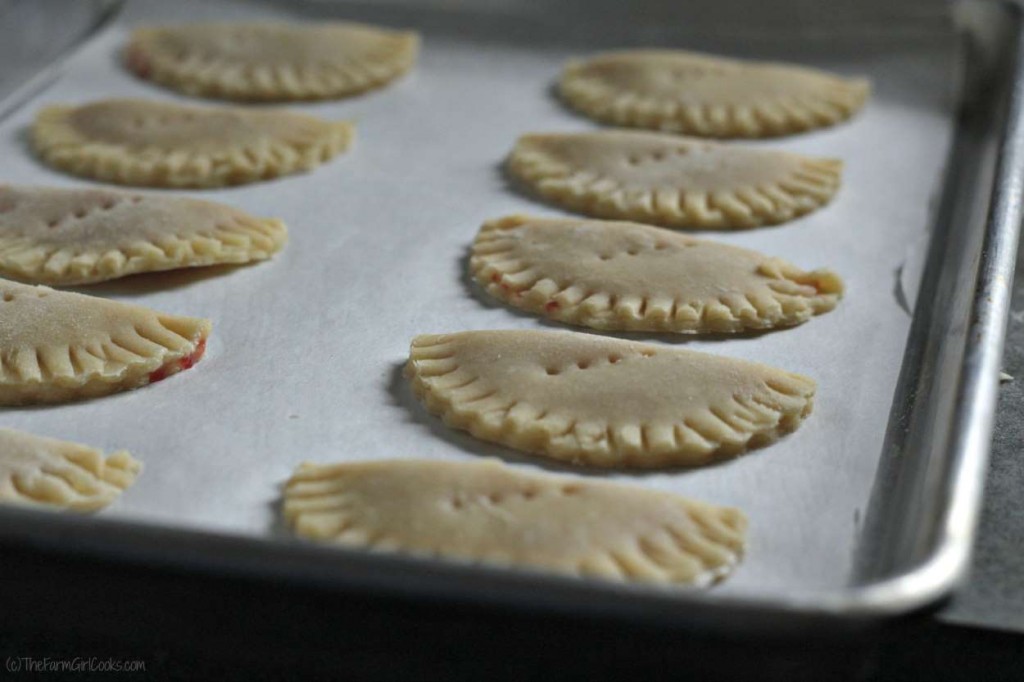 Brush the tops with a bit of cream, milk or half and half then sprinkle with raw sugar.  The raw sugar adds nice textural contrast, but if you don't have any, feel free to use regular white sugar.  Add some cinnamon, too, if that works with your choice of filling.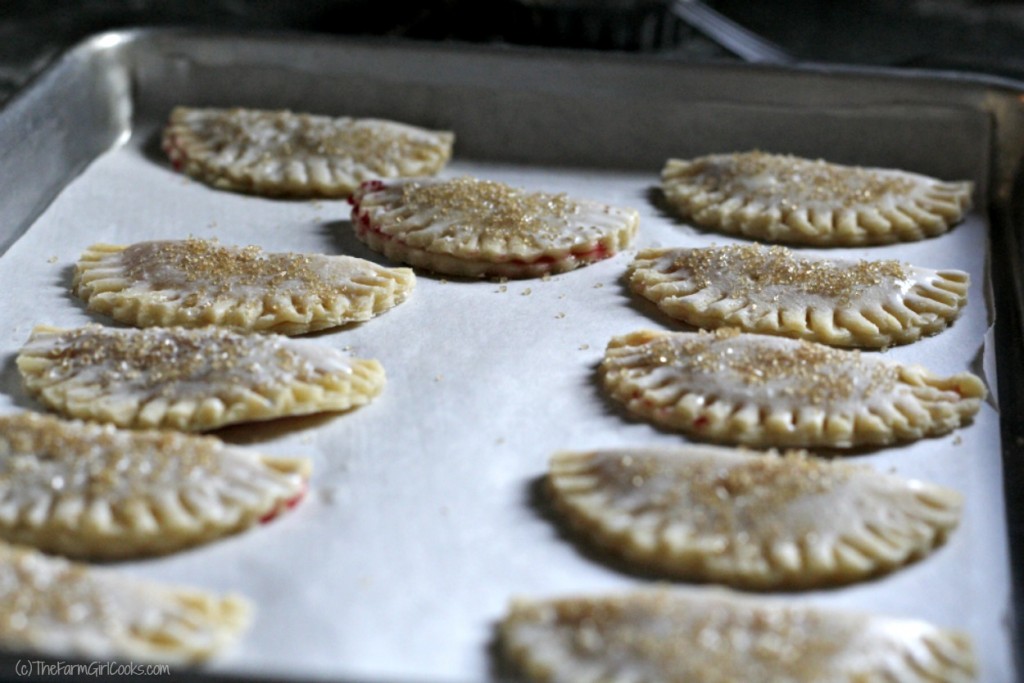 Bake these in a preheated (important!) 400° oven for about 15 minutes.  Keep an eye on them because you don't want them to burn.   You can make them as small or as large as you like and (obvi) small ones will require less time to cook.  Cool on a wire rack while you try to keep little hands from stealing them.