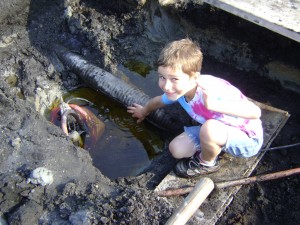 *said in caveman-like voice*
Because if you're going to say something to a kid, you may as well say it in a funny voice. The chances of him paying attention to you are much greater that way.  Or so I've learned in my 7+ (wonderfully rewarding and seriously challenging… if you want to do it right) years of being a mother.
Thomas and I have spent an awful lot of time reading lately, both me reading to him AND him reading aloud to me. It is FABULOUS!!!  I think witnessing a baby's development is inspirational and  heartwarming, but now when I see the minute details of what is going on in my kid's brain as he turns into a student, a reader, a thinker… I'm floored.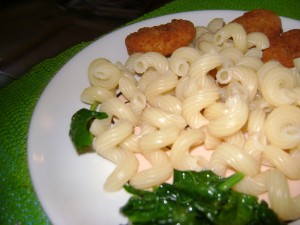 I find him to be absolutely amazing and encouraging him to read is probably one of the most important things I've done for him in his short lifetime.  He may or may not go to college, he may or may not choose to work the land like his family, but one thing is certain, and that is he's got a brain and he knows how to use it.
One day, when he's a bit older, I'm sure we'll have some serious, thought-provoking discussions based on the reading we do.  Currently it's The Mouse and the Motorcycle, and even something written for elementary school kids can provide fodder for such discussions – we might just use smaller, less complicated words.  We just read a part of the story during which Ralph S. Mouse, whose family lives in an old hotel, gets caught riding a toy motorcycle when he isn't supposed to be doing it (as little boys are apt to do, says Keith  – the boy who befriends the mouse – hence his acceptance of Ralph's transgression).  Now Ralph's family is in danger of being found and exterminated.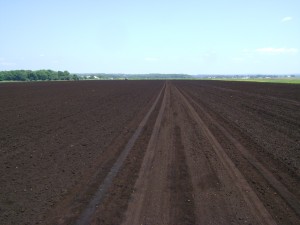 We had quite a conversation about forgiveness, safety for people (and rodents) of all ages, and accepting and following rules… including dealing with the consequences when you don't follow them.  Part of the length and depth of our discussion may have stemmed from the fact that it was almost bedtime and talking to Mommy about important life lessons may put off sleep for just a little while longer.  But he's seriously a thoughtful person and he likes to ponder things like that, so within reason, I go with it.
This idea of us having philosophical discussions came about because I read a blog posting by a friend, author Elizabeth Hilts.  Elizabeth is a great lady who also happens to write some pretty fascinating stuff.  There have been many times when her work has touched my heart (and it's a cold, cold place… so let me assure you, this lady has talent ).
On this occasion, it was a brief piece about famous chef Alice Waters.  In the interest of time and space, I'll spare you my opinion (Ok, fine.  I'm not a fan.  Am I in touch with my Inner Bitch**?  You betcha…), and you can google for the low-down on this acclaimed Berkeley humanitarian/restaurateur.  I urge you to check out this post by my dear Ms. Hilts.
Elizabeth, you always get me thinking — and feeling — which is something I don't like to do very often.  But you do it so well!  Thank you for sharing your wisdom and insight.
**Getting In Touch with Your Inner Bitch is one of Elizabeth's books — check it out!
As you can imagine, what with all this damn summer weather that smacked us in the face before the calendar even turned to JUNE, farm business is really starting to heat up.  Some of you may be saying, "but Kasha!  You just started the markets last week!"  And you'd be right.
HOWEVER….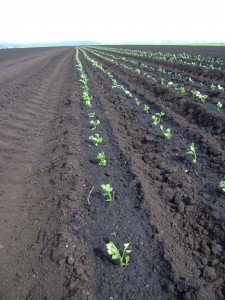 The stuff that we're selling now, at the end of May, was planted in March and April!  I know we WANT to have  all of our summer favorites as soon as summer temps arrive, but it just doesn't happen that way.  The veggies need time and Mother Nature, like most mothers, has the final say.
So this week alone saw such an abundance of planting (direct from seed) and transplanting (the stuff that was planted from seed and tended to in the greenhouses since early April) that it is impossible for me to remember it all without a list.  Sorry, but I'm too tired.  I'm not even gonna try.  I'll post a few pics to show you progress, though!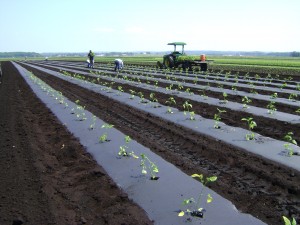 If your week was anything like mine, your air conditioner was working overtime.  This is how I discovered that maybe a decade-old AC isn't all that effective at cooling anymore.  The last thing I wanted to do when I came in from work at 6pm the other night was heat up my damn house just to make dinner.  I really HATE sweating when I'm eating dinner.  So not relaxing!
So I conceived this quickie (yes, I do feel a little dirty typing those two words in the same sentence) which involved only cooking pasta and adding a whole bunch of seasonal and readily available market goodies.  I do NOT have a recipe because it's fine to use what you have on hand!  We all have enough stressors in our lives… cooking dinner for the family does NOT have to be one of them.
---
Spicy Spinach and Basil Pasta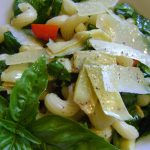 Spicy Spinach and Basil Pasta
Ingredients
about 1/2 pound pasta

big handful fresh spinach leaves

cut into ribbons

fresh garlic or garlic scapes

minced/chopped/sliced - whatever floats your boat

several sprigs fresh basil leaves

cut into ribbons

handful marinated artichoke hearts

cut into bitesize pieces

handful sweet 'n' spicy peppadew pickled peppers

cut into bitesize pieces

olive oil

salt/pepper and shaved pecorino romano cheese
Instructions
Have all ingredients ready to go so you can add them right away - don't want that pasta waiting!

Cook the pasta in salted water until just tender.  Drain and immediately return to pan.  Drizzle with a bit of olive oil.

Add next 5 ingredients, drizzle with a few glugs of olive oil, and stir well.  The hot pasta will wilt the spinach the perfect amount.

Season to taste, and top each serving with a generous bit of shaved pecorino.  Enjoy at room temperature!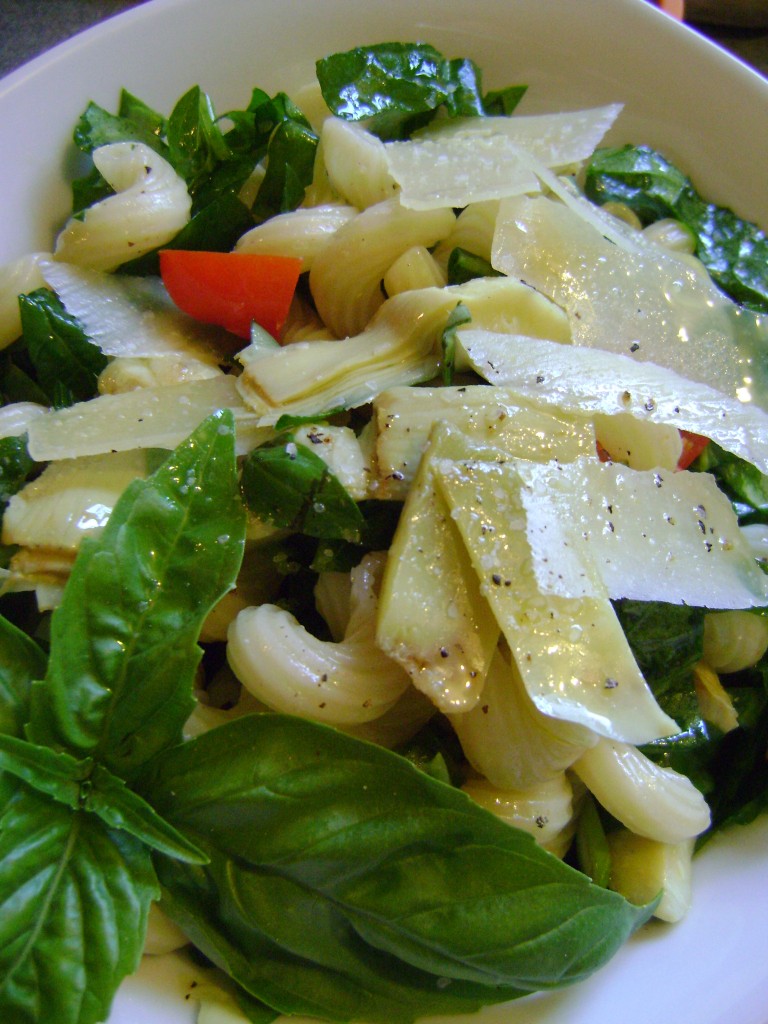 Then rest… because after this week, you deserve it!