Out here in the Black Dirt area of Orange County, NY, we have to deal with very unique circumstances and events, and after 40<cough, cough> years of living here, I'm kinda used to those things.  My father, after 70 years on Celery Avenue, probably knows the place better than anyone else, except maybe his big sister Beverly.  Hell, my kid has seen 3 devastating floods in his short lifetime, each one worse than the last, and he thinks it's just the way things are here in the farmland.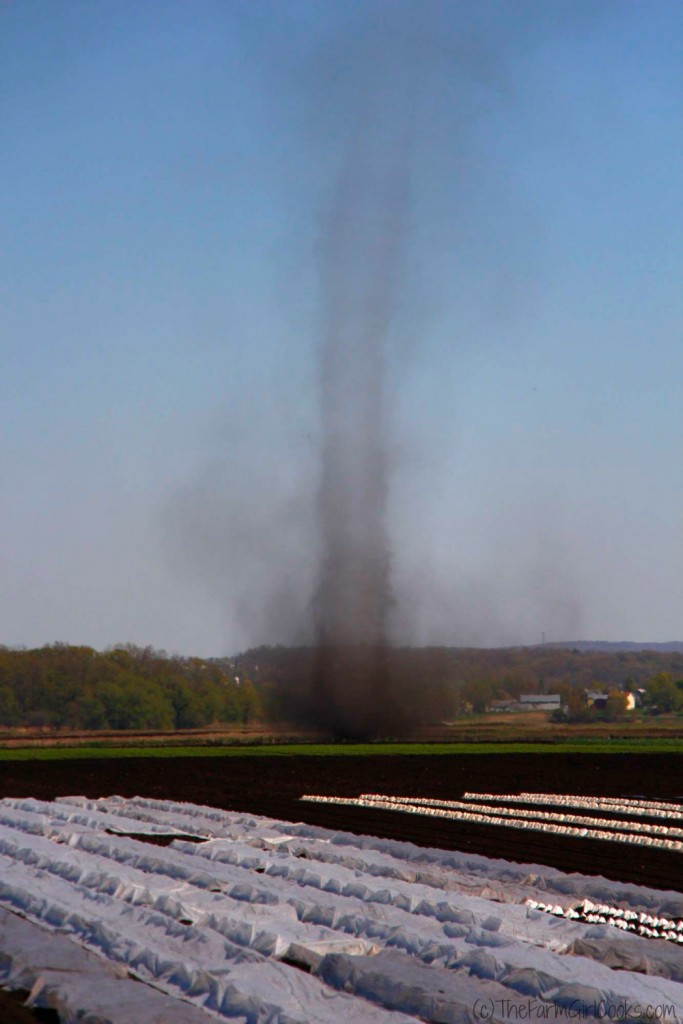 Twisters, or dust devils, are a regular occurrence around here and while they can do some damage, we really don't think much of them.  They happen.  They blow through and take freshly planted seeds with them – leaving bare spots that we won't know about until the rest of the row of spinach is sprouting and, "Hey!  Why is there nothing growing here?".  Sometimes they knock over entire sections of corn, but most of the time we just stand and watch in amazement and cover our faces with our shirts if one happens to come close enough.
This twister that we saw last week was probably the most well-defined one that I've seen and certainly photographed.  I'm glad I had the chance to get these shots.  Dad, Mom and I watched this one for about 5 minutes as it transformed from a small cloud of dust to the huge funnel you see above.  It would break up as it moved over the field and ran into sections of plants, then rev right back up again when it moved past them.
This is exactly the reason why we plant cover crops on large bare areas of land – to reduce erosion.  The wind will happily lift up our soil and any seeds in it and drop it all in your yard if we don't try to slow it down somehow.
When I found out 10 years ago that I was pregnant, it didn't occur to me that the kid would want a birthday party every year.  I was focused on things like labor and delivery and preparing a nursery in a unisex decor.  There are so few true surprises in life so I chose to not find out the baby's sex prior to his birthday.
After 9 years (and 9 parties), I've come to realize that Thomas' birthday is the true turning point in my year.   Once the birthday business is over it's time to dive head first into preparing the farm for markets and CSA distributions.  There's been plenty of work done up until this time because the ground needs to be worked and seedlings need to be established long before May, but from here on out it's going to be an 8-month-long adrenaline rush.
The week before Thomas' birthday is a whirlwind of baking because 1) cookies or cupcakes need to be delivered to school and 2) Mama Baker lets her son choose exactly what he wants for a birthday cake.  This year Thomas requested a 3-layer cake (two chocolate, one yellow) with German buttercream between the layers and all over the top/sides.
"Is it hard to color the frosting green?  I'd like it green, please."
As you wish, Buttercup.
I made a quarter-sheet cake and tried the ombre technique I've been reading about lately.  Or maybe it's not 'lately' and it's just that I haven't had reason to decorate a cake in a very long time.  I think the effect is gorgeous and it certainly is impressive, but OHMYGOD did it take forever to do!  Very time consuming process, and since I did the cake the morning of the party, I was happy that I stayed up late the night before making (and possibly sampling) the sangria.
The party was a success, as were the cake and the sangria.  A joyous, albeit dusty, afternoon was had by all.
But, now it's back to the business of farming.  Here's wishing for a season filled with good weather, good friends and good food!