I almost died this weekend.
Maybe I shouldn't say it like that, but it's true.
Every Saturday morning I drive to the  Ringwood Farmers Market on a stretch of road we like to call "Old 17".  Old 17 runs from Harriman, NY to the NJ border and until the NYS Thruway was opened in 1953, was the main route to 'upstate' from NYC.  Remember the movie "Dirty Dancing" and the Catskill resort/bungalow colony culture?  Old 17 is how city folks got to Sullivan County.
Red Apple Rest, a cafeteria-rest area, was built in 1931 and was approximately halfway between NYC and the Catskills. I hesitate to use the term restaurant because on the few occasions I was there in the 80s and 90s, the place was nearly abandoned but still offered use of their rest rooms and sold microwaved hot dogs to weary travelers. They still had the old cloth towel rollers in the restrooms.  It leaned heavily towards creepy.
The Red Apple fell into disrepair and was condemned in 2007. It's a reminder that progress, while amazing in its own right, sometimes leaves things behind. Traveling the NYS Thruway was faster and more energy efficient and kept traffic from flooding the small villages of Sloatsburg, Tuxedo, Southfields, etc. But it also made us lose a little bit of Americana, I think.
To see this… 
where just half a century ago there was a parking lot full of cars and buses, passengers and drivers alike seeking respite from the long and hot days of summer travel, makes me sad.  Part of me wishes I could blink back to 1950 just to see businesses like this in their hey-day.  Plus I always had a crush on Fonzie. *sigh*
Now, Old 17 is just a slower, more scenic route from Harriman to Suffern. In most places this road is 4 lanes wide and VERY windy. It borders Harriman State Park. I am cheap and this saves me $1.50 in tolls, plus it's exactly the same drive time as taking the gas-guzzling Thruway (yes, I clocked it… because I'm a fool for numbers). There is absolutely no traffic at 6:30 on a Saturday morning and I get to greet all the Bambis I see with a highway salute and my choice of four-letter words.
This past Saturday, around 6:30am, I thought nothing of it when I saw a car coming toward me around an S-curve just before the Red Apple. I thought a helluva lot of it when this car started coming toward me IN MY SOUTHBOUND LANE. The car swerved and fishtailed back and forth, brakes smoking and wheels squealing. It spun around once then hit the guardrail on the northbound side of the road. I clutched at the steering wheel and accelerated quickly to avoid the out-of-control vehicle should it return to my lane. I heard the screeching as I drove on, my heart beating out of my chest. I pulled over as soon as I found a safe place and regained my composure.
There was no way the car would be able to drive away from this, and despite my fears of what I would find, I turned my car around and drove back until I saw the accident. I actually HEARD it before I saw it.
Remember I mentioned the windy road? It's bordered on one side by a forested mountain of rock outcroppings. As I drove around a curve I saw a tractor trailer stopped in the southbound left lane. Behind him was our market truck and my mother in her car. Actually, my mother was no longer IN her car… she was directing traffic because the curvy road made it very dangerous for anyone coming upon the scene from either direction. Facing me, in the southbound right lane, was the runaway car – front end smashed and partly hung up on the rocks along the cliff. The horn was blaring and wouldn't stop for several minutes.
Thankfully, no one was injured, although the driver and her passenger (both under 20 years of age) were scared shitless, the tears streaming down their faces at this point. The police were on their way and Mom hung back to keep traffic moving safely, but we took the truck and headed to market, all of us justifiably shaken. I've seen cars approaching me before, but never in my lane and never at 60 miles per hour.
Why all this commotion bright and early on a Saturday morning? Because the driver fell asleep at the wheel. Please, please, PLEASE… if you are going to drive, be well-rested and pay attention to what you are doing!  No texting, no talking on the phone, no reaching for fallen sippy cups –  no good can come of such foolishness. Those Goldfish will still be under the car seat when you reach your destination.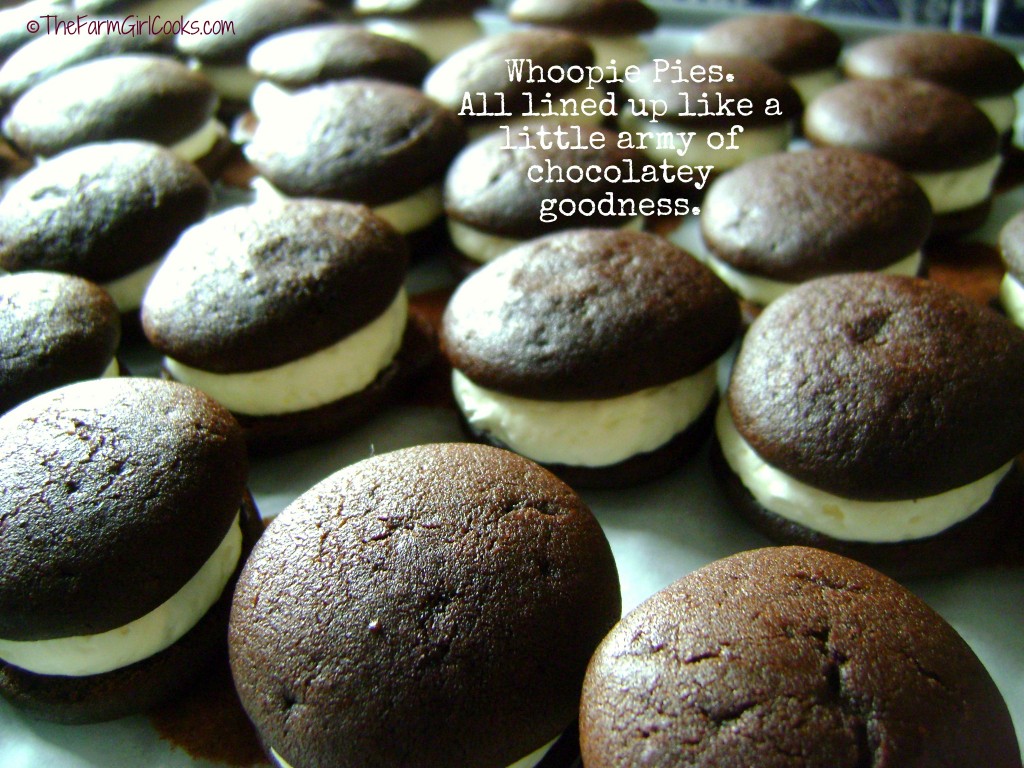 So, yeah. Now that I've lectured you on driving responsibly, here goes with a recipe I promised some people a few weeks back. I was asked by my darling boy to make a snack to share during the reception following his class play. I wanted something small that everyone and their parents could sample while still leaving room for all the other goodies that people were bringing. As tight as my schedule is, I still found the time to make these sweet treats. At 7:30am I was mixing up and baking tray after tray of chocolaty snack cakes.
…because I secretly want to be Martha.
Yes, I know this. I apologize for it, even. Maybe I'm just old-fashioned in this way, but I wouldn't think of sending something in to school for the class that I didn't make myself. Doritos? No. Dunkin Donut holes? Nope. One time I actually used a box cake mix to make cupcakes and I was horrified and embarrassed with the results. Do I do it for the kids? No way — they eat paste! (Wait.  Do they still MAKE paste? I don't even know.) I do it for me. I do it because I want to create something awesome and delicious that makes people smile when they see it and sigh with delight when they taste it.
And so it was with these Devil Dog knock-offs. To call them knock-offs implies that they are inferior in quality. Quite the contrary! These may very well be the best damn perros del Diablo you've ever stuffed in your pie hole. And stuff you will, especially if you make them tiny like I did.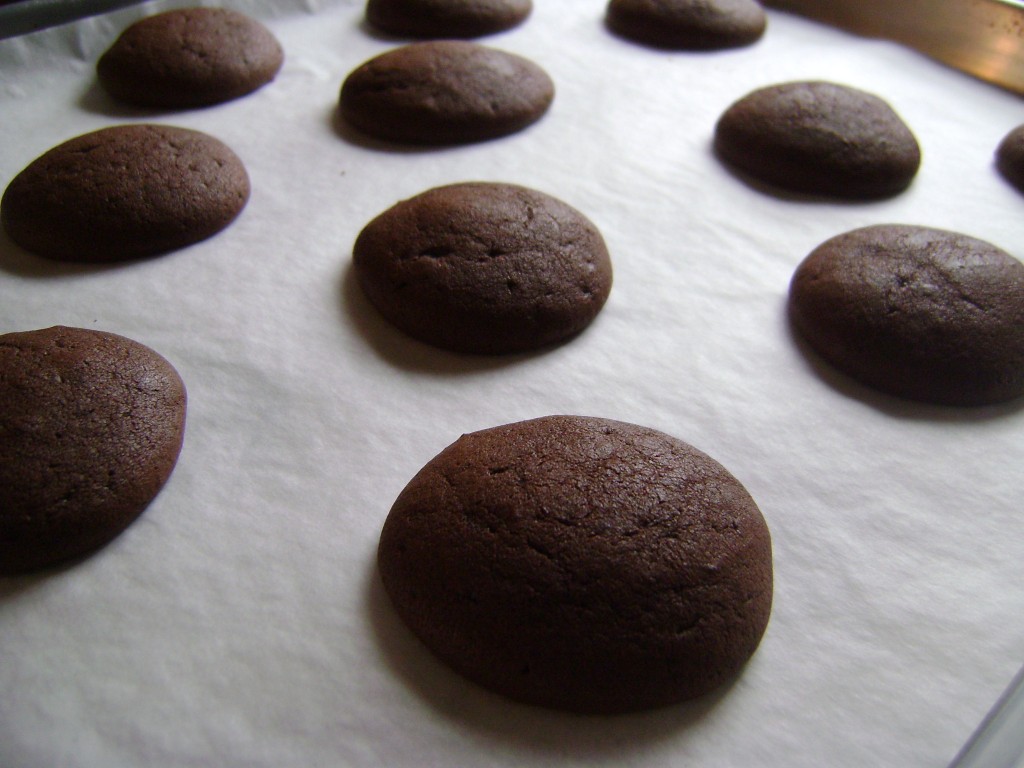 I made these cakes by scooping the batter with a small cookie scoop. Thanks to the leavening they puff up and spread nicely. One batch made about 60 cakes, or 30 sandwiches. You'll have to adjust the amounts depending upon the size of the finished whoopie pie – Cooks Illustrated recipe, the original from which I adapted this one – says it serves 6.  Those are some BIG whoopie pies!  But not so big that I couldn't polish 'em off with a hot cup o' coffee 🙂
Better-Than-Devil Dogs 
2 cups AP flour
2/3 c Dutch-processed cocoa powder
1 t baking soda
1/2 t table salt
1 cup packed dark brown sugar
1 stick unsalted butter, soft but still cool
1 large egg, room temp
2 t vanilla extract
1 cup buttermilk (1 cup minus 1T milk plus 1 T lemon juice or vinegar works well)
1T espresso powder, such as Medaglia d'Oro
Preheat your oven to 350°. Combine dry ingredients in a bowl and whisk to combine. Set aside. Stir espresso powder into buttermilk and set aside.
Place butter and sugar in a bowl and beat well on medium speed until light and fluffy. This will take a good 4-5 minutes. Beat in the egg, scraping down sides of bowl as needed. Beat in the vanilla, then reduce speed of mixer to low while gradually adding 1/3 of the dry ingredients. Add about half of the buttermilk and beat until incorporated. Add in another 1/3 of the flour mixture, then the rest of the buttermilk, and finally, the remaining flour mixture. Mix to combine, then scrape down bowl with spatula and give the batter a final go-round.
Using a cookie or ice cream scoop, place blobs of batter onto parchment lined baking sheets keeping the blobs about 3 inches apart. Bake the cakes for about 15 minutes or until the tops spring back when lightly touched. Allow the cakes to cool completely on the pans (or be in a hurry like me and slide the entire sheet of parchment off the pan and onto a cooling rack after a 5-minute cool on the pan).
While cakes cool, make cream filling…
Cream Filling
1/2 cup vegetable shortening (I used butter-flavor Crisco)
1/2 cup butter, at room temperature
3/4 cup confectioners sugar
2 1/2  cups Marshmallow Fluff
1/4 teaspoon salt dissolved in 1-2 tablespoons of water  (you don't want grainy cream filling)
1 1/2 teaspoons vanilla extract
Combine shortening and butter in the bowl of an electric mixer and beat until fluffy, about 2 minutes. Beat in the sugar, fluff, salt mixture and vanilla until completely blended and very light, about 2 minutes more. Scrape down bowl with a rubber spatula as needed.
Assemble the Better-Than-Devil Dogs: Place cream filling into a pastry bag fitted with a large plain tip. Sounds daunting? It's not – it's truly the easiest way to fill the cakes in a jiffy. Turn half of the cakes over onto a clean parchment lined baking sheet. Pipe a modest amount of cream filling onto each, then sandwich another cake atop the filling. Press down gently so the filling spreads to the edge of the cake.
Place the cakes onto flattened out cupcake papers if you plan to store them stacked or distribute to little ankle-biters at school events. Store in an airtight container (or sheet pan tightly wrapped in plastic wrap) for up to 2 days at cool room temperature. Summer is NOT the time to leave these out – they'll be fine in the fridge for a few days.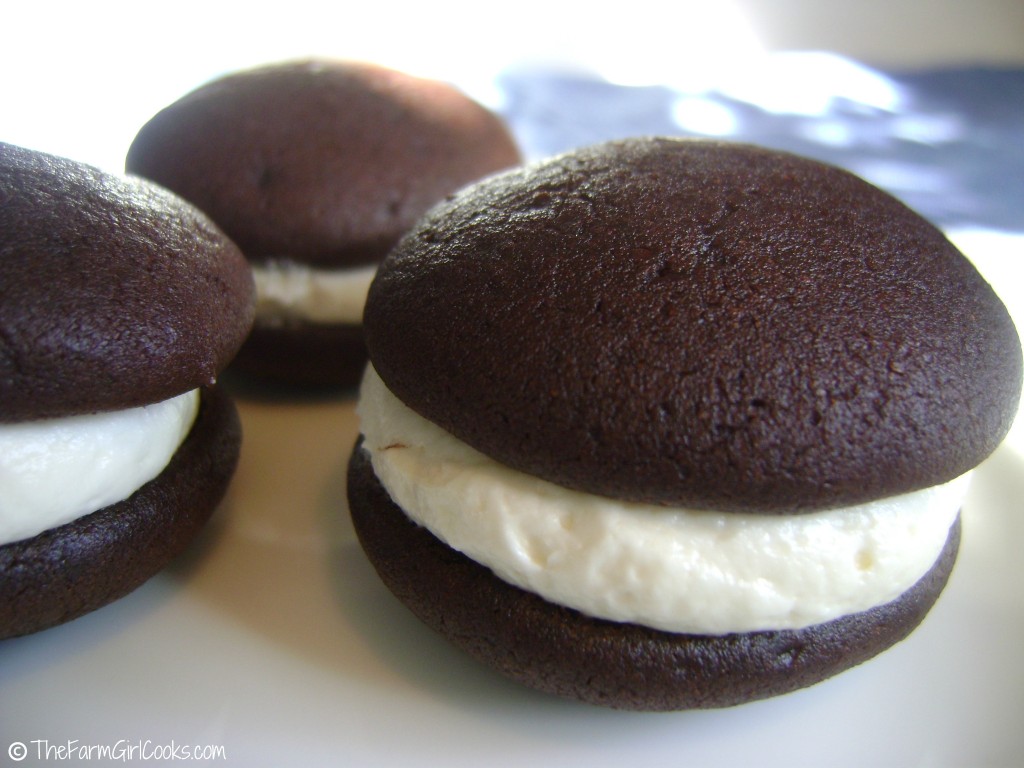 Recipe adapted from Cook's Illustrated, cream filling adapted from Sprinkles of Parsley.