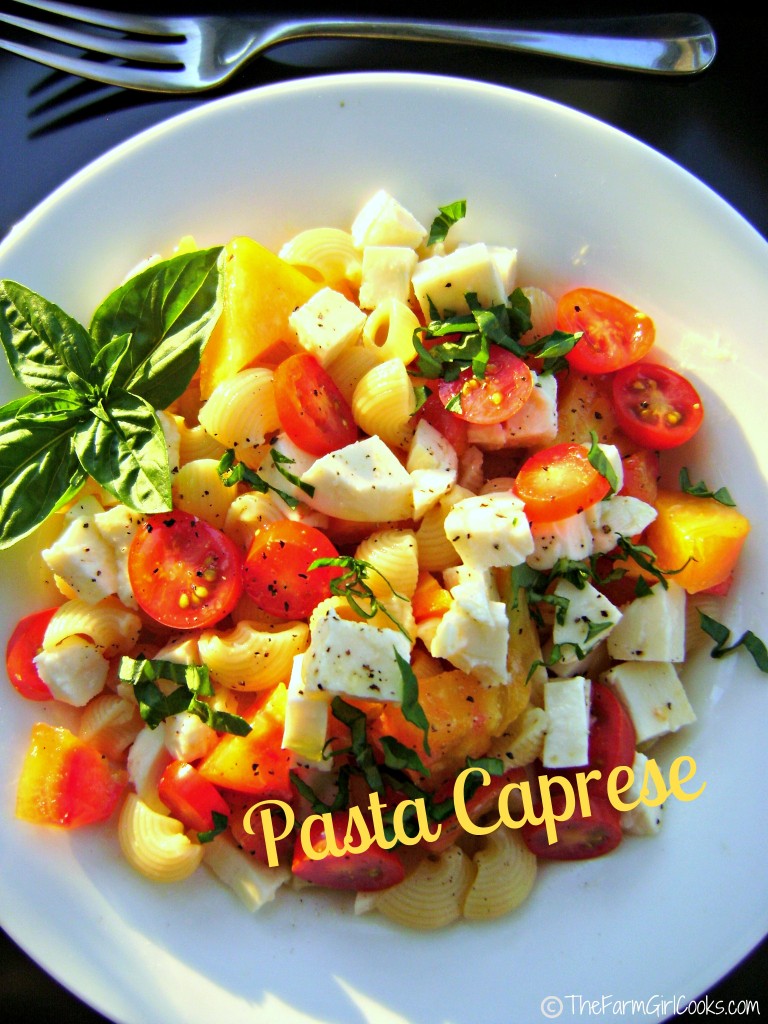 And yellow and pink and green zebra-striped and black-ish and purple and golden-pink and…. that brings me to tomatoes and pasta Caprese.
It's about damn time.
General consensus is lots of green tomatoes around in people's gardens, but none are turning red. Well, this week, they started turning.
I picked up a block of fresh mozzarella at the market the other day and, like a good FarmGirl, I have basil growing in a planter on my deck. This bounty, along with the colorful and perfectly ripe tomatoes I picked, made the most amazing dinner.
Pasta Caprese is the easiest thing you can make when you're short on time.  Everything can be done in the time it takes to boil the pasta but I urge you to do one thing in advance.  Chop garlic.
I'm not saying you need to plan in advance because I certainly don't.  I am just very good at prep.  My two restaurant jobs were primarily prep and service so it's second nature to me.  I am a spur-of-the-moment cook and when something inspires me I like to be able to run with an idea.
Peeling and chopping garlic may very well be my least favorite thing to do.  I don't want that to deter me from cooking something so on Sunday evenings during dinner prep I chop several cloves of garlic and put it in a 4-ounce glass jelly jar.  I cover the garlic completely with extra virgin olive oil and store it in the fridge where it'll easily keep for a week or more.
'Pasta Caprese, the Easiest Thing You Can Make'
For this pasta dish I did NOT use this garlic… but I did use the garlic-flavored oil.  Genius, right?  Yes… out of necessity.  Perimenopause has made me just a little sensitive to raw garlic (don't ask, just send sympathy) but I still love the flavor.
Isn't it great that I had this delightful golden garlicky goodness available?
You will, too, from now on. 🙂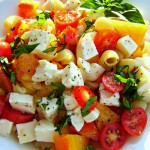 Pasta Caprice
Ingredients
no recipe amounts

just use what you've got!

And if you haven't any garlic-flavored oil

 just mince or grate a clove of garlic and add it to the pasta.

Pasta

your choice of shape

Tomatoes

assorted colors, diced, some seeds removed

Fresh Mozzarella

diced

Fresh Basil

snipped into thin ribbons (scissors work well)

Garlic oil

salt and pepper to taste
Cook pasta to al dente and drain well.  Place pasta in serving bowl and drizzle with an abundance of garlic-flavored oil.  Top with diced tomatoes, mozzarella and basil.  Season with salt and pepper and toss well to distribute ingredients.  Serve warm or at room temperature.  The cheese is NOT supposed to melt.