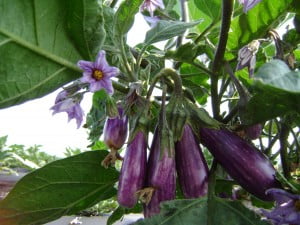 Not every dish I make has a cute story or a long, convoluted explanation or especially intensive preparations. But the Fairy Tale Eggplant do lend themselves to that.
Sometimes they're just ideas that spring to mind when I'm picking or washing the veggies, or sorting the cooler (BIG refrigerator – like, we drive a forklift in there big) all by my lonesome.  I get a lot of thinking done in my 38-degree solitude!
Sometimes I just have to get dinner on the table and this hungry farmer needs some good home cookin'!  Plus Dad will stop by most nights for at least a taste of all the goodies I'm whipping up with the veggies he tends to so skillfully.
"He just left… after finishing the last of the roasted cherry tomatoes with garlic; no polenta.   He HATES polenta.  Pablum he remembers with fondness… cornmeal mush not so much."
I'm constantly on the lookout for great stuff at the markets.  Last week was a ball of smoked mozzarella from another vendor.  I love the stuff and can think of a million and one things to do with it.  When I worked at the Bull's Head Inn in Campbell Hall, NY, we smoked our own sliced  mozzarella.  It was there that I fell in love with the intense smokiness and creamy texture.
In fact, I roasted the tomatoes in the toaster oven – so not too much extra heat in my already-steamy kitchen.  Slathered in olive oil, sprinkled with salt and pepper and sliced garlic. Cooked for about 20 minutes at 400 degrees.  The red and yellow orbs practically melted and their sugars caramelized and intensified. Making them a perfect foil for the unassuming creamy yellow polenta.
Last week I was in the mood for Thai.  I have a few Thai restaurants that I enjoy. Not been to either in a while, I needed (yes, NEEDED) red curry with coconut milk.  Since I've been touting our new teeny tiny Fairy Tale Eggplant lately, I figured why not use that as the main ingredient?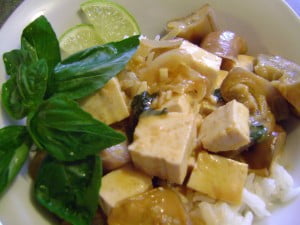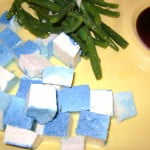 Sliced shallots, minced garlic, 2-inch pieces of fairy tale eggplant and green beans were all sauteed in olive oil. I grated in a bit of fresh (frozen for longer storage) ginger once the veggies were tender. Adding about half of a block of extra firm tofu, cubed.  Stirring in a can of coconut milk, a generous teaspoon Thai red curry paste and the juice of half of a lime. Finally, a teaspoon or so of brown sugar and some salt and pepper.
Once the sauce had thickened, and after several tastes, I stirred in a small handful of fresh basil leaves.  I served this, lovingly and beautifully to myself, over a bed of jasmine rice.  This is the kind of stuff my 6-year-old won't eat (because of the spiciness), but he loves tofu – and his request was blue tofu.  Fine by me!
The dish I made was inspired by this blog entry at  Figs with Bri, although mine was much less 'composed' and arranged.
And if THAT doesn't float your boat, how about some simple grilled eggplant?  Again with the Fairy Tale!
Bringing a Fairy Tale Eggplant to Life
Slice them in half lengthwise, then marinate in a mixture of olive oil, lemon juice, minced rosemary and garlic, salt and pepper.  Instead of mincing garlic with my knife, I oftentimes use a microplane grater.  I also use it for ginger.  The microplane makes very fine bits of garlic which give off a ton of flavor without the intense bite and occasionally offensive mouth-feel of chopped.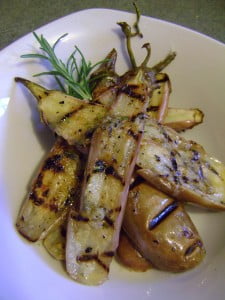 After marinating for at least 30 minutes, grill the eggplant until they are tender. Soon they will have beautiful grill marks on both sides. I had so much leftover that I used it in a tortellini pasta salad the next day. Gently tossed with balsamic vinaigrette and some tomatoes. Adding grilled zucchini and spicy pickled peppers from another neighbor at the market.
A customer I spoke with a few weeks ago said she was doing exactly as I did, but was going to put them onto grilled bread that had been smeared with soft goat cheese and roasted garlic.   Yes.  I went out that night and bought goat cheese.
Moral of the story: If I happen to help you at a market and ask you "what are you doing with all those beets", please tell me – you never know if it'll show up here someday soon!