The Good
Friends that give of themselves to make things a little easier for us following the devastating floods of Hurricane Irene.
Kay brought over a motorhome for Mom and her baby (14 yr old blind dog) to live in while home is in disrepair.
Dad is staying in Thomas' room with the tv we took from Mom's bedroom.  When I got up the first morning he was with us, he asked for remote control instructions.  "How do I change the channel?  I got stuck watching Jersey Shore for hours!"   Stuck?  When I laughed and asked about The Situation, HE NAMED OTHER CHARACTERS!  He likes Snooki but thinks she's an idiot.
Veronica and Judd make awesome chili (although I suspect Judd did nothing in the kitchen, he is a great Junior Farmer and a fabulous chiropractor).
Alice's meatloaf and potato salad are top-notch (she uses carolas, by the way), and I'm not happy that I didn't get any of her peach cobbler.
Sue makes a beef stew that warms an aging farmer's aching body on a cold, rainy night.
Theresa makes a killer strudel, and brought Mom a ton of cleaning and household supplies… I do question this considering how infrequently my mother cleans, but the gesture is appreciated!  LOL
Margaret's 'Sunday gravy' was wonderful on spaghetti, and the meatballs?  Heavenly.  Even to this wavering vegetarian.

 

The leeks are fine and so is the bok choy!

Thank goodness we saved the broom…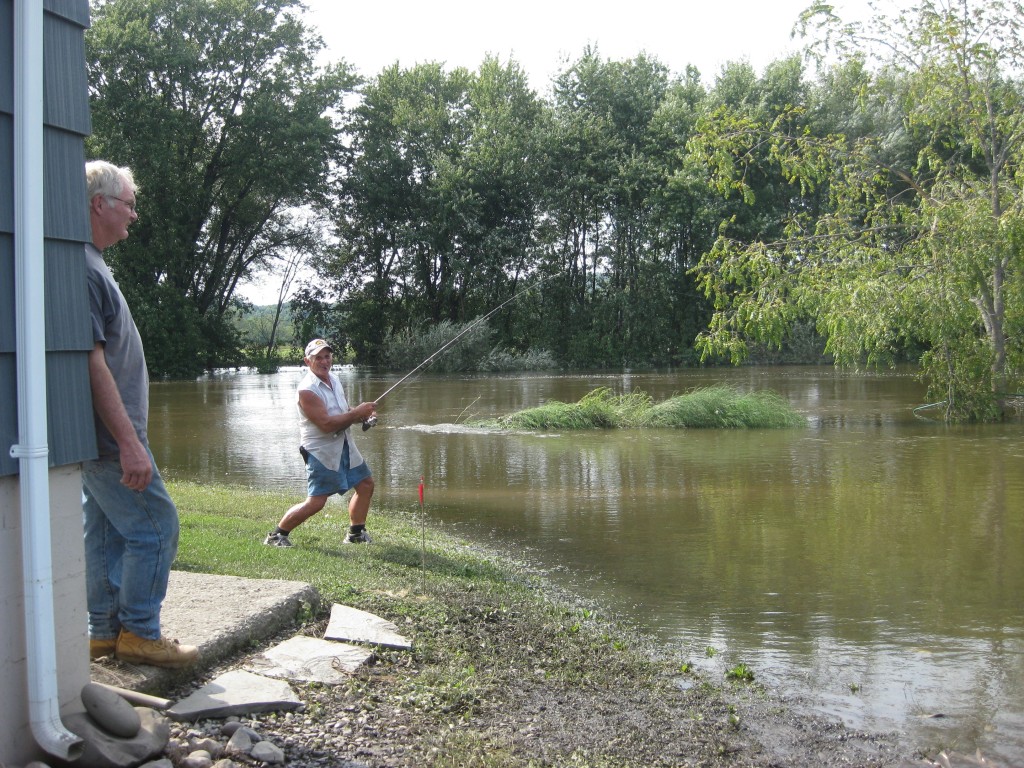 and the fishing poles!
The Bad
The effects of 10 inches of heavy tropical rains on our farm are less than stellar.  Less than half of the farmland was actually UNDER WATER, but all that water, in addition to the 3 inches we got last night, proved to be too much for many crops.  We lost so much and that doesn't just mean this week's farmers markets —- it means hardly any crops will make it for storage for winter sale.  Imagine not having an income for MONTHS ON END….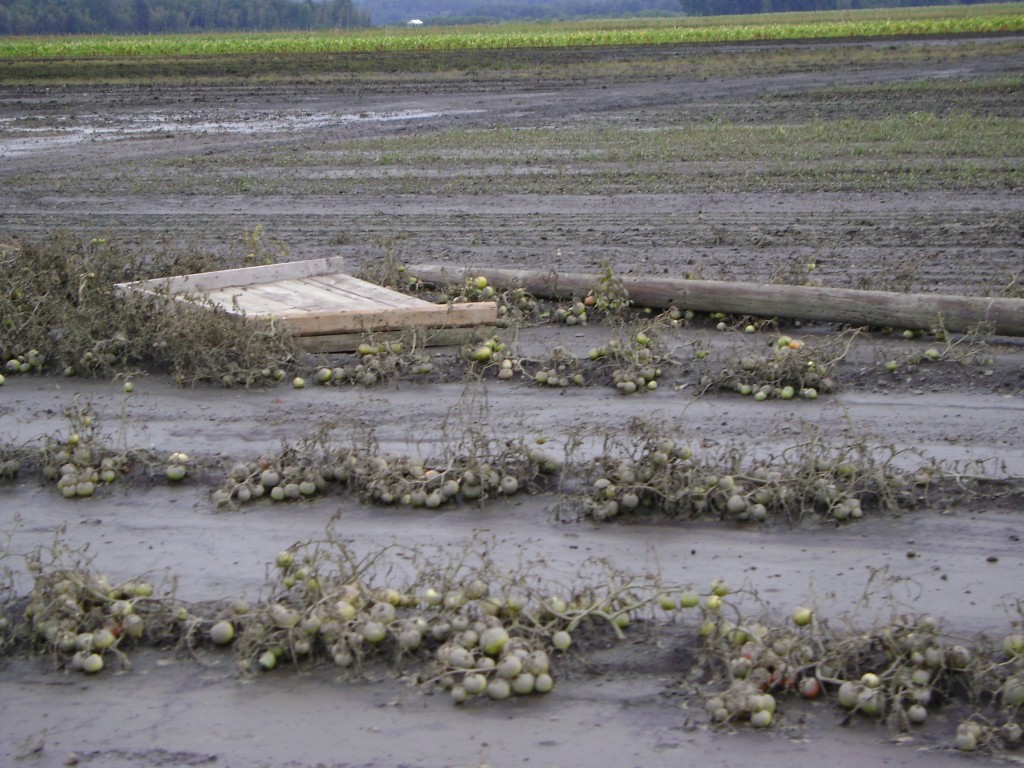 The 'Pick Your Own' heirloom tomato patch isn't going to make it.  We don't know where the pole or pallet came from.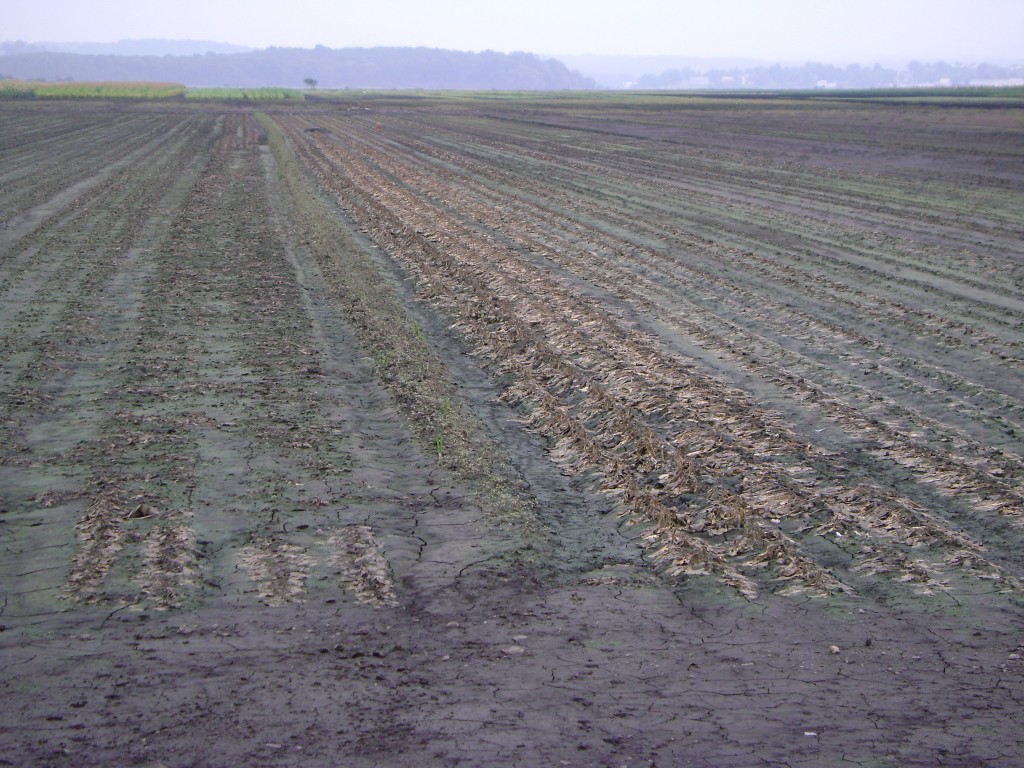 The Greens we should have had to sell for at least a month.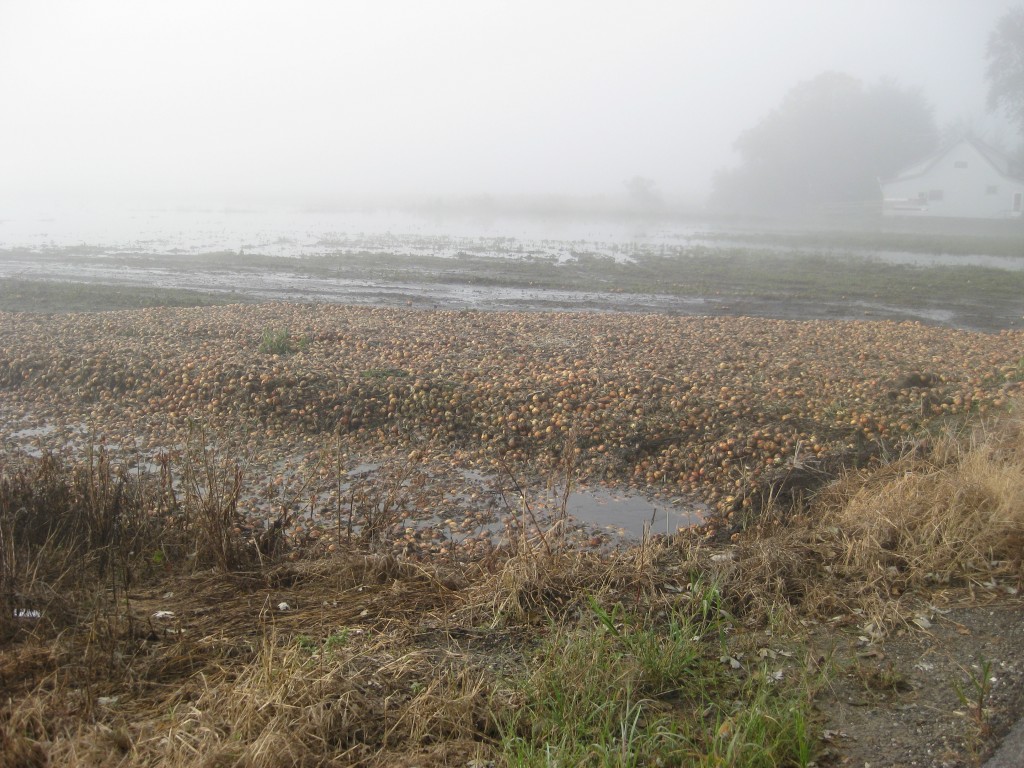 Our neighbor's onions flowed down the water-covered fields and were left wherever the water receded.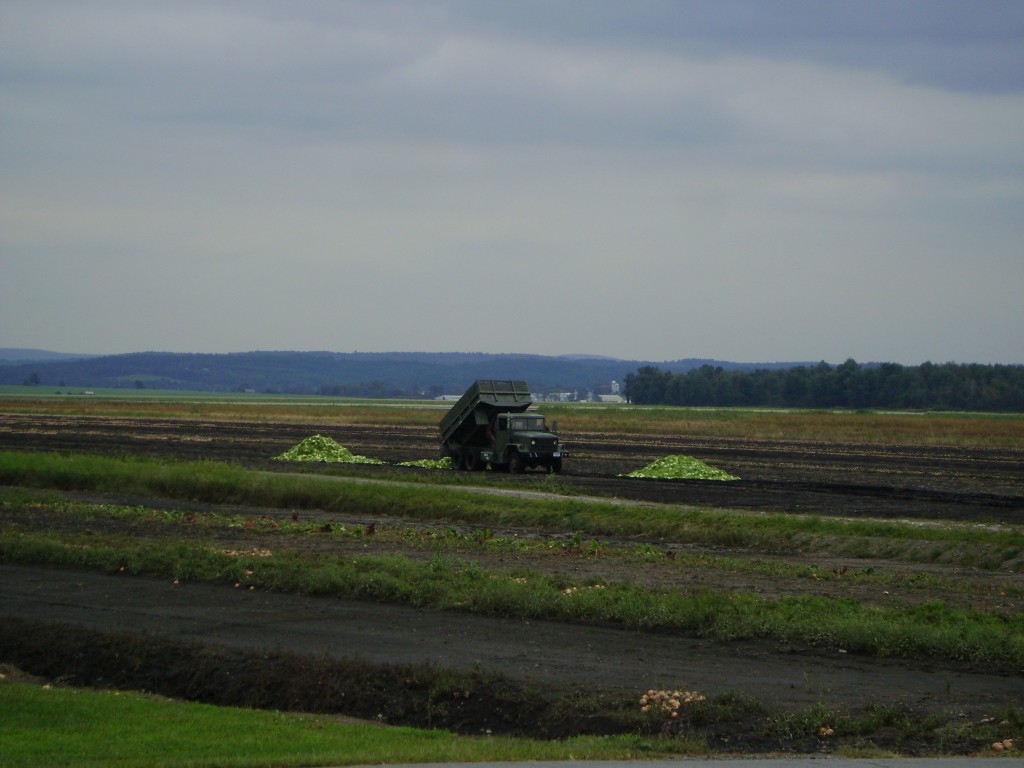 The neighbors again, dumping salad greens in the fields.  They'll be tilled up into compost and will fertilize the land.
The Ugly
Nature's fury really hit home last week… literally.  Tuesday morning (8/31), the water was high.  What shocked us was the fact that it kept going.  Not in our wildest dreams did we expect the water to completely surround my parents' home.  We never thought the water would EVER reach our barn — and yet it did.  The water was within an inch of entering our produce packing facility and there was nothing we could do but sit and watch, helplessly.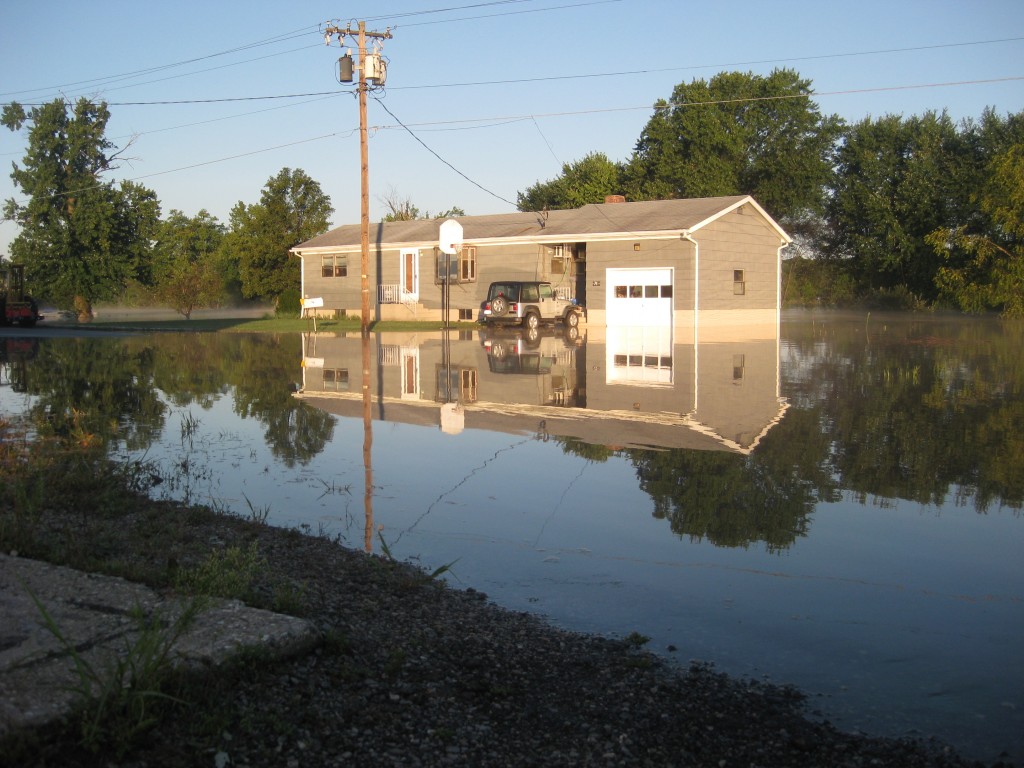 Dad kept the pumps going for days and he was successful for much of that time.  Remember, we had no power – so all those pumps had to be run by gas-powered generators.  Dad filled those fuel tanks and pumped water and ran generators for days on end, wading through muddy river water, never showing signs of tiring.     He didn't only care for our homes and the farm.  He helped his sister and her family in their homes next door.  He helped our dearest friends down the road when they needed our forklift.  He's still so sorry for making those ruts in the yard, Frankie!
Since Mom and Dad had the generator going to run the pump, we all gathered at their house for lunch.   We've been up for what seemed like an eternity at that point and a big pot of coffee was just what the doctor ordered.  Ok, that AND a bag of Oreos.  That's when the shit hit the fan…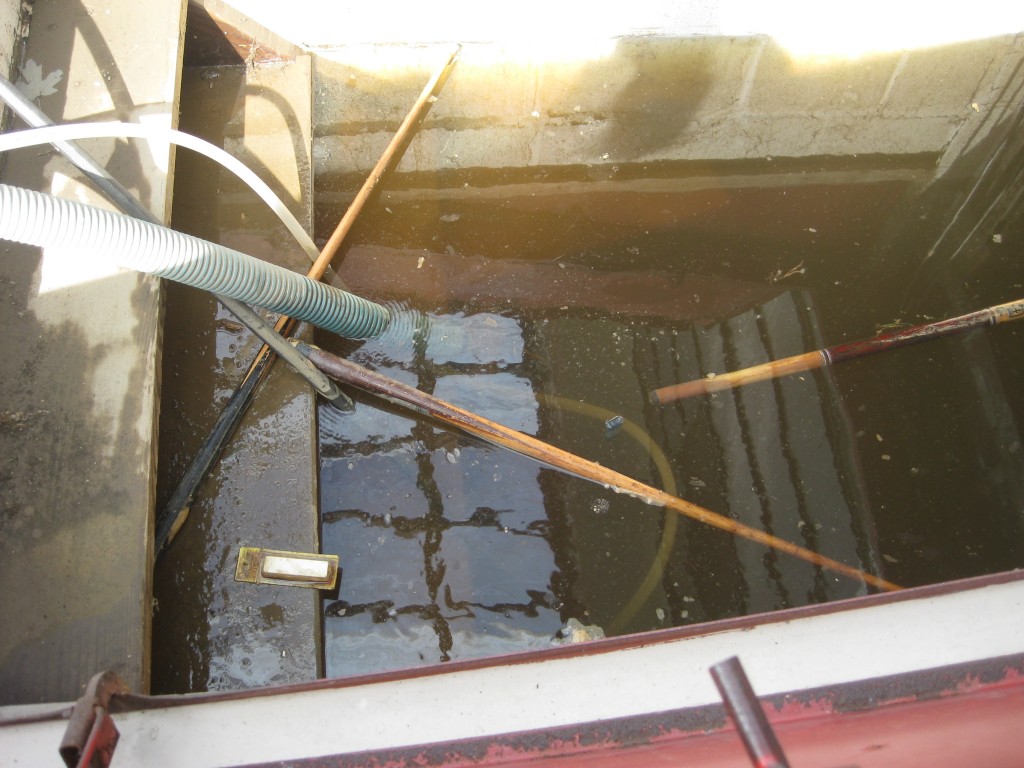 When we were kids, we always got reprimanded for not hanging the pool sticks on the wall… YOU WANT THEM TO FLOAT AWAY?  Who knew?  We thought they were idle threats.
I can still remember it so vividly, which I guess isn't all that impressive since it was like a week ago.  I think the worst part was hearing and seeing the water flowing around the 40 year old basement windows and cascading down the walls.  All the sandbags in the world weren't going to keep the water out, nor would they keep the wall from cracking.  Water filled the basement — within seconds it was six and a half feet deep.  After all his efforts, Dad finally gave up that Tuesday afternoon, stating with a defeated sigh and a shrug, 'there's nothing left to do'.
After pumping most of the water out of the basement, we discovered our slate-topped pool table had been turned upside down.  What surprised us most was seeing it lying on top of a La-Z-Boy that was originally on the opposite side of the room.
The washer and dryer were tipped over and covered with mud.  Dad remembered he forgot to take that last load of laundry out of the dryer though.  He got the clothes out the other day, along with several gallons of water, and hosed them out on the lawn.  He wasn't going to just abandon those clothes… they were brand new and  in prime rotation.  And you know how hard it is to find a decent pair of jeans that fit!