Asparagus with creamy homemade mayonnaise, you just can't beat it.
So you saw how asparagus grows in one of my previous posts.  What you DIDN'T see was the look on The Boy's face when he tasted a piece of said veggie.
I'm just not quick enough to capture some of those classic kid moments on film.
Oh, wait.  We don't use film anymore.  God, I'm old.
"Thomas, do you want more asparagus?"
"No, no, no (he waves his hand).  I'm good…. Not a fan."
I'm giving kudos to Aunt Helen for this idea, my take on her summer classic, Frostbite Asparagus.  Aunt Helen is a wonderful hostess and is very adventurous in the kitchen despite obstacles (read: picky eaters). Many years ago she steamed up a platter of asparagus then topped the cold spears with a pretty ribbon of curry-yellow Hellmann's mayonnaise. It was a fantastic appetizer or barbecue side dish and couldn't be any easier to make.
As for the mayonnaise, homemade is always better!
I wanted to jazz it up a little, so I grilled the asparagus in my cast iron grill pan rather than steaming it. As for the mayonaise component, well… homemade is always better. Plus making it yourself allows you to customize the flavors (swap out oils – olive, canola, grapeseed, walnut, chile,  add garlic -fresh or roasted, curry, extra lemon, less lemon, sriracha, Tabasco, chipotle). Easy peasy, it seriously takes less time to blend the mayo than it does to measure out the ingredients.
I found this recipe on Serious Eats ages ago and have been looking for the perfect occasion to try it.  No better time than the present since I'd just run out of Hellman's.  You know what, though?  It is So easy to make mayo that I might never buy it again.  For real!
The video that Serious Eats posted here is cool, so if you have 2  minutes, check it out.  And while you're there, browse around a bit.  It's always fun and educational and they've got tons of contributing authors that have loads to say about food.
Make Your Own Mayonnaise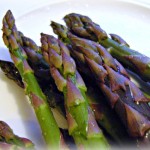 Make Your Own Mayonnaise
Ingredients
1

large egg yolk

1

tablespoon

water [2T]

1

tablespoon

lemon juice

from 1/2 a lemon [2t white wine vinegar]

1

teaspoon

dijon mustard

1

cup

vegetable or canola oil [1/2 canola

1/2 olive oil]

Kosher salt

Flavorings: to one half cup finished mayo add 1/4- 1/2 t of your favorite curry powder.
Instructions
Place egg yolk, water, lemon juice or vinegar, dijon in the cup of an immersion blender (or a 1 quart take-out soup container). Pour oil on top and let settle for about 15 seconds. Use a lightly flavored oil unless you REALLY like the strong, spicy taste of olive oil.

Put the immersion blender all the way to the bottom of the cup and turn it on.

As you're blending, slowly move the blender up and tilt to the sides gently.

Continue blending and raising the stick blender.

It will magically come together, probably in less time than it's taking you to read this.
What did I do with the rest of the mayonaise?  I combined 1 part mayo to one part fat free Greek yogurt and stirred in as much sriracha as I could tolerate.  I love to dip french fries in this, or drizzle over tacos, nachos, sauteed fish fillets.  Or I just eat it with a spoon.  I'm wacky like that.
The color is enchanting!
Serve curry mayo with lots of grilled asparagus for dipping.  Also great with curry mayo?  Potatoes, cooked beets, cooked artichokes and cucumbers (raw).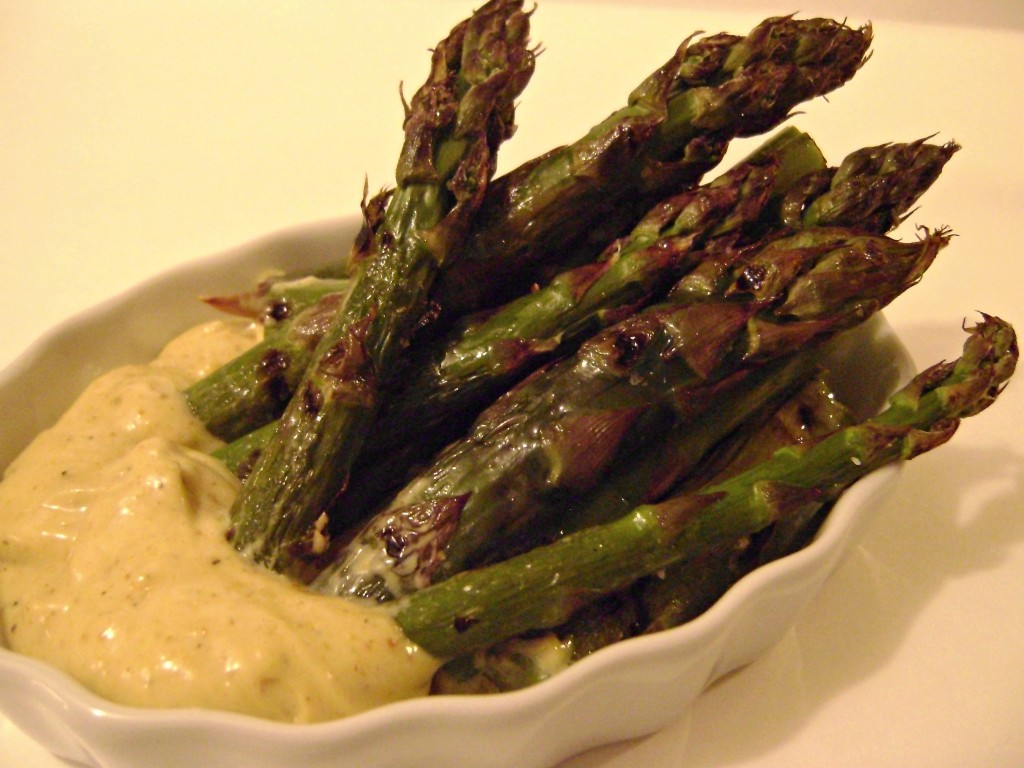 If you're interested in the 'by hand' version, Melissa Clark made this video.  That expends way too much energy for me.  But brava to her for making it look easy.