The need for Chicken salad with curry mayonnaise, apples and chive blossoms.
A few weeks back, as he does most every week, Thomas 'worked' the Ringwood Farmers Market with me. It's a good thing, too, because I needed his smiling face and skinny-armed hugs.  By the time I arrived I was NOT in any mood to display exemplary customer service.
I got a flat tire on the way to market.  
It was that sudden, "hey, is that a rock on the roadway…?" that got me.
KLUNK!
I saw the damn thing at the last minute and, sure enough, it resulted in a blow out.  Mom was following me on the way to market that morning so she pulled over and we started to change the tire.  That's not something you EVER want to do, but at 6:30am on a muddy, rainy Saturday it was even more annoying.
Thanks go to Chris for taking over the tire changing duties. He and Mom swapped out and Mom and Thomas drove on ahead to market. Along with Irene, the two of them had the canopy all set up by the time we got to Ringwood. All in all, the day went by without a hitch and although I dinged up the rim pretty good, the lovely gentleman at the tire place was able to replace it without a problem.
He even complimented me on my youthful appearance. 
My darling boy is a wonderful worker, and usually that means at our farm stand. On this particular Saturday, though, his best gal Laura happened to be working at the orchard stand at the other end of the market. Well… Thomas was unable to resist Barbie's call (we call her Barbie because she's so damn perky and blond and adorable and NICE! Plus when her sons grew out of them, she gave Thomas a bunch of their old – they're classic, Mommy!  – Pokemon cards). Off he was, leaving us to set up our stand.
"Call me when my breakfast is here!" he yelled, as he ran across the near-empty parking lot.
He worked with Laura for well over an hour restocking her tables and putting empty boxes in her truck and came back 'home' to our stand whenever he needed a drink or just wanted to touch base with me. Each time he came back he carried yet another pastry.
Then he came back with flowers.
 "Thomas, I gave you money to buy me blueberries… how is it that you came back here with a begonia?"
"Laura gave me $5 for working and I stopped at that flower stand on my way back and bought it for you!"
I think my heart just about melted at that very moment. And then I heard him follow Grandma to the back of the truck
"Grandma, can I have an advance on my pay for today?"
Sure enough, my mother gave him $5 and the little sneak waltzed back and bought a potted begonia for Laura.
He's eight years old and has already learned that buying girls gifts is a very good way to suck up. He got a bag of cider donuts for the ride home.  LOL
---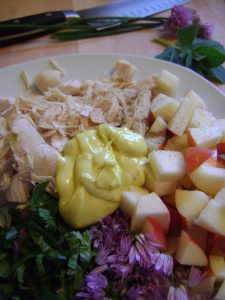 As far as farming goes, things are starting to fall into place for the summer. Which means things are starting to get NUTS. Our CSA program starts this week, so in addition to the usual veggie/market prep work, I'm doing CSA bookkeeping, twice-weekly newsletter writing, picking, washing, boxing and organizing shares for 2 distribution sites. My employers (thanks, Mom and Dad!) graciously gave me a few hours off last week so I could go to Thomas' school events. His spring concert, class play, and field day were all very nice.
Yes, I cried, but just a little.
Our potted herb supply is selling quickly and we're already out of several staples. But this Curry-Apple Chicken Salad uses a few of the herbs we still have available: Apple Mint, African Blue (cinnamon) Basil, and Chives.
But wait!  Kasha, you said you don't eat meat… only fish. We, your loyal readers, are confused!  
Allow me to explain. I do now. Actually, my foray into meat-dom started ages ago when I couldn't resist the once-weekly bacon/egg/cheese sandwich at markets. When we flooded last year, and meal preparation was more than a little challenging, I ended up eating stuff out of my parents' freezer. Sausage and peppers on the grill, hot dogs on the grill… heck, I don't think there was much else. Some days I even had hot dogs for breakfast.
So, now, I eat some meat. No biggie.
A few weeks back I realized how completely brilliant it was to gently simmer in water what amounted to nearly a flock of chicken breasts along with some aromatics and freeze them individually in bags. Not only did I end up with 10 breasts (which I can thaw one at a time to make a total of about 25 lunches), I also had the added bonus of nearly a gallon of homemade chicken stock! I froze that, too, in 1- or 2-cup containers.  Win-win!
Lunches on the farm have to be fast, so it helps to have this protein on hand. Sometimes I whip up  quick chicken quesadillas, I'll put shredded chicken on my Greek salad with feta, olives and cukes, drizzled with the BEST Greek salad dressing ever. But this…. this chicken salad… is what I can pack in a cooler bag and take with me to market. A few scoops of curry-apple chicken salad wrapped in some buttercrunch lettuce leaves – it sure beats a slice of pizza on a hot market day! The ingredient that makes this salad pop is the Curry Mayonnaise also remarkable with asparagus.
Curry Apple Chicken Salad
Ingredients
Chicken

cooked and diced

Apple

cored and diced (I like Gala in this salad)

Chive blossoms

apple mint and African Blue basil, minced

Curry mayonnaise

you DID read this post, right????

Salt and pepper to taste
Instructions
Mix everything together and serve.  I know, shocking.
Some Tips:
Note 1: Snip herbs using kitchen scissors.  These are not pricey, in fact I got them at Target for a few dollars.  You'll use them over and over, I promise.  Just don't use  your best paper scissors for cutting herbs and coffee bean bags.  Not good….
Note 2: Feel free to substitute fat free Greek yogurt for half of the curry mayonnaise.  Be sure to taste for seasoning!
Note 3: Sometimes I add diced celery because it's in the fridge and because more veggies in my diet probably won't kill me.
Did you know that herb flowers are edible?  Chive blossoms are fantastic!  Spread some cream cheese on a bagel, then sprinkle with blossoms.  Add them to scrambled eggs or tuna salad.   You can even pickle them!