We had a CSA pick-up yesterday.   Shell peas were a major component of the share box this week and each time I greeted a customer I stood there snacking on a few raw ones, encouraging them to do the same.  Most were polite and ate one or two… I, on the other hand, had nearly a pound's worth of empty pea pods by the time we were done with our distribution.
And yet I still wanted peas for dinner.
 I had no child's whims to contend with last night, so Pasta with Peas and Ricotta it was.
This was the perfect summer comfort food.  It had the starchy pasta, the creamy cheese, the bright green – make  you smile – peas and the bright zing of fresh herbs.  My father, who didn't even TASTE this lovely concoction, insists there were too many ingredients.  I disagree, and if you try it you will see that all of the components complement each other perfectly.
I think the dish would have been delicious with just the pasta, peas and ricotta.  But…
we had some just-picked garlic and I have 2 herb planters on my front patio so utilizing 2 kinds of basil made sense.  Trust me.  Herbs are so easy to grow and they will reward you a hundred times over when added to your favorite dishes.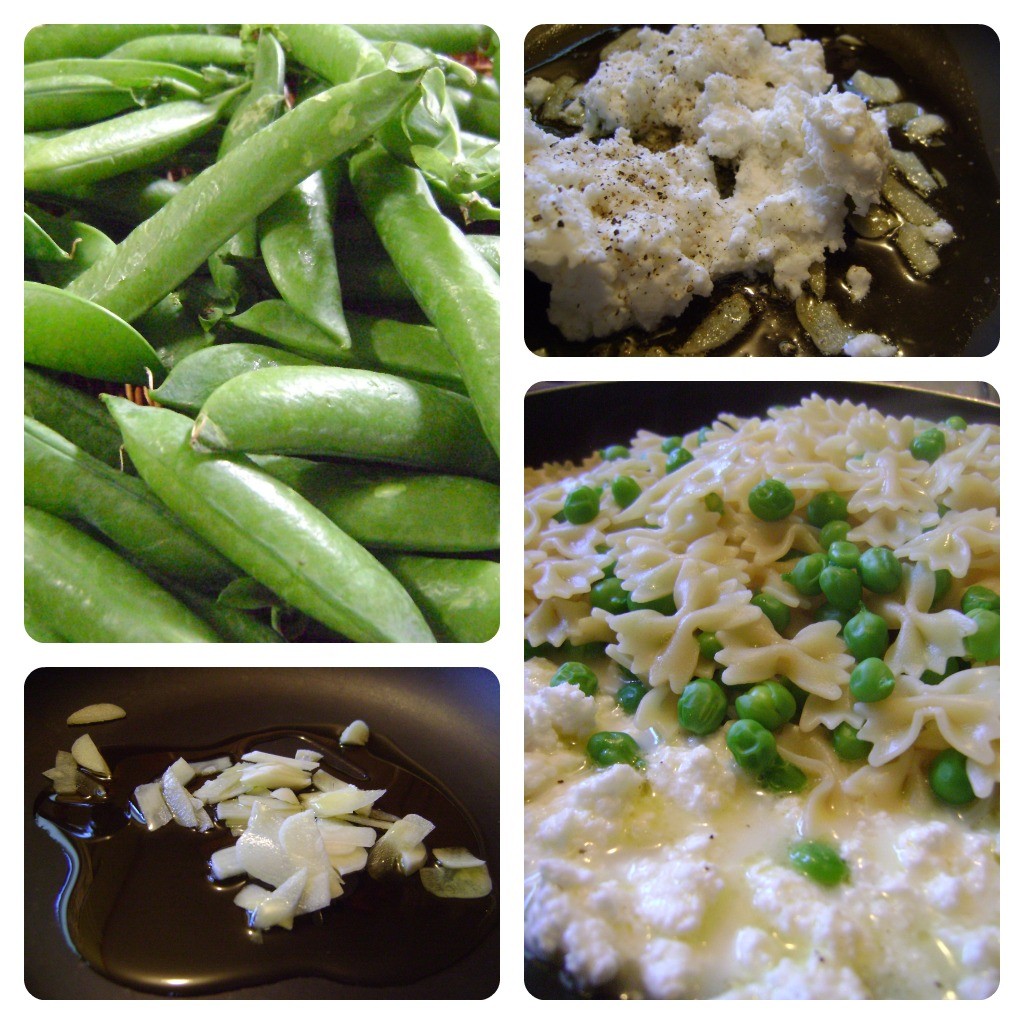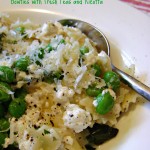 Bowtie Pasta with Fresh Peas & Ricotta
Ingredients
4

oz

Bowtie or Farfalle pasta

1 1/2

lbs

fresh shelling peas

shelled, about 1 1/4 cups

2

cloves

garlic

thinly sliced

2

T

olive oil

1

cup

ricotta

reserved pasta water

about 1/2 c

salt and pepper

lemon basil, Genovese basil, sliced or torn

Pecorino Romano cheese

grated
Instructions
Bring a pot of water to boil, add salt, then pasta.

While pasta is boiling, heat olive oil and garlic in a small saute pan. Allow the garlic to lightly cook for about 5 minutes on low heat.

Keep the heat low enough so that the garlic doesn't color.

When the pasta needs about 2 more minutes to reach 'al dente', drop the raw peas into the water with the pasta. Check the box - Barilla is pretty accurate with the cooking times needed for its pasta.

When you add the peas to the pasta pot, mush up the ricotta in the garlic and oil pan.

Add some pasta water to thin it and create a creamy sauce.

Using a large slotted spoon or spider, scoop up the pasta and peas and dump them into the cheese-garlic mixture.

Stir well over medium heat and add a bit more pasta water as needed.

Remove from  heat and season with salt, pepper, lemon and Genovese basil.

Serve with a generous sprinkling of Pecorino cheese.